Lucie Lauilhé 
Director
Met by Gerda at the Château
Château d'Armailhac
Pauillac, Grand Cru Classé en 1855
---
On September 30th, 2021, we published an interview with the fascinating and dynamic Caroline Artaud (Château Clerc Milon). This time, I visited Château d'Armailhac to meet Lucie Lauilhé, who has been the director of this estate since August 2021.
Before the interview, we visited the new technical facilities of Château d'Armailhac, where the 2021 vintage was the first to be vinified in this magnificent cellar that I like to describe as "understated elegance" or "technical modernity." It allows for respect for the place, eco-responsibility, and the well-being of the staff.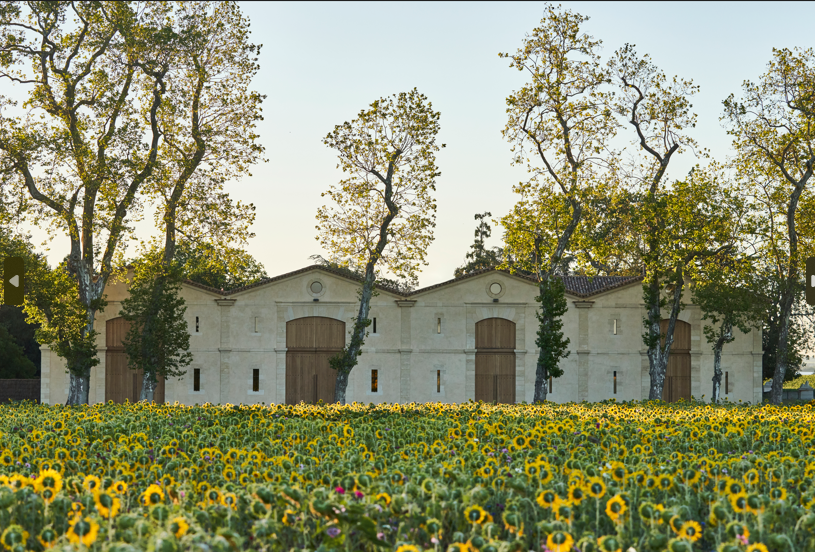 Gerda: Tell us about you…
Lucie Lauilhé: I have a classic background as both an agricultural engineer and an oenologist, with a true passion for agronomy and soil/vine interactions. This explains my early career at the consulting firm Sovivins. After six years of agricultural and viticultural consulting, I wanted to be involved in a more comprehensive project, from the terroir to the production of the final product, the wine. In 2017, I decided to work for a Château, and at the end of 2021, I arrived at Château d'Armailhac, coinciding with the inauguration of this magnificent new cellar.
I am a perfectionist, and making great wine is a sum of small details. It's fascinating! Accepting this wonderful project at d'Armailhac, I constantly tell myself, "We should never be satisfied and always strive to do better." I am particularly passionate about the technical aspect of production, both in the vineyard and in the cellar work. We do this work for the next generation while respecting the history of the Rothschild family. This overall approach is not just specific to the technical level; we have also implemented it in our management approach. We are like captains on a ship with a team of 30 people, led together with Olivier Gayrard, our vineyard manager, and Cédric Marc, our cellar master. We move projects forward by ensuring that the teams are aligned and by sharing our ambitions with our clients, among other things.
Gerda: What are the main challenges you personally face in your work?
Lucie Lauilhé: There are several challenges. I still need to find my bearings, as it has only been two years since I started working for this estate with a long history. It's not easy, but it's incredibly exciting. Château d'Armailhac has been owned by the Rothschild family since 1933, and I need to immerse myself in the DNA of this property because wine tells the story of a place and its interpretation. My main challenge is to showcase all of that in the wine.
Furthermore, we need to adopt a dynamic and non-systematic agronomic approach. We cultivate 80 hectares spread across three different slopes with varying soil types. Our viticultural practices must adapt to the terroirs, and they are not the same every year. The challenge is to move forward without changing the identity of the estate.
The final challenge is the ongoing consideration we have in the context of climate change. Today, we are planting for the next generation, but what will the climate be like in 80 years?
---
Harvests

2022
Gerda: Could you give me a memory of the harvest? 
Lucie Lauilhé: These are my first harvests on my own at the helm of Château d'Armailhac, and I have nothing but fond memories. They were so effortless that I would sign up immediately for the same harvest every year. 2022 was a vintage of extremes, with a brief episode of spring frost (without consequences for our estate) and unprecedented heat and drought during the summer. It's incredible that all these elements did not have a negative impact on the wine; quite the contrary. It has a beautiful balance, vibrant fruit, and it doesn't possess the characteristics of a sunny vintage like 2003 or 2018. In fact, the 2022 vintage has yielded a result that we never even considered at the beginning. How can we explain it?… The vine is a plant with an incredible metabolic capacity. It can slow down its growth, which it did very early in the season. The plant immediately conserved its energy. Thanks to that, the 2022 vintage has depth, beautiful balance, and acidity.
Another great memory was the return of convivial harvests. We set up large tables for the harvesters to enjoy lunch together. It's the time when we see each other the most during the year, and with the perfect weather we had, there was no stress—only pure happiness!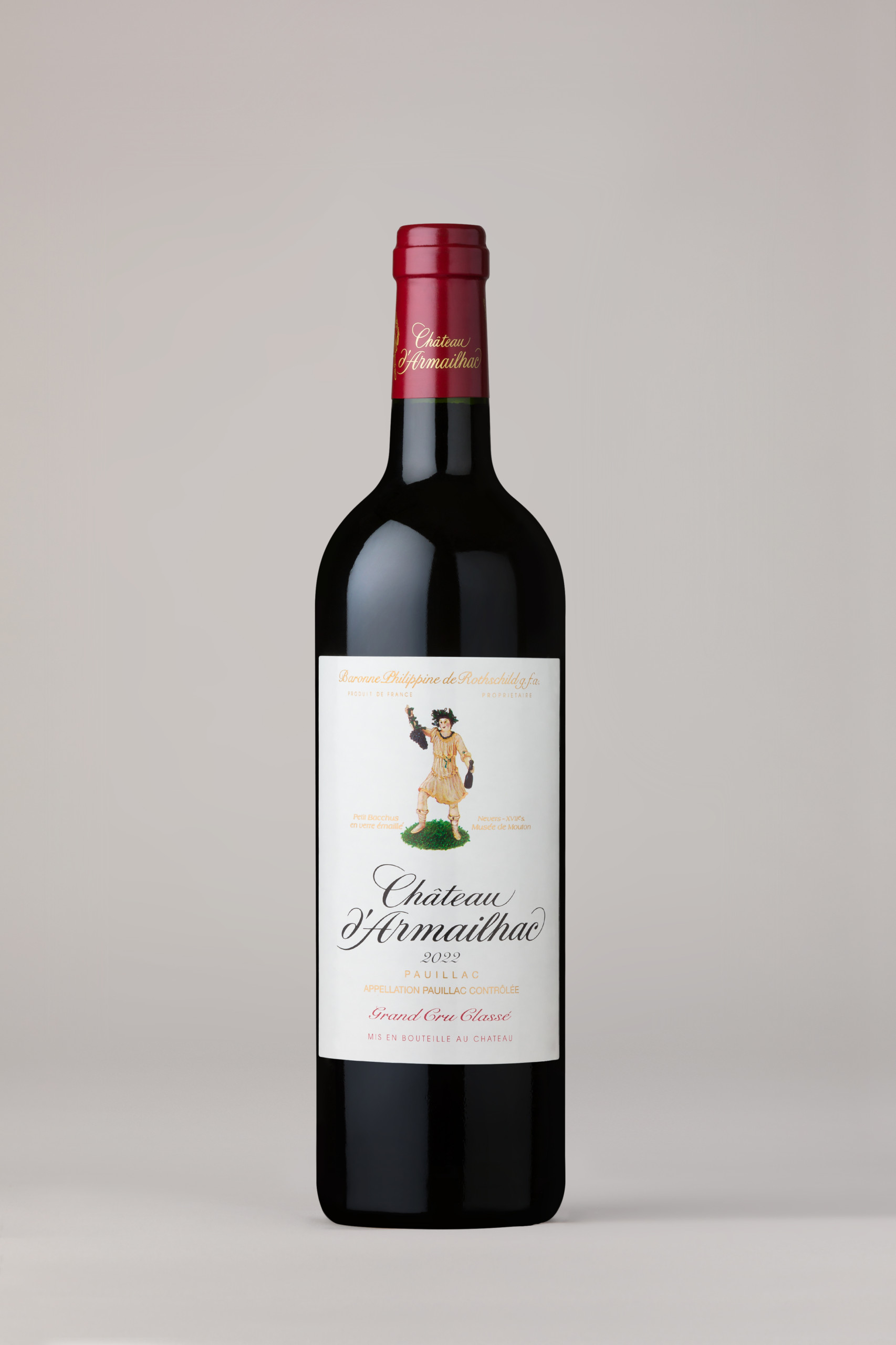 ---
The brand Château d'Armailhac today and tomorrow
G: How do your wines stand out and are unique?
Lucie Lauilhé: Château d'Armailhac is unique because it is the result of production on its own soils, so it is unique. Furthermore, we aim for it to be true to itself, without any artificial enhancements or attempts to make it a showpiece. It is simply itself, interpreted in each vintage. It is made from its distinct terroir, characterized by three slopes with different yet complementary soils. The majority of the soils consist of deep gravel, but we also have gravel on clay subsoil, and a portion is composed of sandy gravel. The soil of Château d'Armailhac is highly representative of the Pauillac appellation. Additionally, the wine is distinguished by its old Cabernet Franc vines, sourced from unique plant material. They have a strong identity and bring a distinctive, refined signature. In the blend, these vines represent 10 to 12%, but in some vintages like 2022, it can go up to 16%. d'Armailhac is recognized for its great classicism. It exhibits power when young, but evolves towards elegance and finesse after several years of aging. It has excellent aging potential and is a reliable choice.
G: Could you define an exceptional wine for me?
LL: It is a wine that evokes a special emotion, a unique wine that represents a unique place. The wine must have its own identity and not resemble any other. This is the strength of our great Bordeaux wines and great Burgundies.
G: Which of your recent achievements would you like to share with your customers?
LL: These are the new technical facilities of Château d'Armailhac, where the 2021 vintage was the first to be received and vinified. It is an incredible performance tool that instills great ambition in us for the wine. The cellar was meticulously designed in collaboration with the technical teams, with a deep understanding of the site and terroirs. We have two grape reception lines, allowing us to work at the pace of grape maturity and move quickly if needed. There are 50 thermoregulated tanks of various sizes, enabling us to go even further into a parcel and even intra-parcel differentiation. Two maturation cellars are located on two levels, allowing two vintages to coexist. The maturation process at Château d'Armailhac typically lasts an average of 18 months. Working in two cellars provides great comfort for the teams.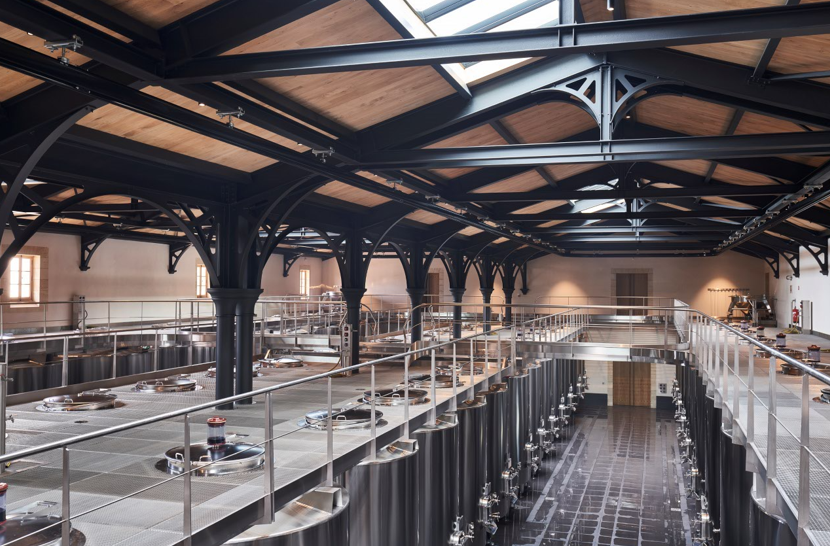 G: What future projects are you currently working on? (technical, marketing, or commercial)
Lucie Lauilhé: First and foremost, we will conduct a comprehensive and detailed soil mapping of our vineyards.
We are also conducting a study on the use of different containers for aging certain grape varieties in line with the identity of the estate and the impact of climate change on the grape and wine profiles.
Furthermore, we are currently engaged in mass selection of our Cabernet Franc vines to preserve diversity in our plant material on the property. It is an important grape variety for us alongside Cabernet Sauvignon, Merlot, and Petit Verdot.
Additionally, with the construction of our new cellar, we are working on rainwater management and the utilization of CO2 captured during the vinification process in the new facility.
We also have a significant and collective project across our three properties: the complete renovation and expansion of our Viticultural Technical Center, which serves to enhance the quality and safety of the work carried out by our winemakers and in the vineyards. Modernizing this facility is key to supporting our ambitions and will provide us with greater precision and comfort in our daily operations.
G: What are your priorities in terms of "green transition"?
LL: We have implemented numerous processes to reduce our carbon footprint and produce in a sustainable manner. Firstly, in the cellar, there is a strong focus on eco-responsibility. The roof of the cellar is equipped with photovoltaic panels, providing electrical autonomy for the building and offices. We have an innovative system for rainwater harvesting, and the collected water is used for various needs on the property. The tank thermoregulation system is buried and insulated, minimizing heat or cold losses. Carbon dioxide emitted during alcoholic fermentation is captured for reuse, and we have a dedicated intern working on this aspect.
Regarding vineyard cultivation, as Caroline Artaud explained, we have created a position and hired a sustainable development manager, Léa Manceau, since July 2021. The creation of this position reflects a cross-cutting approach among the three Pauillac properties of the Rothschild family, with involvement from the teams of each château. All aspects are addressed: how to reduce our carbon footprint, soil work, implementing biotherapy and biocontrol practices, and more. It is wonderful because, together, we make faster progress on these issues and strive to find agricultural solutions adapted to climate change, resource scarcity, accelerated biodiversity loss, and the increasing risks of environmental health. We implement actions and evaluate their effects, continuously striving for quality improvement.
G: You're working at the estate since 2021. In what areas will there be further changes in the near future?
LL: We do not anticipate major changes in the immediate future. We are committed to a path of continuity while fine-tuning our processes, particularly in viticulture. All the changes we implement are guided by three fundamental principles: firstly, the respect for the human aspect by prioritizing the well-being and fulfillment of our employees; secondly, ensuring the long-term sustainability of the estate; and thirdly, protecting our environment. This involves a continuous questioning of our practices in order to improve them.
I aspire to go deeper into the understanding of our terroirs and to consider their adaptations to climate change. This allows us to constantly reevaluate our viticultural practices in collaboration with our vineyard workers, who are in the field every day. This enhanced knowledge enables us to provide even more tailored approaches in the cellar and to push further in our meticulous craftsmanship. As I mentioned before, making a great wine is the culmination of numerous small details, both technical and human.
G: Can you talk about a memorable vintage for you and why?
LL: I will mention two vintages: 2022, which is my first vintage leading Château d'Armailhac, and 1986, the year of my birth. It's amazing how this wine has retained its structure and elegance. In this older vintage, I already discover the DNA of d'Armailhac. Over time, vintages and human influence become smoother, but the terroir remains.

Gerda BEZIADE has an incredible passion for wine, and possesses a perfect knowledge of Bordeaux acquired within prestigious wine merchants for 25 years. Gerda joins Roland Coiffe & Associés in order to bring you, through "Inside La PLACE" more information about the estate we sell.