Manuel Louzada 
Managing Director
Working at the estate since 2019
ALMAVIVA
Puente Alto, Chile
---
Gerda: You have told once in an interview that creativity is the most powerful energy that you have. Can you tell us more about you …….. 
Manuel Louzada: I was born in Portugal into a family that has been dedicated to the wine business for several generations. My grandfather, a winemaker, allowed me to taste some wines at the age of 5. From that moment, I knew exactly what I wanted to do in the future—to work in the wine industry. Eventually, my family and I moved to Spain, where I pursued my degree in agriculture and winemaking. Still today, I get goosebumps during the harvest and during blending, two exceptional moments of creativity, to create a unique wine, that give me such a rewarding energy, which is finally the essence of my life.
I came back to Portugal to work in the family company, which turned out to be a wonderful period of my life. During this time, I had the opportunity to do everything, from working in the lab to participating in the harvest and making the wine. It allowed me to solidify my theoretical knowledge through practical experience. After four years, I decided to take my career further and joined the prestigious company LVMH. Working in this group was an exceptional and interesting experience, both on a professional and personal level. Though it presented various challenges, we also had numerous opportunities to strive for excellence in representing the exceptional brands of the group.
Then, in 2019, I received an unexpected telephone call with an incredible proposal: to become the managing director of Almaviva. It felt like a dream opportunity—one that you simply cannot refuse.
Gerda: What are the main challenges you face personally, in the practice of your profession?
Manuel Louzada: I believe there are several challenges that we face permanently. The first one is always linked to the expression and the interpretation of each vintage since it is a permanent learning, that takes into consideration not only the particular vintage conditions but also how to express it in this permanent pursuit of elegance. The second is related to the continuous need to be updated in all the changes that dynamically occur in the wine elaboration. And last, but not the least, it is obvious that one of the challenges I face daily is related to my personality. I am deeply passionate about my work and highly dynamic in my approach. The real challenge lies in aligning my team with the same level of passion and energy. However, I consider myself fortunate to have an exceptional team at Almaviva that fully embraces our vision, and they also challenge me on these aspects.
I genuinely love what I do, and it often feels like it isn't really a job, but rather a fulfilling and enjoyable endeavor.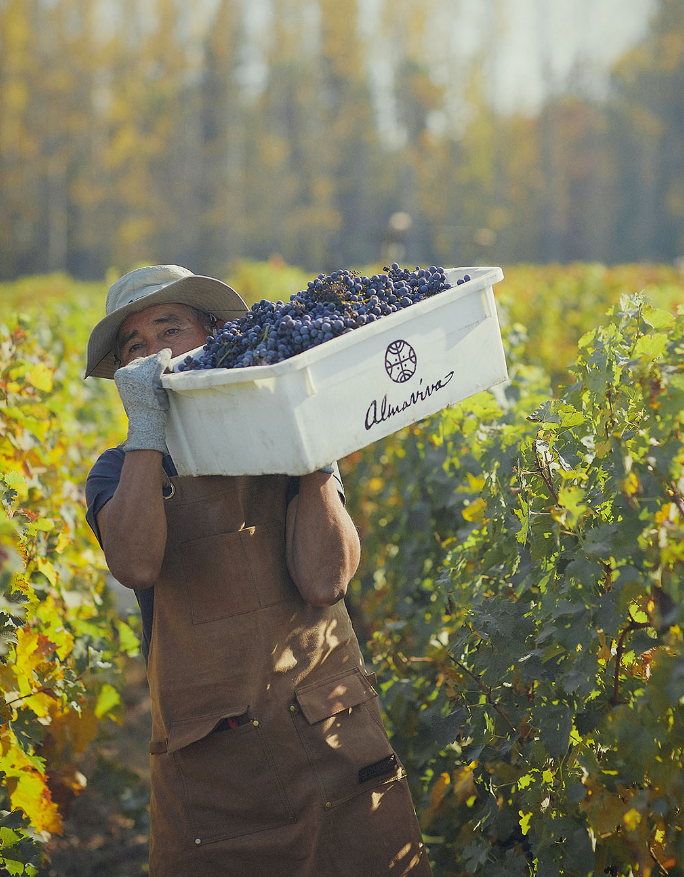 ---
Vintage 2021
Gerda : Can you describe in a few words vintage 2021
Manuel Louzada: 2021 is definitely an exceptional and unique vintage with great freshness and outstanding expression of Cabernet Sauvignon, made to mature and be enjoyed for several decades. Fresh and complex on the nose, it combines the ripeness of red fruits with subtle floral aromas. We find notes of cassis, blackcurrant, liquorice and then violets. On the palate, the juicy attack is well balanced by a delicate structure and a fine texture with soft and polished tannins.
---
Almaviva today and tomorrow
Gerda: What positioning(s) do you want for your brand(s)?
Manuel Louzada: Almaviva is more than just a brand; it represents an exceptional wine. Since I joined the company four years ago, I have come to understand that it is overall an exceptional wine. Today, we are carrying forward the passion of Baron Philippe de Rothschild and Concha y Toro families. Every decision we make has to take into consideration the exceptional heritage of both families.
A long-term vision is crucial for the continuous evolution of this exceptional wine. Building a reputation and achieving a higher price point require time and dedication. We are nursing our vines, learning from our terroir, climate, and the vintages we produce. All these efforts culminate in an exceptional expression of our wine, contributing to the unique reputation of Almaviva. Preserving and enhancing this outstanding reputation is our primary mission.
G: How do your wines stand out and are unique?
Manuel Louzada: Almaviva's essence lies in the singularity created by the harmonious collaboration of two historical wine families. The human and strong relationship between these families gave birth to Almaviva, where two worlds come together in perfect complementarity. Concha Y Toro brings with it the exceptional terroir, as they have known since the seventies exactly where the best grapes should come from.
Baron Philippe de Rothschild contributes their valuable know-how and expertise in nursing our vines, and in how to make the wines, as well as, blending. These elements are truly unique and give Almaviva the ability to perfectly express the terroir with elegance and a distinctive personality.
G: Which of your recent achievements would you like to share with customers?
Manuel Louzada: Today, the utmost priority in winemaking is to transmit with precision the singular character of the Puente Alto terroir into the wine. The 2021 vintage reflects a distinctive style with vibrancy, freshness, and elegance. Together with Michel Friou, Almaviva's Technical Director, and the team, we have successfully achieved this goal, and it reinforces the purpose and meaning behind what we do at Almaviva every day.
Moreover, the entire team has put in both small and significant efforts to create one of the world's most exceptional wines. Being part of this project is an incredible sensation, and it truly feels like a dream come true.
G: What future projects are you currently working on? (Technical, marketing, or commercial)
Manuel Louzada: Consolidating and continuing to develop our vineyard is the most crucial and significant project we are undertaking. This ongoing process demands our unwavering dedication and focus, we are concentrating 200% of our efforts into it.
Every day, my primary concern revolves around how we can further evolve and emphasize the expression of this exceptional place. We are fully committed to this mission, leaving no stone unturned in our pursuit of showcasing the unique and remarkable essence of our vineyard.
G: Where is (are) your property(ies) in terms of "ecological transition"?
Manuel Louzada: I fully believe in the absolute commitment, both professionally and personally, to the environment. It is our duty to show gratitude and take responsible care of the precious gifts of Mother Nature. At Almaviva, we are fully dedicated to preserving and protecting the vineyard and its surrounding environment. With this in mind, we are actively working towards obtaining organic certification for our vineyard within the next three years.
The second project we are deeply focused on is reducing our carbon and water footprint. As we acknowledge the increasing value of water and its scarcity, we have to take measures to use less of it. We view this as not just an option but an essential obligation to contribute to the sustainable preservation of our planet.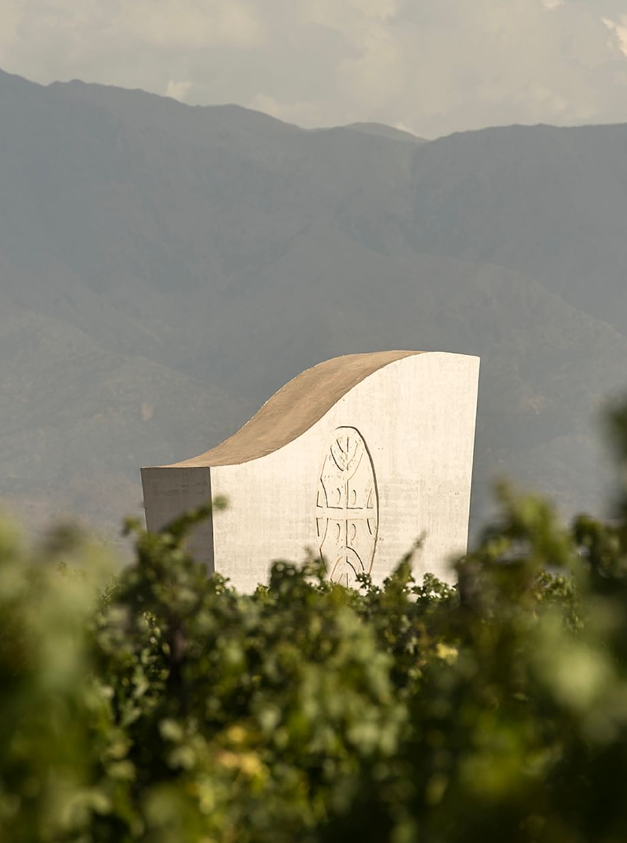 ---
The business
Gerda: Almaviva was one of the first "non" Bordeaux wine released through la Place de Bordeaux in 1998, many have followed since. What is the added value of la Place for Almaviva ?Manuel Louzada: Being sold through La Place de Bordeaux is an integral part of our DNA, thanks to Baron Philippe de Rothschild's legacy. This business model runs deep in our roots, and there are no doubts that this is and will be the right path. Almaviva holds the distinction of being the first non-Bordeaux wine to be widely distributed through this system. It has proven to be an exceptional and effective system, particularly for the world's finest wines. Our mother Companies receive only a small allocation to sell directly through its own distribution network.
G: What are your business priorities?
Manuel Louzada: Looking at the world today, many changes have taken place and more will follow. The post-Covid era, ongoing conflicts in Eastern Europe, and political changes in China and Hong Kong create a dynamic environment that demands daily attention.
Widening your distribution network is a key priority, and exploring opportunities in South East Asia, countries like Singapore and Vietnam, as well as Australia, New Zealand, India, and Africa, is crucial for gaining recognition and expanding your global reach. It is not only about numbers, it's also essential to focus on building a strong presence in these regions to establish meaningful relationships with customers and enthusiasts.
Gaining interest from European countries like Switzerland, Germany, and England is a positive sign, but reaching the Nordic countries should also be a goal for increased distribution. Additionally, exploring the potential of Latin American markets, such as Peru, with its outstanding gastronomy, is a strategic move that can open up new opportunities for your brand.
You have to be dynamic on markets which are important today and others which will become important tomorrow in an ever-changing global wine industry.
G: What sales support materials are available to distributors to promote your wines?
Manuel Louzada: Wine has a unique way of bringing people together, fostering conversations, and creating unforgettable experiences. It carries the essence of the vineyard, the craftsmanship, and the passion of the winemakers. Sharing these aspects in person strengthens the emotional connection and enhances the appreciation of the wine and the brand. During a memorable moment there is always a glass of wine involved.
G: Which vintages should the market be interested in? and why ?
Manuel Louzada: I would like to mention my personal experience with the 2003 vintage.  I am enjoying it very much. The style pursued by Patrick Léon, one of the only three winemakers throughout our history, who did a fantastic job for Almaviva, was more concentrated with more new oak. Vintages like 2003 need more bottle aging to show all complexity while keeping the perfect elegance. 2003 is now at the right point of drinking. Unfortunately, the wine is not available in the market.
Thinking about more recent vintages, I would like to mention 2010 and 2015. They are just… perfect! They have vibrancy and a point of freshness which is like a wake-up on the palate.
Almaviva creates always an explosion of aromatic highlights and it has an elegant structure that stands without being heavy. It has a long olfactive persistence of fruit.
G: The 2021 has been released 6th  September, do you plan any other releases of back vintages in the near future?
Manuel Louzada:  We have some plans, still under discussion, but I believe it would be too premature at this stage to give more information. The upcoming release is our main focus.

---
Favorite bottle of Manuel Louzada
Gerda: If you had one bottle of your heart?
ML: Difficult to mention just one bottle, but if I have to let my heart speak, I am thinking of all the bottles from the birth years of my children: Krug 1988, the birth year of my son Pedro, La Grande Dame Veuve Clicquot rosé 1995, the birth year of my daughter Maria, and Cheval Blanc 1998, the birth year of my son Manuel. And… the port wine from 1897 of the family property. Thinking of those wonderful wines still gives me goosebumps.

Gerda BEZIADE has an incredible passion for wine, and possesses a perfect knowledge of Bordeaux acquired within prestigious wine merchants for 25 years. Gerda joins Roland Coiffe & Associés in order to bring you, through "Inside La PLACE" more information about the estate we sell.