Stéphan von Neipperg
Ludovic von Neipperg
Château d'Aiguilhe
Castillon
---
Gerda: Tell us about you…
Ludovic von Neipperg: It is difficult to talk about myself without mentioning my family and the place where I grew up, Château Canon La Gaffelière, in the heart of the vineyards. My grandparents used to take me for walks in the vineyards of La Mondotte when I was a child. My entire childhood was imbued with these magnificent surroundings, but it did not necessarily mean that I had to take up winemaking as it was not an obligation in my family. However, an opportunity arose to work with my father, and I immediately accepted with the agreement of my whole family.
At the beginning of my professional career, I was passionate about science, and I studied economics and statistics in Switzerland. After a few years of experience in the world of economics, I wished to connect my destiny with the land, and that's how I changed my professional path in 2017. Two years after that decision, I arrived at our properties, following studies in agronomy and completing internships in other châteaux. I am delighted, and I have no regrets because it was a choice I wasn't forced to make.
Today, I am officially the technical director, but as is often the case in family structures, I take care of many other tasks. My father and I make all the important decisions together. This is important because these decisions often have a long-term impact, and it is essential to ensure the sustainability of our properties for the next generation of my family.
Gerda: What are the main challenges you personally face in your work?
Ludovic von Neipperg: There are three major challenges that I face.
Firstly, there is the human challenge. It involves integrating myself into a position that I need to learn and master. I have much to learn from my father, but also from our extraordinary team, both on a human and technical level. We strongly believe in the human aspect and prioritize the creation of a peaceful atmosphere where our employees feel comfortable engaging in meaningful conversation. I am convinced that this is reflected in the quality of our wines.
Secondly, there is the modern agronomic challenge, which is primarily related to carbon management, as the issue is not only CO2 in the air but also in the soil. It is crucial to produce high-quality wines for a very long time, but with reduced reliance on synthetic products. I am deeply committed to this topic and consider myself more of a farmer, working the land, than a cellar master.
Lastly, there is the challenge with the consumer. We want to convey kindness through a healthier product by offering environmentally-friendly and health-conscious wines.
Stephan von Neipperg: For my part, I believe it is unthinkable to pass on properties to my children that have no future. If we treat our soils with fertilizers, we reinforce a selfish survival instinct. The challenge is to produce a great wine on living soil. For me, respectful viticulture is much more important than a beautiful cellar. I always think about the great wines we produced at Canon La Gaffelière in the 1950s, where we used plaster to seal the tanks.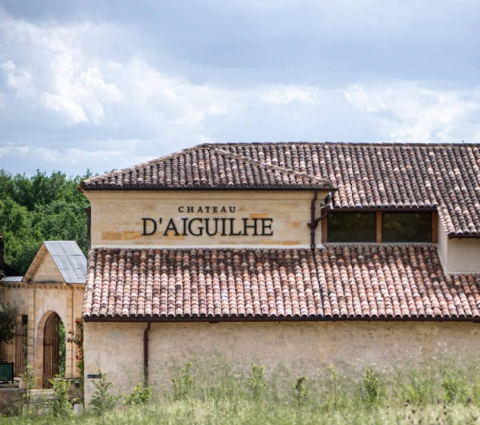 ---
Harvest 2022
Gerda: Could you give me a memory of the harvest? 
Ludovic von Neipperg: The weather allowed us to harvest at our own pace. We call this "eagle" or "helicopter" harvesting. You can imagine us, gliding peacefully over the vineyards, closely monitoring every development, ready to swoop down on a particular plot and harvest it at the optimal moment. Paradoxically, the decision was harder to make because without climatic pressure, the choice is less obvious. It led to some passionate debates between my father and me. The wise one wanted to exercise patience, while I would have preferred to go for it right away… These wines are, among other things, the result of an intergenerational compromise that exemplifies the beauty of working as a family, with its share of discussions and self-reflection.
---
Your brands today and tomorrow 
Gerda: What positioning(s) would you like to see for your brand(s)?
Ludovic von Neipperg: We struggle with the concept of branding. We see ourselves more as a Burgundian family, a family that produces different wines, from different terroirs, and at different price points. We don't want to venture into isolated islands with exorbitant prices. Our goal is to sell to collectors who are also consumers that open the bottles. We want to create a genuine connection with them. We are proud to be a family capable of producing a Premier Grand Cru Classé, like Canon La Gaffelière, at an affordable price in the market.
Stephan von Neipperg: We have sold 90% of our 2019 and 2020 production en primeur. We are not a bank or an insurance company. We are a family that needs to live off the cash flow generated by the Châteaux. Behind the crest, there is a real family that has created brands like La Mondotte, Clos de l'Oratoire, and Clos Marsalette, based on the notion of terroir. Canon La Gaffelière was one of the first properties to embrace organic farming in Saint-Émilion, and we made that choice out of conviction, not just for the label mention or the picturesque image of a man in a straw hat in the vineyards (laughs). This shows that my family has been making the right choices for a long time, being the 37th generation of winemakers.
G: How do your wines stand out and are unique?
Ludovic von Neipperg: Our wines are terroir-driven, which is not unique in itself, but they stand out by the fact that they are incomparable to the wines of our neighbors. Each terroir has its own impact on the wine, making our wines unique. We have a minimalist approach to viticulture compared to many of our neighbors, which has an impact on the expression of terroir in the wine. Our wines have the sole objective of being enjoyed both in the short and long term, and to be pleasurable for those who taste them. Always with the idea of finding local solutions, we have put a lot of thought into how we can have a positive and meaningful impact on our environment. We produce our own fertilizer because we want our production conditions to be as local as possible. We are not only seeking to simplify the work but also to create healthy plants to produce better wine. I strongly believe in regenerative agriculture and the symbiosis between a healthy production and well-being.
Stephan von Neipperg: Yes, the quality and price make our wines accessible to many consumers. Socially, we are privileged to live on-site, but I have a social and historical responsibility towards the sustainability of our properties.
G: What future projects are you currently working on? (technical, marketing, or commercial)
Ludovic von Neipperg: Here at Château d'Aiguilhe, we aim to create a place that breathes life. You have to experience it firsthand to truly understand. There's a strength, a vibration, and a positive energy that can be felt here. We want to convey to people the message that our wine is created with love, taking care of the vineyard. The Château d'Aiguilhe, with its 140 hectares, 90 of which are planted with vines, is surrounded by forests, watercourses, hedges, and century-old trees. It's a magnificent place that needs to be preserved and shared. We can accommodate up to 220 people and work with travel agencies to bring this place to life.
G: What are your priorities in terms of "green transition"?
Ludovic von Neipperg: We don't believe much in cutting-edge technologies, but rather in simple and sustainable technologies. It's important to limit chemical inputs and focus on the natural fertility potential of the soil. Acting at the right moment to do less by harnessing natural energies. A major issue today is the requirements for obtaining organic certification. We are certified organic on all our properties in Saint-Émilion (Canon La Gaffelière, La Mondotte, and Clos de l'Oratoire). Phytotherapy is also very important. We are not certified organic at Château d'Aiguilhe because there is many constraints. Without freedom, we cannot optimize. It is certain that organic farming is more environmentally friendly than conventional agriculture. However, organic farming is currently heavily criticized because it focuses solely on pesticide products, and organic farming requires more frequent vineyard treatments, which can lead to soil compaction, etc. The choices are difficult to make… We cannot prevent severe droughts, but we must prevent negative impacts on the environment.
Stephan von Neipperg: A living soil can effectively absorb the allowed doses of copper in organic agriculture. We were the only ones to have obtained organic certification for a Premier Grand Cru Classé since May 2011. Organic farming is not just a communication tool for us, and I am convinced that everyone will eventually transition to organic, as chemical products are becoming less effective and will be banned someday. Today, people say, "We are conducting organic trials" in the worst places, but it will never work. It should be done on our finest terroirs, where we can observe the changes. Moreover, the transition from chemical to organic cannot happen overnight. It will take at least 10 to 15 years to revive a dead soil.
---
The business
Gerda: What are your priorities in terms of business development?
Ludovic von Neipperg: We would like our wine d'Aiguilhe to be more widely distributed around the world. Currently, it is underrated due to its appellation. If people find Bordeaux wines too expensive, they should look elsewhere, where they can find hidden gems like here in Côtes de Castillon. We don't have a distribution problem, and we manage to sell what we produce from our other properties. Where we are least understood is with Aiguilhe. Sometimes, we have to convince people and show them that the wine is extraordinary.
Oratoire: In recent years, this wine has seen an increase in quality thanks to new mass selection techniques. At the same time, our organic and soil-friendly farming practices have allowed us to produce more than before. We want to expand the distribution of this wine, which offers a great quality-to-price ratio among the classified growths. We want this estate to become more widely available, which is why we have released 80% of the production to the market.
La Mondotte: La Mondotte is well-known among serious wine collectors but relatively unknown to discerning enthusiasts. We are aware that this brand lacks visibility. However, it is a charming small property, inhabited by the family, with a fabulous terroir, a touch of "dollhouse cellar" appeal, and an authentic soul. These are values that should resonate with new consumers of fine Bordeaux wines. Once again, our virtuous viticultural practices and the resulting increase in volume should allow for broader distribution and greater brand visibility. For this estate, we are releasing 85% of the volumes to the market.
Canon la Gaffelière: This is certainly our strongest brand. Once again, the quality-to-price positioning, especially for a premier cru of St Emilion, is very favorable. It is one of the top Bordeaux wines priced below 100€, consistently delivering high quality even in challenging years. This wine prioritizes finesse and elegance over brute force, largely due to the significant proportion of Cabernet Franc, around 40%, and Cabernet Sauvignon, eventually reaching 15-20%. While more and more consumers recognize the tremendous potential of right-bank Cabernets, we believe there is still room for growth. To reach as many people as possible, we have released 85% of the production to the market.
Stephan von Neipperg: I feel that the wines of Côtes de Castillon are still not fully appreciated in France, which is a shame because they are fabulous. These Castillon wines have an extraordinary terroir and character that should earn them a place among the great terroirs of Gironde. Castillon has its own distinct character, but for now, we are classified under Côtes de Bordeaux. That is why we have created an association of passionate authentic winemakers to give momentum to our wines. This association is called Le Club Castillon Caractères. We are organizing a tasting on June 26th to introduce it to our partners in the Bordeaux wine trade, and Roland Coiffe will be among us.
G: What sales support materials are available to distributors to promote your wines?
Ludovic von Neipperg: haha, My father and I are "mobile" ambassadors, and we also have Magali Malet who has been doing a fantastic job supporting us for many years. We have a website, and during visits to our properties, we provide consumers with the keys to understanding our fine wines.
G: Which vintage should the market be interested in? and why? 
Stephan von Neipperg: There are plenty! The only vintage that sparks discussion about its quality is 2013, but if you taste it again, you can't really say it's bad. I particularly enjoy the vintages 2004, 2007, 2011, and 2012, which are excellent now! We excel in producing great wines even in challenging vintages.
There are three mistakes to avoid in Bordeaux:
overripeness
Overextraction (which hampers longevity)
Excessive use of new oak (why bother?)
These are mistakes that need to be avoided to ensure a good vintage every year!
G: Are you planning any commercial or marketing releases in the near future?
Stephan von Neipperg: We are starting to have more and more wines available for immediate delivery. With increased production, we can set aside wines that are ready to be shipped. Previously, we used to sell up to 95% en primeur, but we have realized that it is better and more interesting to keep some stock from certain vintages to revive the wine in the minds of consumers. We would like to do staggered releases like in 2016 or 2015 with attractive prices to promote the Canon La Gaffelière brand. Unfortunately, we cannot do it yet, but that will change in the future. For Mondotte, we have started to have stock available from the 2015 vintage. We are not offering it to everyone but exclusively to our select partners.
G: Do you have any stock that are customers could work with?
Stephan von Neipperg: We have the opportunity to make offers on Canon La Gaffelière 2016 and 2019, and we still have stock available for certain vintages (starting from 2015) of Aiguilhe and La Mondotte.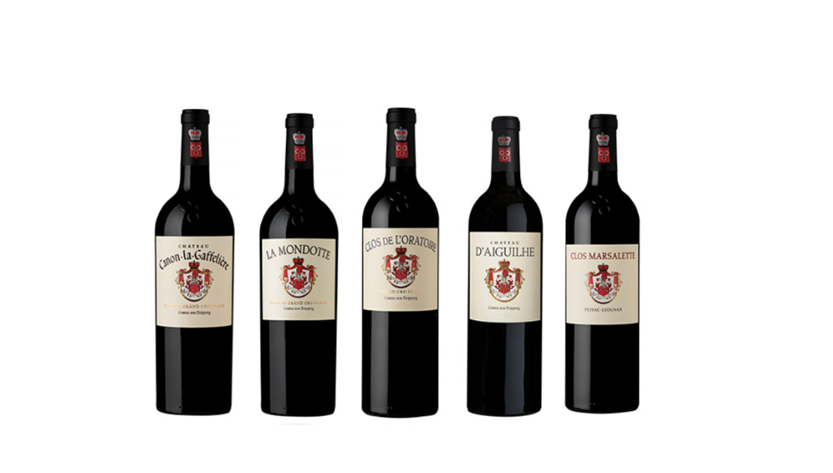 ---
Favorite bottle
Gerda: If you had one bottle of your heart?
Ludovic von Neipperg: For me, it would be d'Aiguilhe 2016. It's a great vintage in Bordeaux, especially for d'Aiguilhe. It's also the year when I made the decision to succeed my father, so this wine holds a special meaning for me.
Stephan von Neipperg: Personally, I have a preference for the very old vintages of Canon La Gaffelière, which are still magnificent today. I particularly think of the 1947 vintage, of which we only have two bottles left, as well as the 1953 and 1964 vintages. But also, the great vintages like 1988 and 1998.
---
Gerda: I had the opportunity to have this wonderful conversation with the son and father over a glass of Aiguilhe 2016, a wine from the Côtes de Castillon appellation. This appellation is known for producing attractive wines that are in tune with the times, without the need to spend a fortune. The wines from this region combine modernity and character, with a distinct personality. The Merlot grapes, grown on clay-limestone and clay-loam soils of the plateau, are generous yet well-structured, thanks to the presence of Cabernet Franc, which adds finesse and elegance. What more could you ask for?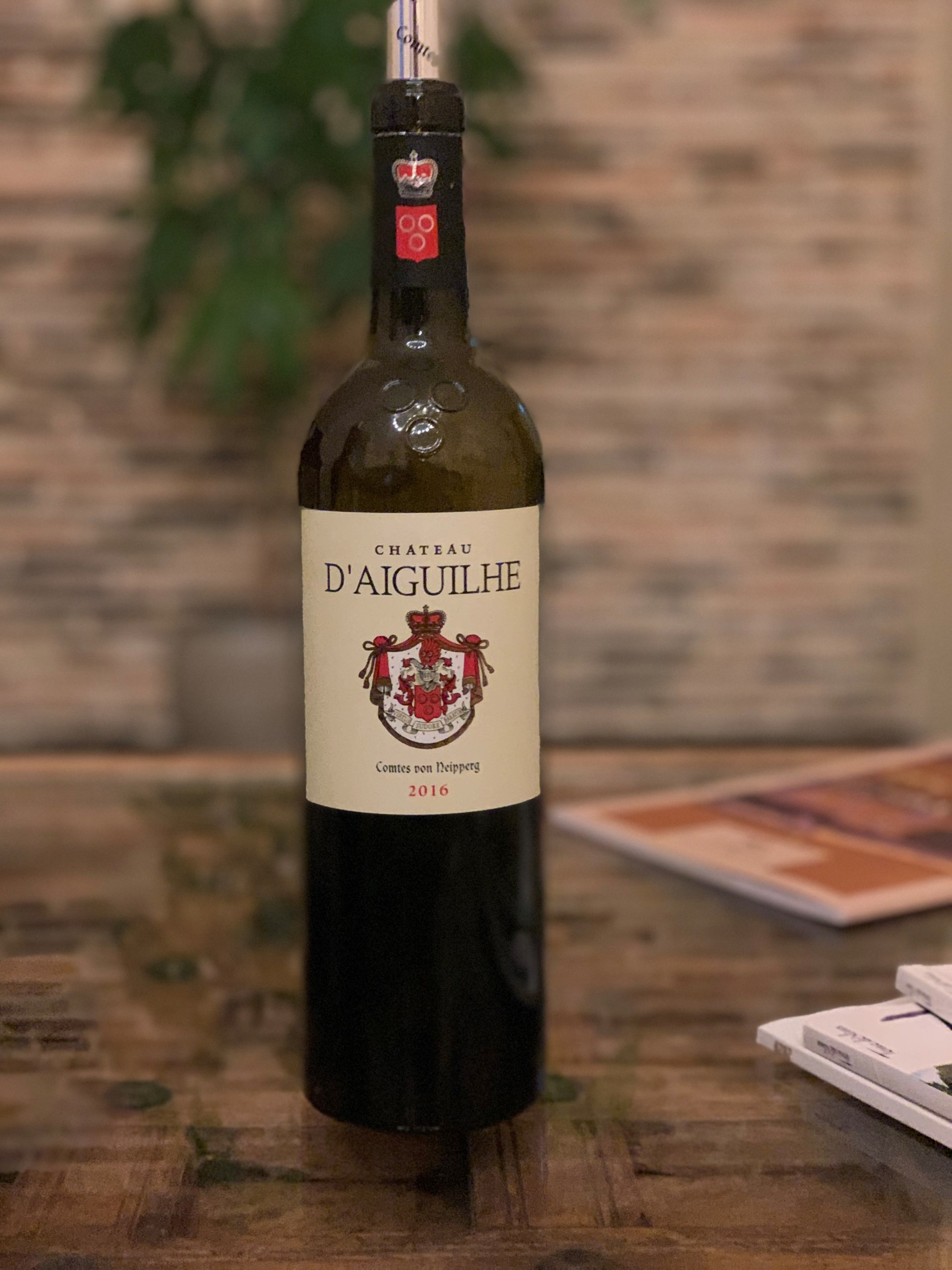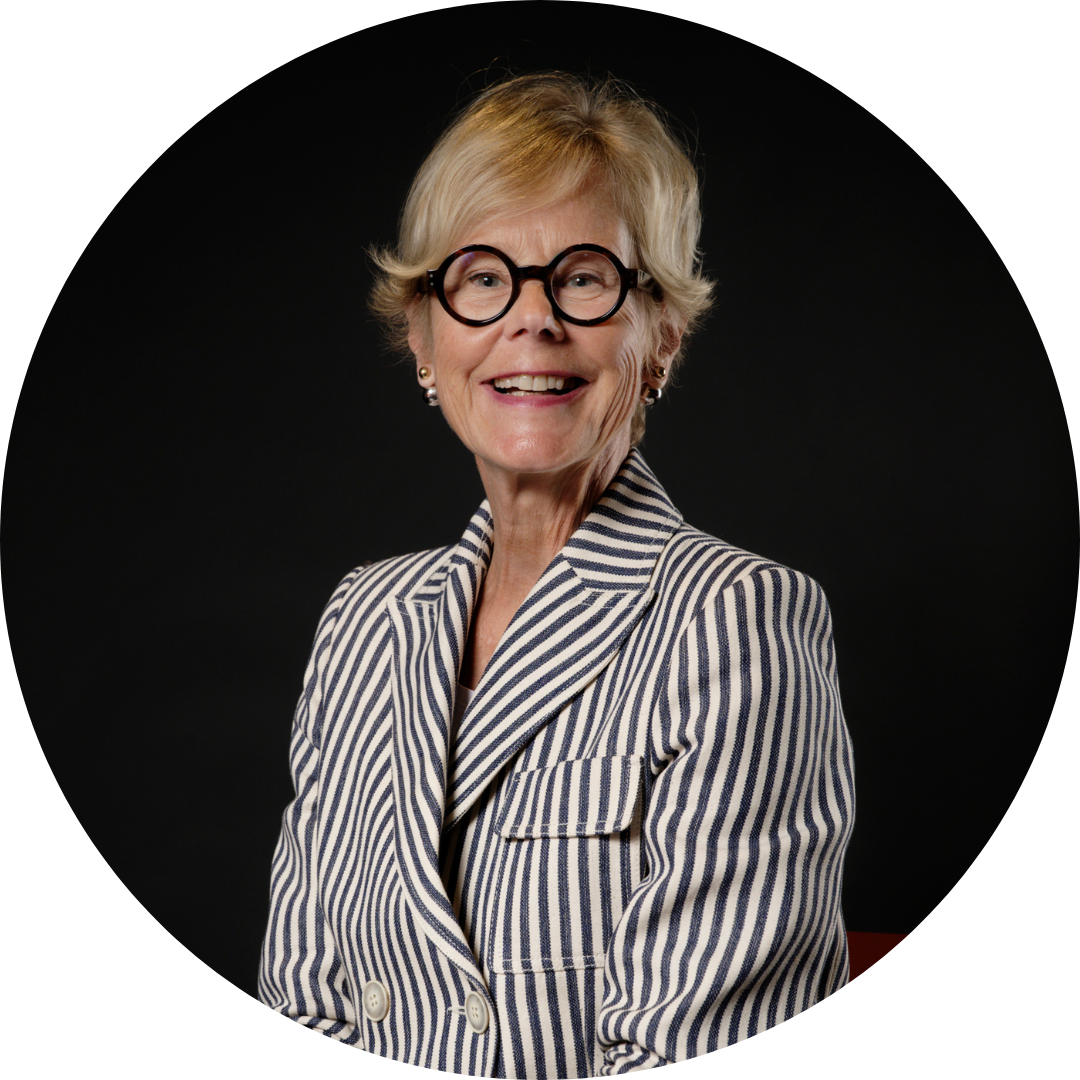 Gerda BEZIADE has an incredible passion for wine, and possesses a perfect knowledge of Bordeaux acquired within prestigious wine merchants for 25 years. Gerda joins Roland Coiffe & Associés in order to bring you, through "Inside La PLACE" more information about the estate we sell.