Jean-Luc Thunevin
Château Valandraud
1er Grand Cru Classé, Saint-Emilion
---
Gerda: Tell us about you…
Jean-Luc Thunevin: I'm still in the process of discovering my true identity… The truth is often different from the image we wish to portray. We are what we become. I am like cats that have many lives, and I am quite anxious about my next life. I am someone who is sensitive and thirsty for knowledge. One must be curious and have the desire to plant trees if they believe in the future. In my case, I have mostly planted vineyards… Perhaps I have an obsession with being loved. This is certainly due to my roots. I was born in Algeria, and every 2 years we would move. I need a sense of grounding while trying to remain free.  
Gerda: What are the main challenges you personally face in your work?
Jean-Luc Thunevin: Man is faced with a great challenge within himself, as a human species. In my specific case, my challenge is primarily not to become jaded when I encounter success. Another challenge is to resist the demands of the vineyards, as I always have a desire to do more for them. Although I am an anxious yet positive person, it is important not to solely focus on one fixed idea to achieve good results.
---
Harvests 2022
Gerda: Could you give me a memory of the harvest?
Jean-Luc Thunevin: I don't have anything specific, except perhaps the fact that I immediately understood that the vintage would be good. From the moment the grapes entered the first tank, I felt that 2022 would even be a great vintage. Those were happy and peaceful moments, largely thanks to my collaborators who did a fantastic job. Happy things are often simple.
---
The brand Château Valandraud today and tomorrow
Gerda: What positioning do you want for your brand?
Jean-Luc Thunevin: For me, the aspect of branding is very important because if your wine is not a brand, how can you differentiate yourself from others? Valandraud is my main brand, it carries my name, just like Bad Boy, Clos du Beau-Père, and Clos Badon. It is essential to communicate the image we want to convey for our brand through journalists, distributors, and colleagues. Valandraud is an ultra-premium brand, and from the beginning, I have always wanted it to be part of the icon wines. I created controversy with Valandraud in the 90s when I developed this garage wine on 0.6 hectares in the Fongaban valley. It became an icon by chance. Today, Valandraud has grown significantly, and its 8.88 hectares are now located on the clay-limestone plateau of Saint-Étienne-de-Lisse. Valandraud is still an icon due to its quality, price, and the market's interest in this wine.
G: How do your wines stand out and are unique? 
Jean-Luc Thunevin: Bordeaux has as much human involvement as Burgundy, and Valandraud is an example linked to its owner's history. This history is much more recent than that of the Rothschilds in Bordeaux, and furthermore, we are not an institutional family. Therefore, all of our wines have a personal story with an obsessive desire to do well. As for the character of my wine, I appreciate ripe grapes but not overripe ones. Bordeaux has a complex relationship with ripeness; it's like talking about the plague… Let me give you the example of the 2003 vintage, which, in my opinion, is not a vintage of overripeness. The vines were blocked during a period, but there are examples of very great wines that we produced in 2003.
Today, I often ask myself how we can create a great age-worthy wine that can also be enjoyed at a young age. I am obsessed with purity in wine, and I greatly appreciate beautiful new oak barrels. That's why Valandraud is always aged in 100% new oak barrels. It is more noble for the aging of a great age-worthy wine. I do not intend to make a wine for immediate consumption, and if Bordeaux forgets to produce wines with aging potential, what will we become… Beaujolais? Therefore, I will continue to make wines for aging but with a greater level of enjoyment in their youth. Murielle and I started 30 years ago, and Valandraud is still alive. I am proud of it because we strive to do well, and the result of our work is still present.
G: What future projects are you currently working on? (technical, marketing, or commercial)
JLT: We are in the process of converting our vineyard to organic farming, but we do not wish to highlight it. This decision was made because I am a hypochondriac, and it is important to be consistent with our employees, but organic farming is not a religion; we need to remain pragmatic. As for agroforestry, which is widely discussed today, there is no need to plant trees here because our vineyards are located in the midst of a unique hilly landscape with woodlands. We even have a pond on the property.

---
The business
Gerda: What are your priorities in terms of business development?
Sylvine Bourel, Development Manager: Our top priority is to make our story and wines known to negociants and their sales teams, and we have accomplished a lot of work in this regard on the Place de Bordeaux. We consistently offer tastings of our four brands to our partners: Valandraud red and white, and Virginie de Valandraud red and white. In total, we have around 40 hectares around the Château, with 8.88 hectares dedicated to Château Valandraud, and the remaining 31.12 hectares dedicated to vineyards that produce Virginie de Valandraud each year. It is a Saint-Émilion Grand Cru and not a second wine or a merchant wine. Virginie de Valandraud is also aged in 100% new oak barrels, and its production revolves around 100,000 bottles.
We work with 80 negociants, and we are satisfied with the distribution network that the Place de Bordeaux can provide us. Thanks to it, Valandraud is even present in Kazakhstan.
G: What sales supports are available to distributors to promote your wines?
Jean-Luc Thunevin: First and foremost, our wines are our ambassadors, and they speak for themselves. I appreciate the ratings given by journalists. We maintain friendly relations, and I respect my fellow negociants (Jean-Luc Thunevin is also a wine merchant). I accept all distribution channels for our brands, except for discounters, and even in that case… If a fellow wine merchant has sold in that segment, it means there was demand, and it can happen. I am also a wine merchant, so I can understand both sides of our market. My brands should not burden my colleagues. That is very important to me. I prefer to keep the stock if there is no demand. I can hold it at cost, which is cheaper than a wine merchant who often needs financing from a bank. Without wine merchants, I wouldn't exist, and we must not inconvenience the customer! We produce a product of status, not speculation. When my clients buy my brands, I make money, and it is crucial that the entire industry can do the same, and that end consumers open my bottles for their quality and stories.
Sylvine Bourel: Yes, the negociants are our customers, not the other way around. We do not control our allocations of Valandraud, and we do not feel the need to have full control over everything. I want to add that, of course, we have a website and a presence on social media. When we receive sales teams at the estate, Jean-Luc is always present.
G: You began your career in 1991, in the heyday of Robert Parker. What do you think of today's wine rating systems?
Jean-Luc Thunevin: Notes and ratings are always important to me. This year, approximately 60 journalists/influencers came to taste our wines. I don't complain about the high number because I am not naive. However, today's journalists no longer have absolute power. There is a danger that wines will be rated in a mediocre manner. The consumer must understand that a rating given by Antonio Galloni is not the same as a rating given by Neal Martin. Ratings reinforce brands and provide reassurance to many buyers. Human beings need validation, and we are rated from a young age in school.
There was certainly the era of Parker, and now we are in the post-Parker era. He may be missed, but it doesn't prevent the emergence of new talents. Furthermore, the advantage today is that the wine trade is gaining prescribing power, each in their turn.
G: Do you think the hierarchy of "quality, desirability and price" between the great Bordeaux wines is still open to change today?
Jean-Luc Thunevin: I believe that every brand has its own glass ceiling. In Fronsac, for example, there are excellent wines that, in blind tasting, can surpass well-known labels. However, it is challenging for these wines to break through the glass ceiling of their appellation. Our clientele is not only looking for excellent value for money but also the brand image. Valandraud certainly has a higher glass ceiling than other brands in a lesser-known appellation. That's just the way it is, and there's no point in complaining about it.
G: Which vintage should the market be interested in and why?
Jean-Luc Thunevin: There are several examples… For instance, the 2017 vintage. People perceive it as a lesser vintage due to frost damage, but the vineyards affected by the frost didn't produce any wine. Therefore, it's a small vintage in terms of volume, but it yielded wines of exceptional quality. I also think of all the vintages that follow highly publicized great vintages like 2001 and 2011. These are often overlooked vintages, but they present good opportunities for wine enthusiasts. They are bottles that offer great value without having to spend too much money.
G: Are you planning any commercial or marketing releases in the near future?
Sylvine Bourel: We launched an Acte I collection in late September last year, which included our vintages from 2009, 2010, and 2011. This collection found consumers in the United States, Japan, Taiwan, Canada, Hong Kong, France, Vietnam, Germany, Peru, and more. We definitely plan to continue with an Acte II when the timing is right for us, the Place de Bordeaux, and most importantly, our end customers.
G: Do you have any stock that our customers could work on?
Sylvine Bourel: Indeed, we have stocks of our red and white wines that are kept in our cellar. We have the pleasure of accompanying our importers, restaurateurs, and wine merchants as their requests come in through the Place de Bordeaux. Our wines, such as the exquisite 2016 grand Valandraud that is just beginning to unfold or the highly enticing 2019 Virginie red, are available, and we are delighted to offer them to our customers.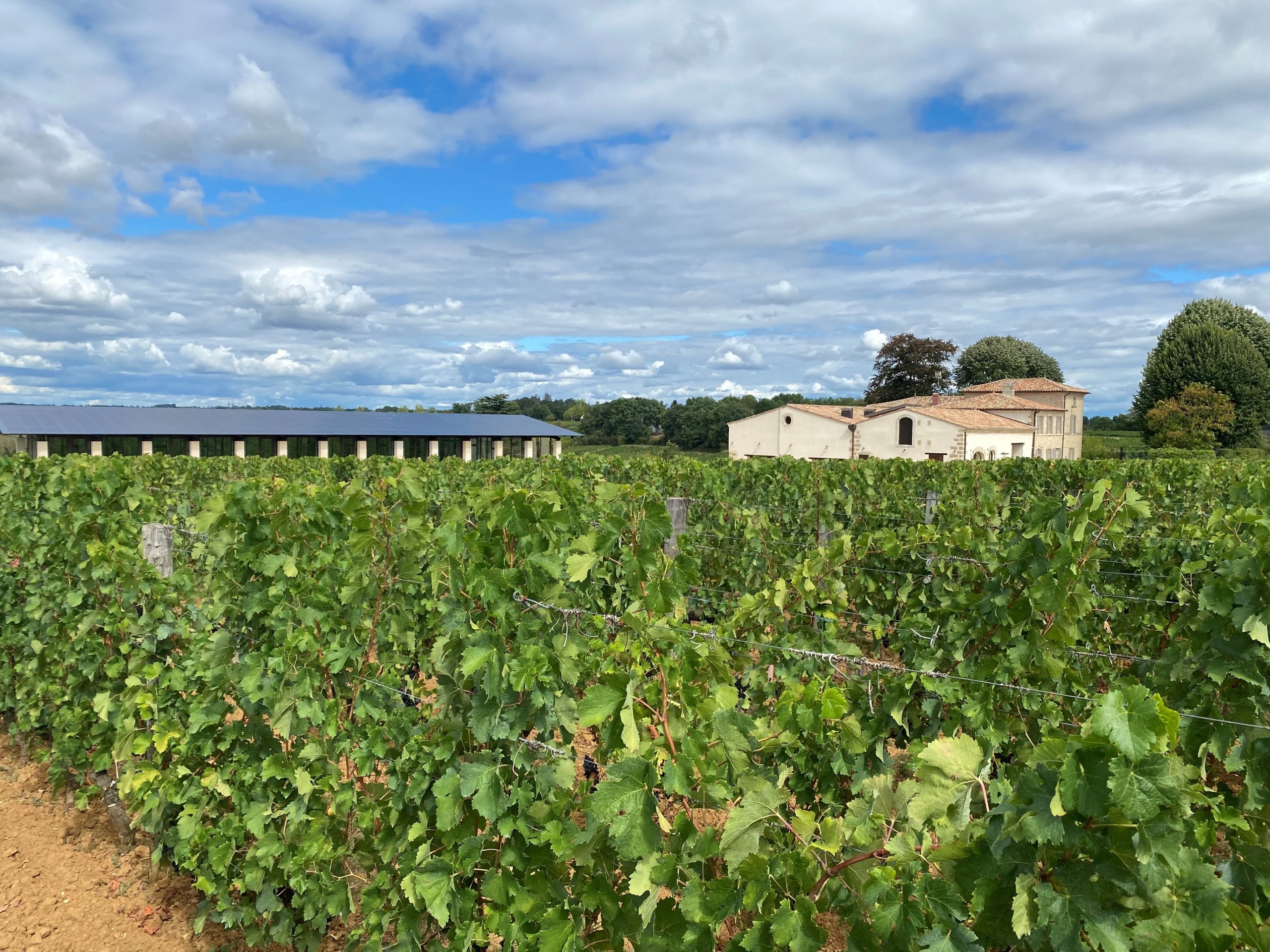 ---
Favorite bottle of Jean-Luc Thunevin
Gerda: If you had one bottle of your heart?
Jean-Luc Thunevin: It is difficult to mention just one, but everyone has their own Madeleine de Proust. Our love for wine, Murielle and I, was born thanks to a bottle of Petrus 1955 gifted by JP Moueix through one of his employees. This employee was the gardener at Videlot (the name of the house where Mr. JP Moueix lived), and his wife was the cook. This employee was also a client at the bank in Dordogne where I worked. Being already a wine enthusiast for 25 years, one day I asked this man if Mr. JP Moueix would be kind enough to sell me a few bottles of Petrus. He didn't sell me anything but offered me a bottle of Petrus 1955. That bottle changed the life of Murielle and me. Thanks to this mythical bottle, we understood what an Exceptional Grand Wine was… and we decided to embark on this beautiful adventure of producing our own wine.
---
The tasted wine
Valandraud 2022: It is wonderful to have met Jean-Luc Thunevin at Valandraud. This man is passionate and has a philosophical approach, but thanks to his profession as a negotiant, he remains grounded in reality. Here, there are no ostentatious signs, but everything is done to showcase the exceptional limestone terroir. Already in the vat room, you can feel the purity in the air, which is reflected in the wine. The Valandraud 2022 is a magnificent wine. It exhibits pronounced aromas of black fruits. On the palate, the wine is complex and supported by remarkable tension. It possesses a superb structure that gives the wine a beautiful concentration. The wine is pure, flavorful, and finishes with a delightful salinity. With a pH of 3.5 and a yield of 47 hectoliters per hectare, long live limestone!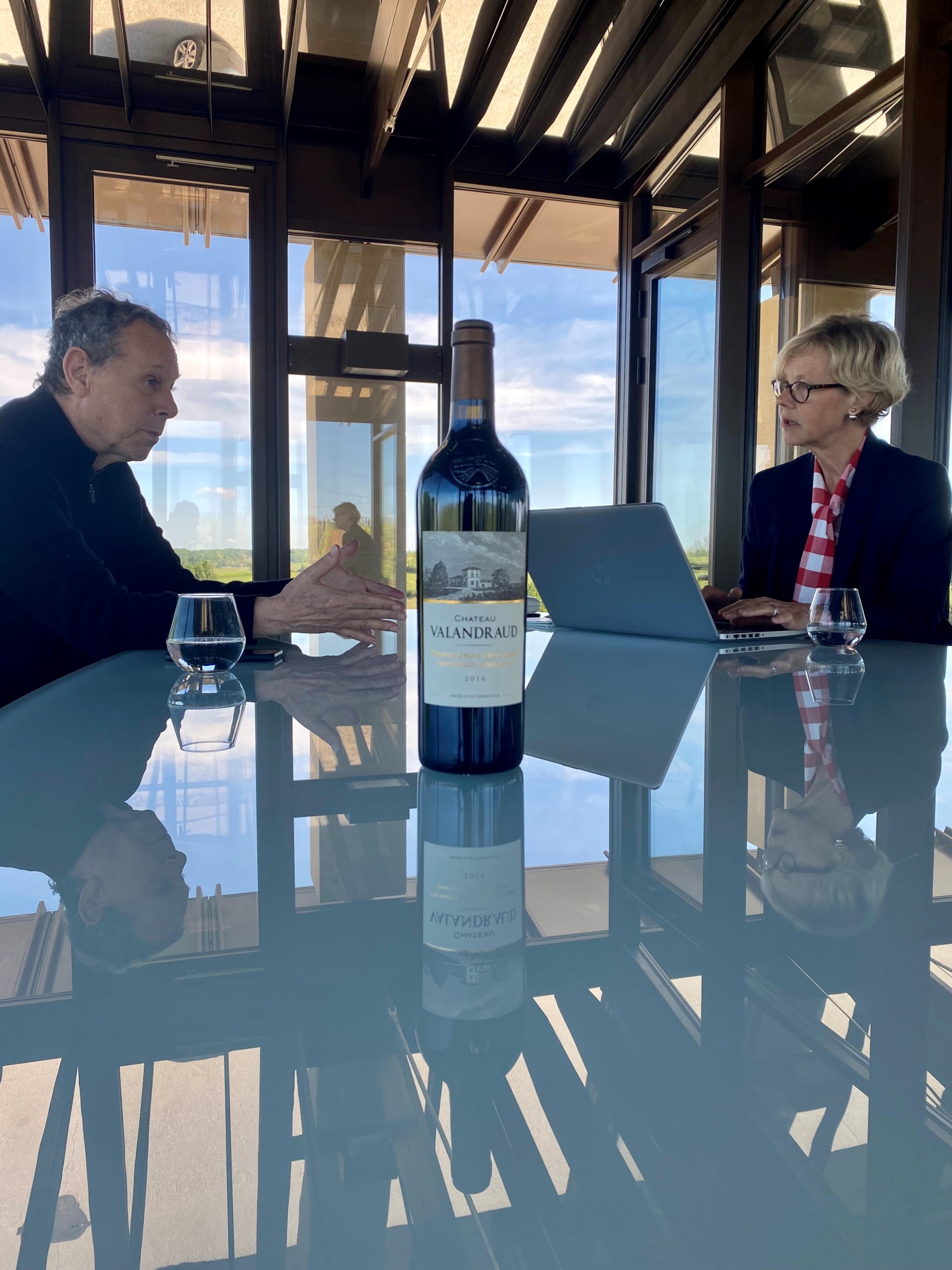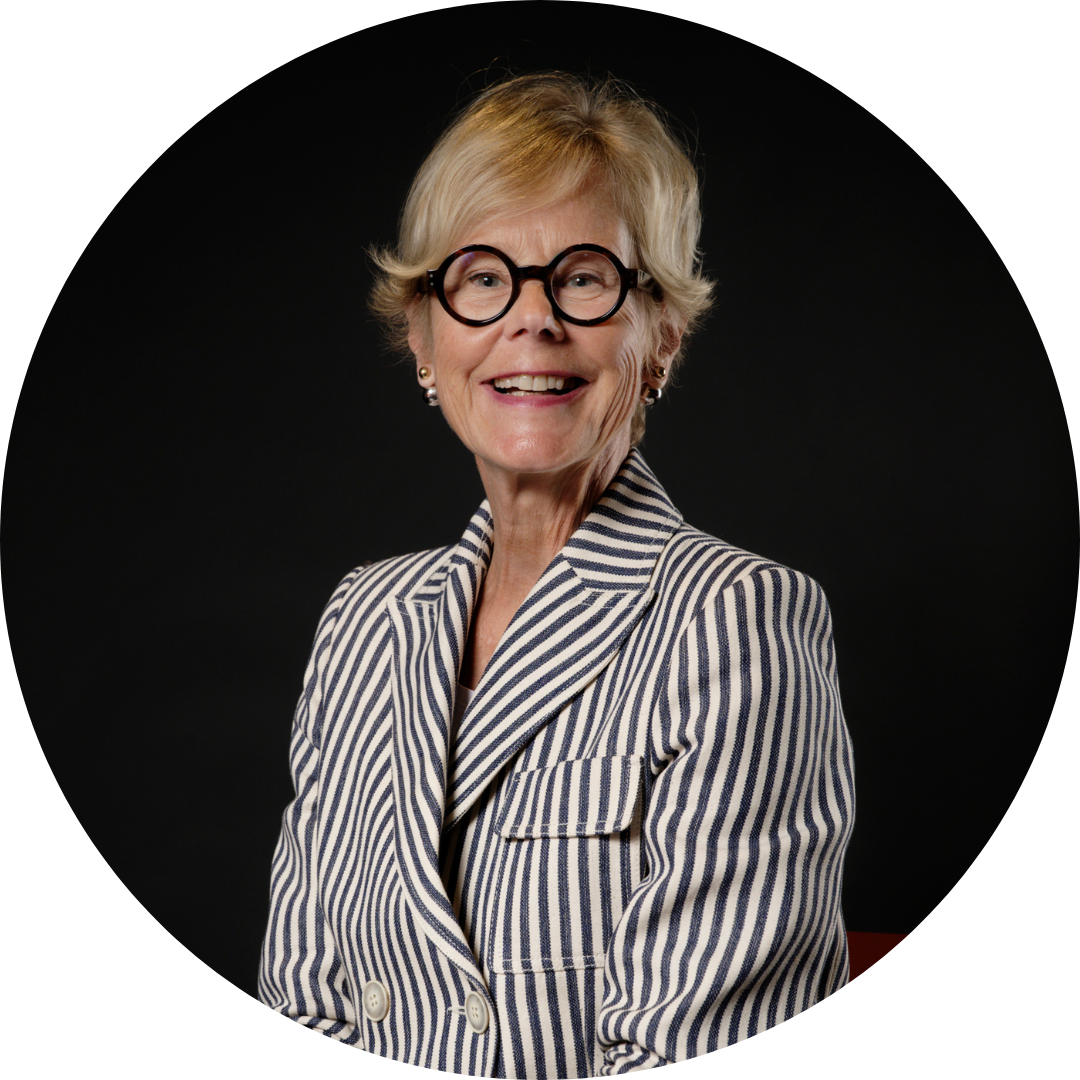 Gerda BEZIADE as an incredible passion for wine, and possesses a perfect knowledge of Bordeaux acquired within prestigious wine merchants for 25 years. Gerda joins Roland Coiffe & Associés in order to bring you, through "Inside La PLACE" more information about the estate we sell.