Pierre Montegut
Technical Director
Met by Gerda
Château Suduiraut
Premier Clu Classé en 1855, Sauternes
---
Sauternes is one of the most beautiful appellations in Bordeaux with incredible landscapes of vineyards, woods, castles and a priceless heritage. It is a region that has an incredible charm. Its wine syndicate is presided by two dynamic men who believe that the promotion of Sauternes should be based on attractive and modern wine tourism. Great entrepreneurs such as Bernard Arnault (Château d'Yquem), Silvio Denz (Château Lafaurie Peyraguey), the Rothschild family (Château Rieussec) and recently Matthieu Gufflet (Château Guiraud) with the shareholding of Peugeot's families, Bernard and the Neipperg families, have invested in this appellation which covers 2 200 hectares. Men and women who believe in this appellation which has a lot to offer. Let's start with the wine itself. In this Inside La Place article, we focus on a very great Sauternes: Château Suduiraut, a Premier Cru Classé in 1855 that the insurer AXA bought in 1992 for its exceptional terroir and to create a seminar venue with 61 rooms. I interviewed the technical director Pierre Montegut (also technical director of Château Pichon Longueville Baron since April 2022) over a delicious glass of Suduiraut 2009.
Xavier Sanchez, sales director, then answered a few questions about the market in order to better understand their sales policy as well.
Gerda: Can you describe yourself in a few lines?
Pierre Montegut: I would describe myself as a passionate, precise, and even meticulous person. These are three characteristics that you need to have to make Sauternes. I am proud to make a sweet wine and I love talking about this wine. Sauternes is not my first sweet wine love, before arriving at Suduiraut, I made sweet wines in the Loire, at Bonnezeaux, on the banks of the Layon, for 8 years. Another great terroir for making exceptional wines.
Gerda: What are the main challenges that you personally face in the practice of your profession?
Pierre Montegut: I would say that there are two main challenges: the first is at the viticultural level, finding new adaptations to climate change and moving towards more environmentally friendly viticulture. We are confronted with an increasingly early maturity which has an influence on the aromas and acidity. Moreover, we want to produce better because with the low yields of the last 5 vintages, with a historically low 2021, our activity is no longer economically viable. Today, we are planting with other rootstocks that will be more resistant to climatic hazards. Last year, we installed plant cover on some plots. The result was so promising that we are trying to adapt this soil management to the whole terroir this year.
The second challenge is human: finding staff who are motivated to work in the vineyards. In order to respond to employment problems, we created a group of 15 Châteaux in 2018. This grouping has launched a paid training course called "QV Sauternes" to recruit new profiles who want to work in agriculture. We have a beautiful job, but it's a tough one because a lot of work is done outside or in the cellar, in difficult conditions.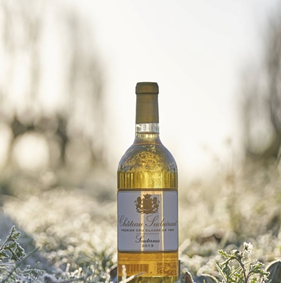 ---
Harvest 2022
Gerda: Can you give me a memory of the 2022 harvest? 
Pierre Montegut: We have never harvested so early for the dry wines and so late for the sweet wines at Suduiraut. The secateurs were taken out on August 18th and then brought out again only the week of October 10th: a really long wait between the harvest of our dry whites and our sweet wines, one and a half months and there was nothing to do in the vines, not easy for the teams. A situation never encountered before, otherwise the harvest was not complicated. As for me, I was able to enjoy the harvest at Pichon Baron in the meantime, which took place in perfect weather.
I am happy with the result of our wines at Suduiraut. There is a nice acidity with a low pH and the wine has a huge richness. The rise in alcohol level was faster than in 2003. In the week of October 10th we picked on Saturday, October 15th. The following week, between Monday 17 and Thursday 20 October, the degrees rose to 25%. I have never seen such a rapid concentration since I arrived at the estate in September 2004. However, don't worry, we are doing our blending the week of February 12th with Christian Seely and Eric Boissenot and I am convinced that the final result will not be a heavy wine, as our first sorting is lively and our second sorting shows elegant botrytis. This is the magic of our blends, a marvelous balance is sought each year while respecting the typicity of the vintage. Unfortunately, the yield was once again low, between 7 and 8 hectolitres per hectare. It is really sad, 5 consecutive years with small quantities, fortunately, the quality was there
---
Sauternes
Gerda: What makes Château Suduiraut different and unique?
Pierre Montegut: Suduiraut has a real Sauternes style. It has a powerful attack with lots of fruit. It has tension and as it ages, it becomes mintier. It has a very clean and taut finish that looks like a Barsac. The tension counterbalances its voluptuousness on the palate. It has power without heaviness and an aromatic return on the palate that is not heavy. These are all qualities that we find in this magnificent 2009 vintage that we are currently tasting.  
G: You produce 3 dry whites: Château Suduiraut Vieilles Vignes, Château Suduiraut pur Semillon, and Lions de Suduiraut. Why dry whites on a Sauternes terroir? 
PM: When I arrived in 2004, we did a lot of micro-vinifications for dry whites. Christian Seely is a big fan of Semillon from Australia (Tyrrell's from Hunter Valley) and South Africa. The trials gave great results and little by little we made the choice to move up the range of dry white wines. The S de Suduiraut 2004 was the first vintage to be marketed. In 2015, we created the Lions de Suduiraut dry white and since the 2020 vintage, we also produce Château Suduiraut Vieilles Vignes, dry white, and Château Suduiraut Pur Semillon.
We are proud of our dry white wines and we think that they are, from a qualitative point of view, at the same level as our sweet wines. It's a choice made on a parcel basis, but also a choice to show the terroir in two versions: a sweet version and a dry white version. Even if there is a certain revival of interest in Sauternes, it is fascinating to make dry whites. As for the choice of plots, we start tasting the grapes in August. The grapes from the same row of vines are tasted as a team before we decide whether to make dry white wine or sweet wine. The same plot can be divided into 2 or 3 zones. The same row can make dry white wine one year and sweet wine the next. Christian Seely and Eric Boissenot help us with the final blends. Making a wine is like putting cards on top of each other, first a lot of experience is gained and then things can change when it comes to blending. As I often say, I prefer to choose than to make by default, it's a job of high precision that I appreciate a lot.
Today, we make 30% of our production in dry white and our objective is to move towards 40% of our harvest.
G: Do you have any models in terms of taste when making your dry whites? 
PM: Yes, I really like white wines with tension and freshness like those from the Loire or Chablis. There are interesting dry white wines everywhere, like in Portugal or Hungary with the white wines from Lake Balaton, Tokaj which are made with local grape varieties. Also, I love the great German Rieslings. They are appetizing, complex wines that make you want to have a second glass. 
G: Which of your recent achievements would you like to share with our customers?
PM: The creation of our dry white wines since my arrival. They are real creations of vintages and not brands. They allow a different perception of our terroir. For each wine, many tests were carried out and for example, the Pur Semillion 2020 is the first to be marketed after 4 tests! For this wine, we chose a plot with 60-year-old Semillon vines and the same climate as the 2020 vintage, the result was perfect. The wine is completely the opposite of what many people expect from a Semillon. It is crystalline and very mineral, just what we like.
G: How far has your estate come in terms of ecological transition?
PM: Château Suduiraut is an estate of 180 hectares with 90 hectares of forest. We are working to link wine-growing environment and our wild forest environment with the help of an ecological corridor. This agroforestry project allows us to break up this monoculture of vines, and these hedge plantations favour both our biodiversity and the circulation of animals between these two spaces. We have been happy to see hares in our vines, it is a great satisfaction to bring back the fauna. We have also set up beehives on the edge of the forest, the return of bees is essential for a diversified ecosystem. We use sustainable agriculture and are HVE certified. We use contact products, mostly copper and sulphur, as in organic farming, and if necessary, we still use synthetic products only at flowering time, if the weather is capricious.
G: Could you give us a memorable vintage and why?
PM: I have many, but I would like to talk about the 2009 vintage that we are enjoying together. 2009 was a perfect year in terms of climate: no frost, with reasonable rainfall and perfect sunshine. Each season was well-marked without excess. The botrytis arrived in the last week of September and in mid-October we did our last sorting. The nights were cool, giving the same kind of aromas. The ripeness was optimal, which translates into this beautiful concentration with a lot of complexity. There was no rush during the harvest and we did 5 sortings in all tranquillity. In spite of all these optimal conditions, we only made 50% of the first wine because, as I said in the introduction, I am a meticulous person, one could even say "difficult". We only want the best for Suduiraut and the 2009 vintage is a perfect example of our patience and high standards.
---
The tasted wine
Suduiraut 2009: It has minty aromas, it's fresh and it has concentrated straightness. It has some candied fruit but is still more citrusy with a little pineapple. It is still too young to develop the saffron aromas that are found in the very old vintages of Suduiraut. The finish has ginger, candied lemon and salinity. It has a perfect balance and as Pierre rightly said: it is like a dancer who does not show his muscles. It should be savoured without moderation, because with these exceptional wines you will find optimism in your glass!

---
The business
Gerda: What are your priorities in terms of commercial development? 
Xavier Sanchez (sales director): Our priority is to develop our range of dry white wines: Les Lions Secs de Suduiraut and the Grand Vins Blanc Sec du Château Suduiraut. The latter is a very great dry white wine, produced on a 1er grand Cru classé terroir, on targeted parcels, exclusively old vines and with Sémillon as the main grape variety.
G: What sales support materials are available to distributors to promote your wines?
XS: Our strength lies mainly in our human resources available in the field. We have many ambassadors in the biggest markets: the United States, England and China. We always accompany our partners.
G: Which vintages should the market be interested in and why?
XS: At Château Suduiraut, our main objective is always to market the greatest wine, the greatest quality possible – sometimes with less quantity. Therefore, we are consistent in our qualities but I would certainly recommend the 2009 vintage (one of the best for the last 20 years) and the 2013 vintage (very successful).
G: Do you have any upcoming commercial releases or market launches?
XS: The beginning of the year is relatively active for our Château Suduiraut. In particular with the release of our Lions Sec de Suduiraut 2022 vintage at the end of February. Then at the beginning of March, with the release of our Château Suduiraut vintage 2013.
G: Do you have any stock that our customers could work with?
XS: Our available quantities are not that great but we can work well on all the vintages from 2009 onwards.

Gerda BEZIADE has an incredible passion for wine, and possesses a perfect knowledge of Bordeaux acquired within prestigious wine merchants for 25 years. Gerda joins Roland Coiffe & Associés in order to bring you, through "Inside La PLACE" more information about the estate we sell.