Pauline et Edouard Vauthier
Managers and co-owners
---
It is always a great pleasure to meet Pauline and Edouard Vauthier at Château Ausone. They are two dynamic young people living in the midst of their exceptional terroir. Here, there are no ostentatious signs, but a true life of winemakers attached to their land.
In this Inside La Place article, we wish to focus on the other châteaux from Vauthier family, and particularly on Château Haut-Simard, whose magnificent terroir is located between three illustrious neighbors: Château Pavie, Château La Gaffelière, and Château Canon La Gaffelière. First, I asked Pauline and Edouard some questions in order to better understand the history of each château in 5 steps. The identity of their 7 crus (including Ausone and Chapelle d'Ausone) leads us to the top, Château Ausone. We will make our way from the bottom of the village of Saint-Émilion to the top to meet the wines of the Vauthier family: Château Fonbel, the seductive wine, Château Simard, the fresh and straight Merlot, Château Haut-Simard, the dominant Cabernet Franc with great typicity, Château Moulin Saint-Georges, the perfect balance between Merlot and Cabernet Franc, and last but not least, Château La Clotte, the great class of Merlot.
This stroll is a fascinating initiation and not to be missed for Bordeaux lovers.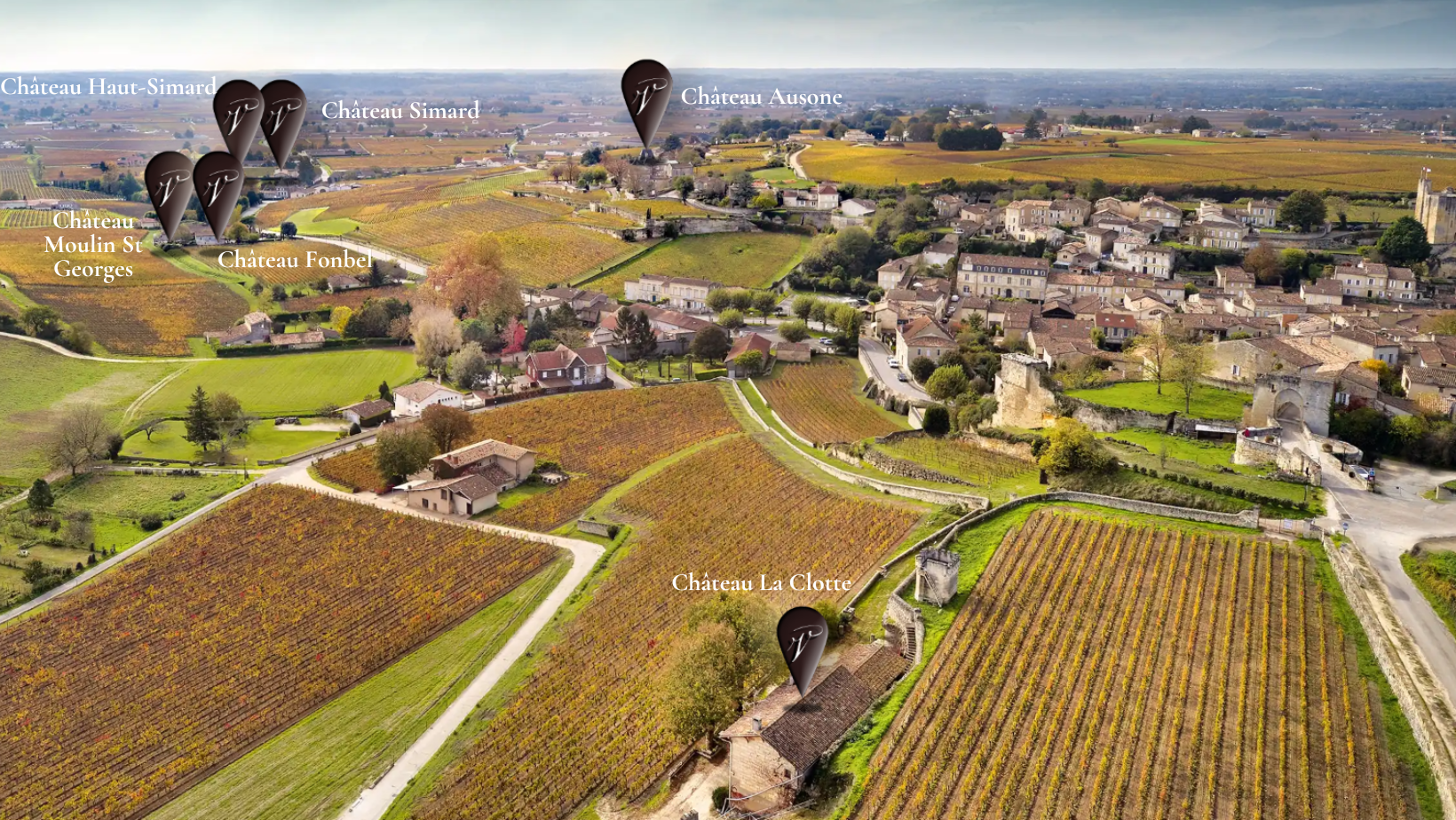 1st step: Château Simard, Saint-Emilion Grand Cru
Edouard Vauthier: It is a 50-hectare vineyard opposite Canon La Gaffelière. We inherited it when my father's uncle passed away in 2008. The soil is light and the vast majority is planted with Merlot. It is our entry-level wine of which we are proud.
Pauline Vauthier: I love this wine as it has an easy approach. These are crisp, accessible Merlots with nice red fruits, without complexities and meant to be drunk when young, but can also age for 10 years without problems. We respect the terroir and never push the winemaking process to find the character and balance in each vintage. This cru is a big brand in the United States and also well-followed in Norway and Japan. It is the first step for the consumer to get to know our wines.
2nd step: Château Fonbel, Saint-Emilion Grand Cru
Pauline Vauthier: We have owned this Saint-Emilion Grand Cru since 1971, which is located in the plain south of the village of Saint-Emilion. This wine has been sold by La Place de Bordeaux for a very long time, and commercially, it has been a great success. We are delighted with what the negociants have done for this vineyard, which covers 16 hectares of clay-sandy, gravelly, and simply sandy soil. The majority of this vineyard is planted with Merlot (85%) and for the rest, it is Cabernet Sauvignon, Carmenere, and Petit Verdot. It is fascinating for us to stay in touch with these other Bordeaux grape varieties. This wine is a fruit bomb with a lot of body in the mid-palate, but it maintains the freshness to which we are very attached.
3rd step: Château Haut-Simard, Saint-Emilion Grand Cru.
Pauline Vauthier: We want to bring more attention to this estate, which deserves it fully as it is unique in its kind. Château Haut-Simard is really different from Château Simard. Unfortunately, the market still confuses the two estates too much. So, there is a real reflection to be made to differentiate them more.
We acquired Château Haut-Simard in 2008. It is a 10-hectare vineyard with a density of 12,600 vines per hectare, which is huge for Saint-Emilion. Its neighbors are Pavie, Canon la Gaffelière, and La Gaffelière. It is a jewel with a high proportion of cabernet franc in the blend, between 50 to 60%, the rest being merlot. The soil is clay-limestone and sandy.
In recent years, we have decided to put more cabernet franc in the blend. It is a grape variety in which we believe a lot with climate change. Remember that Chapelle d'Ausone 2021 is a 100% cabernet franc wine. Thanks to this high density of 12,600 vines per hectare at Haut-Simard, the rooting is deep. Who knows… Maybe one day, this wine will be made with 90% cabernet franc. It is a wine that has its character, incomparable to our other wines. Vinification and aging are done only in concrete tanks to maintain freshness, crunchiness, and a beautiful acidity that gives Haut-Simard great drinkability. It has a lot of length and is flavorful. It can be compared to an excellent Loire wine, it has all the qualities, but I think we should keep a small portion of merlot to make these cabernet francs more appealing. Château Haut-Simard has the great signature of the Vauthier family, which translates into our ancestral love and know-how for cabernet franc.
4th step: Château Moulin Saint-Georges, Saint-Emilion Grand Cru 
Pauline Vauthier: The family has owned this 8-hectare vineyard since 1921, which is located opposite Château Ausone. Moulin Saint-Georges is situated between La Clotte, Pavie Macquin, and La Gaffelière. This argilo-calcareous terroir is planted with 80% Merlot and 20% Cabernet Franc. The average age of the vines is high: 45 years. Thanks to the limestone, which we love in the family, the wine can be enjoyed young but also has great aging potential. We mainly sell it in Europe. It deserves to be better known because it is a wine full of depth, elegance, and complexity.
5th step: Château La Clotte, Saint-Emilion 
Edouard Vauthier: We bought this property in 2014. There are opportunities in life that must not be missed, and La Clotte was one of them. It's a 4-hectare jewel, of which only 2.5 hectares are currently in production. It's a magnificent argilo-calcareous terroir planted with 85% Merlot and 15% Cabernet Franc, with enormous potential to produce an exceptional wine. European wine enthusiasts and knowledgeable English connoisseurs already know this.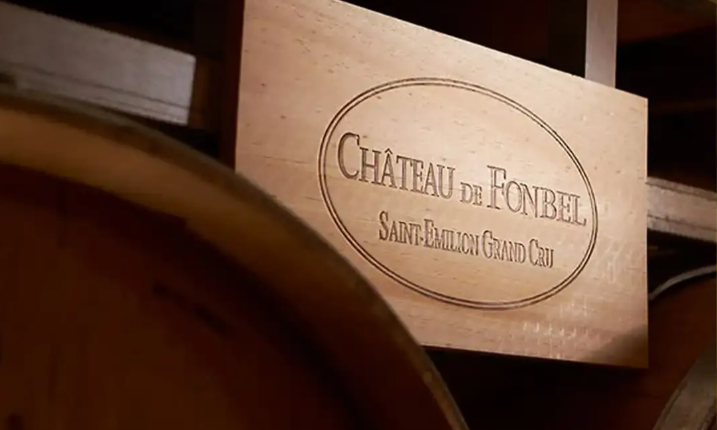 ---
The business
Gerda: What positioning do you want for these 5 wines?
Pauline Vauthier: It is essential that each wine stays in its market and finds its consumers in every corner of the world. All markets are open, except for Simard for which we still have 5 states in the United States that are protected: New Jersey, Texas, Nevada, New York, and Illinois. We trust the Place de Bordeaux for all our wines.
Edouard Vauthier: I often say that the Vauthier family is a small unit of 90 hectares in organic agriculture with 7 estates differentiated by their terroirs and positions. If we extrapolate with Burgundy, we can say that:
Châteaux Simard, Fonbel, and Haut-Simard are in Villages appellation,
Châteaux Moulin Saint-Georges and La Clotte are in Premiers Crus,
Château Ausone is in Grand Cru.
I like this comparison with Burgundy because we are in this dynamic of being a family owner who knows how to make wine ourselves without following trends! We have to offer a range of wines for every consumer with a real identity and real family know-how for 11 generations. We need to highlight this captivating complexity of our 7 estates.
It should be noted that we do not have a dedicated team for Ausone, our collaborators rotate and each estate benefits from the same attention and culture of excellence. We do not compromise, these are our lands since the end of the 17th century, and here, we want the best for our terroirs. The non-use of chemical and synthetic products has been obvious to us for a long time. Perhaps we are too discreet, but we work daily in our vineyards, Pauline makes the wines, and I am convinced that our values are our selling strength in collaboration with our partners in the Place de Bordeaux.
G: 2022 is your third vintage in organic conversion. Could you tell us a few words about the 2022 harvest and the vintage?
Pauline Vauthier: 2022 was a challenge due to climate deregulation. We are heading towards increasingly extreme vintages. All of our terroirs responded very well to the drought. The limestone and clay-limestone soils were able to retain the water that fell generously in 2021. The water table was at its highest level at the beginning of the season and the vines resisted. In all of our cellars, the tanks are full. We are thrilled!
This is the first time we have been able to spread the harvest out for so long. The weather was perfect from Monday to Friday. We were not at all tired during vinification, there was no stress, and even in the cellar, it was calm. Every day, we stopped harvesting at 2 pm. It was very comfortable! We harvested over 4 weeks, twice as long as in 2021.
2022 will be a good vintage… and I even think it will be great. It is flattering, round, the tannins are very well integrated, the alcohol is high but you don't feel it at all thanks to the freshness which is our style, our exceptional terroirs allow us to achieve this quality in all of our wines.


Gerda BEZIADE has an incredible passion for wine, and possesses a perfect knowledge of Bordeaux acquired within prestigious wine merchants for 25 years. Gerda joins Roland Coiffe & Associés in order to bring you, throuh "Inside La PLACE" more information about the estate we sell.