Marjolaine de Coninck
Director Domaines Perrodo
Domaines Perrodo
Château Marquis d'Alesme, 3ème Grand Cru Classé en 1855, Margaux
Château Labégorce, Margaux
Château La Tour de Mons, Margaux
Met by Gerda
---
Gerda: Tell us about you…
Marjolaine de Coninck: I consider myself as a builder. I love having projects that are like new pages in a book, they bring new challenges. I am constantly on the move. I am very lucky because my husband is like me, he has lots of ideas and projects, he is a self-employed winemaker. We like to challenge ourselves; fortunately, we are on the same page! It is important not stop at the result but keep working, build, and have new projects. This entrepreneurial spirit is our family culture. Moreover, I realize every day the importance of stability and family love, these values are fundamental to me.
Gerda: What are the main challenges you personally face in your work?
Marjolaine de Coninck: There are two axes in our work that have become permanent challenges. First, the social axis is the one that perhaps engages me the most, because I am very attentive, perhaps even too much of a "good father" figure with my team. I have to do a lot of coaching and don't want to delegate this mission because human factors account for 80% of the success of a wine.
The second axes is ecology, which requires new viticultural practices. I am a technician and I find these changes great. This requires continuous self-reflection, but I try not to change everything all at once and to evaluate the modifications of our practices. I say yes to agroforestry because the monoculture of the vine brings parasites, but planting trees in the middle of the vineyard will pose other problems. We need to understand our past, and today we are in the phase of finding the right balance, which is exciting! At Crus Domaines Perrodo, we apply biocontrol viticulture but without certification. I don't want to confine us, we need to remain free.
Nathalie (Perrodo) and I have determined our roadmap, which is based three parameters:
The consumer: I have to produce for him a dream wine, with good value for money, quality and safety.

Our people: we must protect our employees. Taking care of our vineyards using organic methods is good, but the multiplicity of treatments, for example 16 times instead of 8, will cause a lot of stress for our teams. A risk-benefit balance of practices needs to be discussed.

The environment: we have a carbon balance approach, and we have to take into consideration the tractors in the vineyard. We do not yet have an effective technological alternative: diesel tractors are becoming heavier (soil compaction) and electric tractors are not yet powerful enough…
Our goal is to keep our triangle balanced because its 3 points are of equal importance. It is certainly not easy, as a response to one issue often creates another issue. We do a lot of brainstorming to avoid degrading one of the vertices and to move forward together. It is a constant questioning that I lead with Nathalie.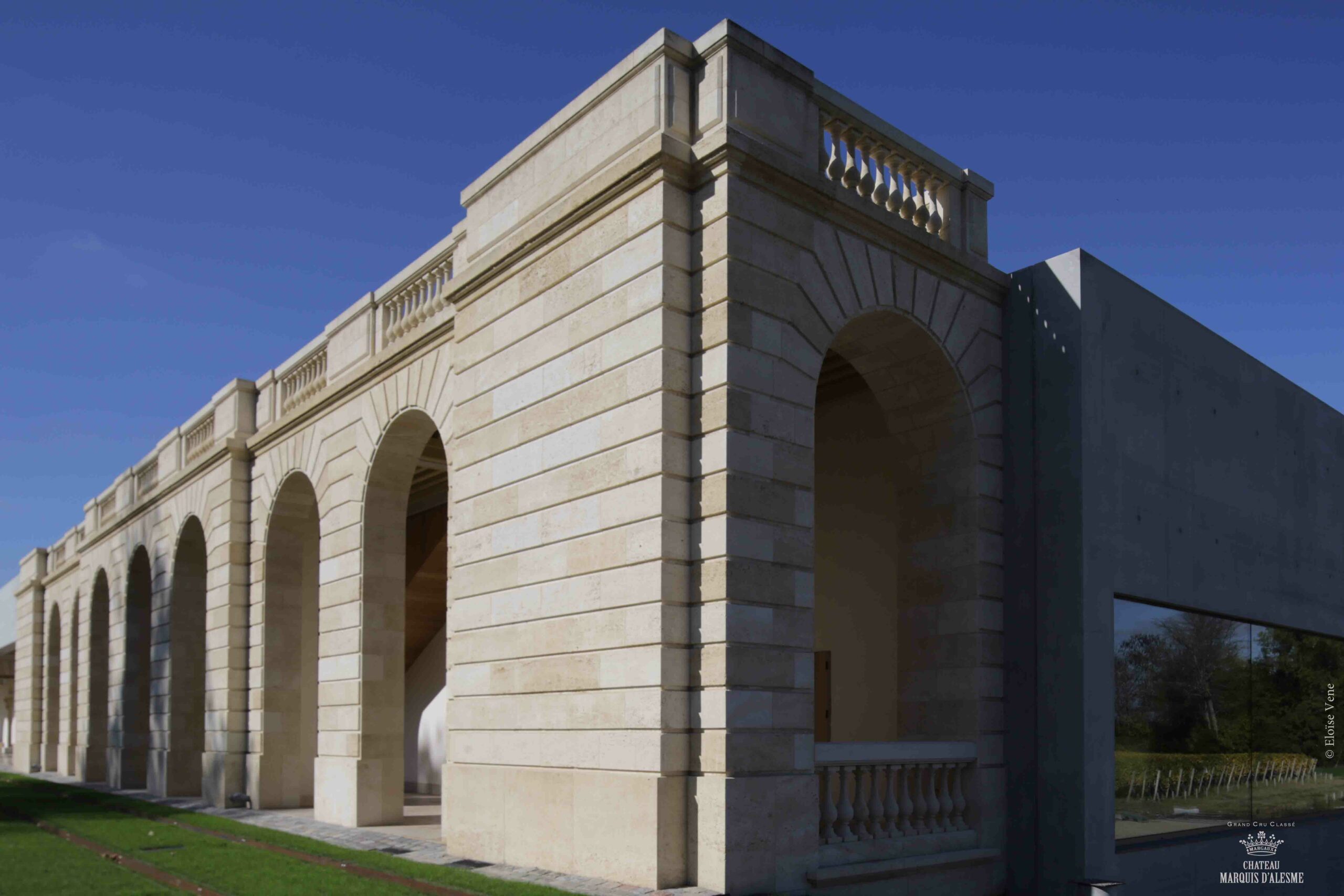 ---
Harvests 2022
Gerda: Could you give me a memory of the harvest? 
Marjolaine de Coninck: I have a fairly similar memory of the 2010 vintage. Those harvests were a true delight, with ideal picking conditions. There was no stress. We walked around and picked when we wanted to. We harvested quietly for 5 weeks. The weather was great! The sorting bins remained empty except for occasionally a small leaf, the sanitary condition was perfect!
There were aromas of great purity and captivating fruits during vinification. As for tasting, there is a very nice balance in the wine, with freshness and great brightness. Everyone is totally amazed at the development of this wine when tasting it. The vineyard understood everything and managed to preserve the acidity, the pH is around 3.6. Even in sunny vintages like 2005 and 2010, the pH was higher than in 2022 which is elegant with incredible tannins. It is a very beautiful vintage. The only downside is the quantity, around 25 hL/ha. Let's remain optimistic, this allows us to reflect and fortunately Mother Nature has given us this gift of quality. She has offered us a wine that will undoubtedly live up to its promises.
---
Our brands today and tomorrow
G: What positioning do you want for your brand?
Marjolaine de Coninck: We have three brands in the Margaux appellation which have three different positionings:
Tour de Mons, a gateway to the Margaux world: it is an entry-level brand in this beautiful appellation. The product sells for around €15 ex-tax en Primeurs. We want to keep this brand in an affordable price range.
Labégorce, is like an unclassified big brother. The majority of its terroir is located among illustrious neighbors, it is a great Margaux, affiliated with the great family of Classified Growths, but will never be classified itself. We assume and accept this. Labégorce is an excellent value with an excellent price-quality ratio. The current Futures price is around €18 ex-tax. The idea is to move a bit higher. In this category, we need to pay more attention because consumers' expectations are higher. We are currently conducting important research to obtain a more elegant and refined wine that meets demand; the return of massal selection cabernet franc in the grand vin since the 2019 vintage is helping us a lot.
Marquis d'Alesme,

 a small Classified garden in Margaux, regained its illustrious status thanks to the Perrodo family. It is a Classified Growth maintaining its position in its family. Today, the price is €25 ex-tax on Futures. Our ambition is to move towards a higher price, and to achieve this we need to gain more notoriety. We still have a long way to go to become more famous. How high will the price be? I don't know. It is the market that will guide us because we are very commercially oriented and we do not go against the market!
G: How do your wines stand out and are unique?
MDC: They each have the heart of a man, Hubert Perrodo, who settled in Margaux in 1989. He did not come to Margaux for his profession, but for a family and love adventure. It was in 1989 that he discovered Labégorce thanks to the Tari family with whom he shared a passion for polo. He discovered this French and Margalaise land through them and immediately loved and adopted it. For him, Labégorce was a heaven of love and reflected the French way of life: joy, sharing, big tables and of course wine. He quickly learned and understood the commercialization of Labégorce and also integrated that Labégorce would never be considered as a Cru Classé. It was then in 2006 that Marquis d'Alesme entered the family estate as a flagship. Tour de Mons was offered to him, but when I arrived we wanted to first revive Marquis d'Alesme. Ten years later, the opportunity to buy Tour de Mons presented itself again and we couldn't say no a second time. Nathalie said, "It's a sign from Dad (who passed away in December 2006), we've worked well, we're ready and we have to go for it this time!"
Tour de Mons stands out for its terroir which is more clayey and clay-limestone, like on the right bank. There is a majority of Merlot (57%) bringing this gourmet side and this fruitiness to the wine without heaviness, and Cabernet Sauvignon (36%) gives it a strong character without opulence. It is an easily accessible wine after 3 to 4 years, a real charming product that also has the ability to age 10 years without any problems.
Labégorce represents luxury, with a perfect balance and a fuller body. It is slightly dominated by Cabernet Sauvignon, Cabernet Franc, and Petit Verdot, which together make up 55% of the blend. It has a beautiful tannic backbone, and we are increasingly looking for precision in Labégorce, which we achieve through infusion rather than extraction. It has gained in aromatic brightness, with more pepper and spices, accomplished by 45% Merlot. Labégorce has a fruity and generous palate, with a body dominated by the Cabernets which are well-defined.
Marquis d'Alesme has its own distinct character, with 70% Cabernet Sauvignon. It takes time to tame these Cabernets on this great gravelly terroir. We must guide it 100% to obtain fine, well-defined, and precise tannins. It has pure Cabernet aromas: black fruit with a lot of complexity. It is spicy and has a great aromatic body. Our challenge is to find the precision of these magnificent Cabernet Sauvignon tannins
G: Which of your recent achievements would you like to share with your customers?
MDC: A private visit to Marquis d'Alesme allows you to enter the universe of the estate in order to understand the spirit of this vineyard and everything we have done for this wine. It also allows you to discover the magnificent architectural achievement, a true mix of cultures. Indeed, Nathalie Perrodo has not only French culture but also Chinese culture. Her mother is from Hong Kong and Nathalie speaks Cantonese fluently.
I would also like to mention a technological advancement, we are experimenting with an electric robot called "Falkor" for soil work. The company Naios has been guiding us in this robotization work for 3 years. It is a project that requires a lot of exchanges and sharing of skills.
G: What future projects are you currently working on? (technical, marketing, or commercial)
MDC: We are experimenting and evaluating new ways to manage our vineyard. For example, for the past 10 years, we have had 5 hectares without trimming. We call these vines the "ballerinas". We catch the branches and roll them in a lunar circle just above the main bud. Pontet-Canet was a pioneer of this technique in the region. We will also implement eco-grazing with sheep and goats. We are looking for what is best for our vineyard without any preconceived ideas. The Enclos de la Tour de Mons, which spans over 45 hectares in one piece, bordered by woods, is an exceptional technical work site.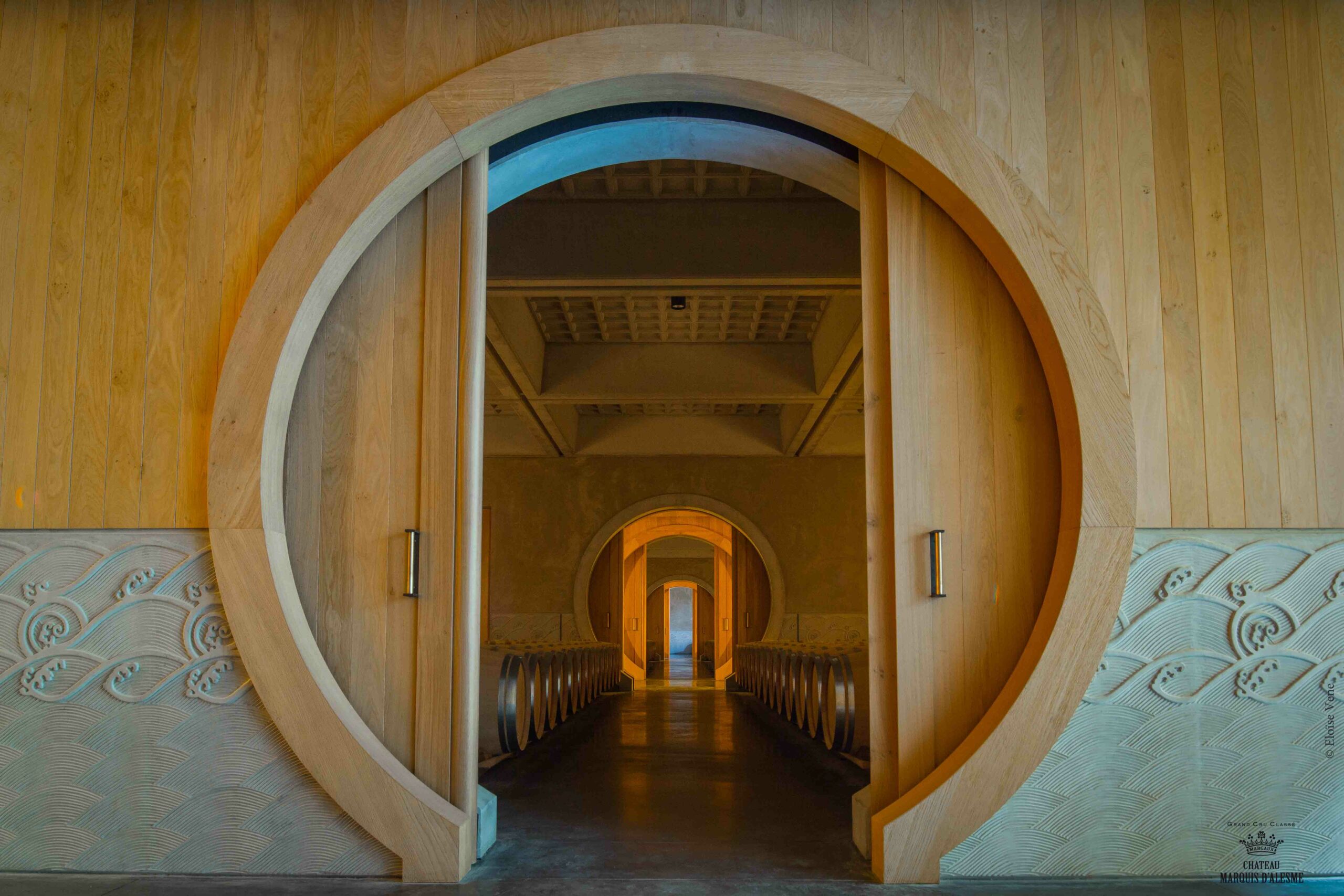 ---
The business
G: What are your priorities in terms of business development?
MDC: I think today the three brands are well established worldwide and have a presence on all continents. There are still some small weaknesses, such as Japan and Africa. These markets are our priority. In the markets where we are already present, we want to:
Increase the number of distributors,
Look for even more niche distributors,
Go all the way to the end of the chain towards the true retailer and final consumer.
There are still continents where we are present in too big distribution channels and not enough in more qualitative circuits, we must focus on these more specific customers.
G: What sales support materials are available to distributors to promote your wines?
MDC: We recently released a small digital and paper brochure: Domaines Perrodo in a nutshell.
In it, we explain our philosophy and the 3 wines in 3 to 5 key phrases.
We are present on social media, have a website.
On the ground, we have Delphine our "brand-ambassador", Nathalie Perrodo and myself. Nathalie increasingly embodies the brands and her presence gives a lot of strength to promote the three wines.
G: Which vintage should the market be interested in? and why? 
MDC: Looking for vintages to drink, I would recommend 2012 or 2014 for Marquis d'Alesme, perhaps 2017 for Labegorce Margaux, and already 2019 for La Tour de Mons.
For buying and keeping, without a doubt 2019: a great vintage that is today, unquestionably a super good value!
2015 and 2016 are definitely worth waiting for…
G: Do you have any upcoming commercial releases or market launches?
MDC: Yes, the en primeurs 2022 release!
G : Do you have any stock that are customers could work with?
MDC: We sell the vast majority of our harvest as futures, so our chateau stock is low, serving our negociants to open up new markets. Our negociants are aware of this and come to us with questions on a case-by-case basis.
---
Favorite bottle of Marjolaine de Coninck
Gerda: If you had one bottle of your heart?
Marjolaine de Coninck: Marquis d'Alesme Becker 2015, because it is a great vintage in Margaux, our 6th vintage under Nathalie Perrodo and her new team, and definitely the one that helped Marquis gain recognition and reposition itself among the great family of Margaux's Crus Classés!


Gerda BEZIADE has an incredible passion for wine, and possesses a perfect knowledge of Bordeaux acquired within prestigious wine merchants for 25 years. Gerda joins Roland Coiffe & Associés in order to bring you, through "Inside La PLACE", more information about the estate we sell.