Ludovic David
General Manager
Working at the estate since 2009
Met by Gerda at the Château
Château Marquis de Terme 
4ème Grand Cru Classé en 1855
Margaux
---
Gerda: Tell us about you…
Ludovic DAVID: I am an agricultural engineer and oenologist from Cherbourg in Normandy and I lived in Madagascar when I was 6 to 15 years old. By adoption, I am both from Toulouse, I studied there, and from Bordeaux, throughout my professional life. During my studies, I followed two specializations: milk and wine, I chose the wine sector.
Wine is a vibrant universe with a double cultural and historical dimension, intimately linked to geography. France occupies a special place in this area, and I am convinced that this will continue despite the wines of the new world which bring diversity. I started my career at Pomerol, then in 2009, I joined Château Marquis de Terme as general manager and technical director.
Gerda: What are the main challenges you personally face, in the practice of your work?
Ludovic DAVID: Every year, you have to adapt to nature and question yourself. In our profession, there is nothing systematic. Each year, the same questions come up, but the solutions are different because the parameters fluctuate: a new page is written each year. Despite the experience, I still have the same doubts. My job is fascinating!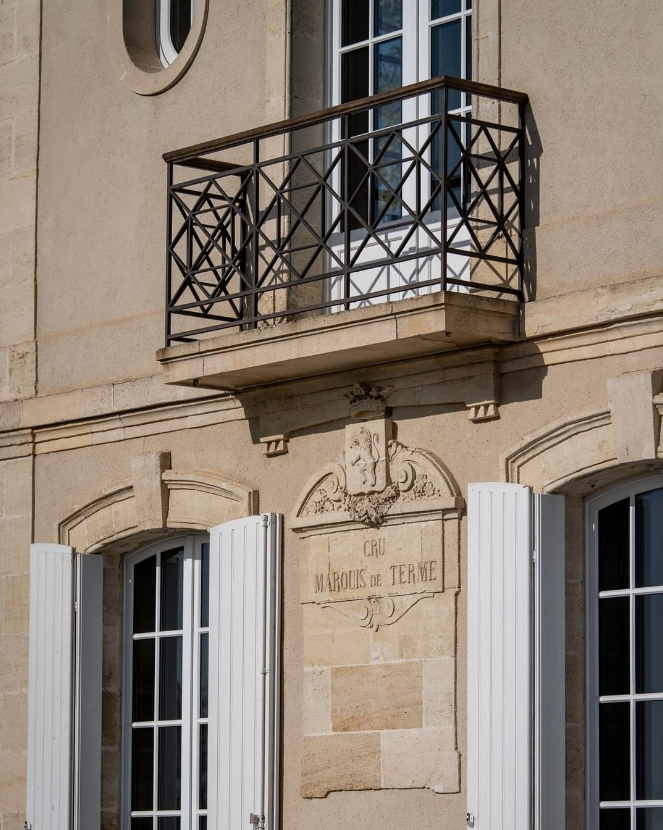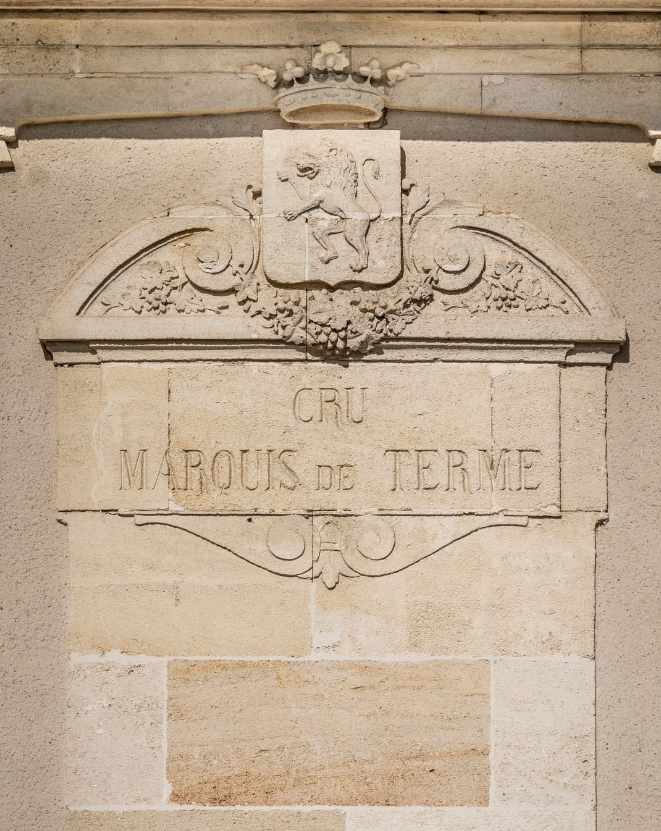 ---
The brand Marquis de Terme today and tomorrow
Gerda: What positioning(s) do you want for your brand(s)?
Ludovic DAVID: This is a good question for Myriam (Myriam Ruer, sales manager who joined us in 2020).
My personal commitment is total to the estate's development. My priority is to position the Château where it belongs; thanks to its terroir, history and quality!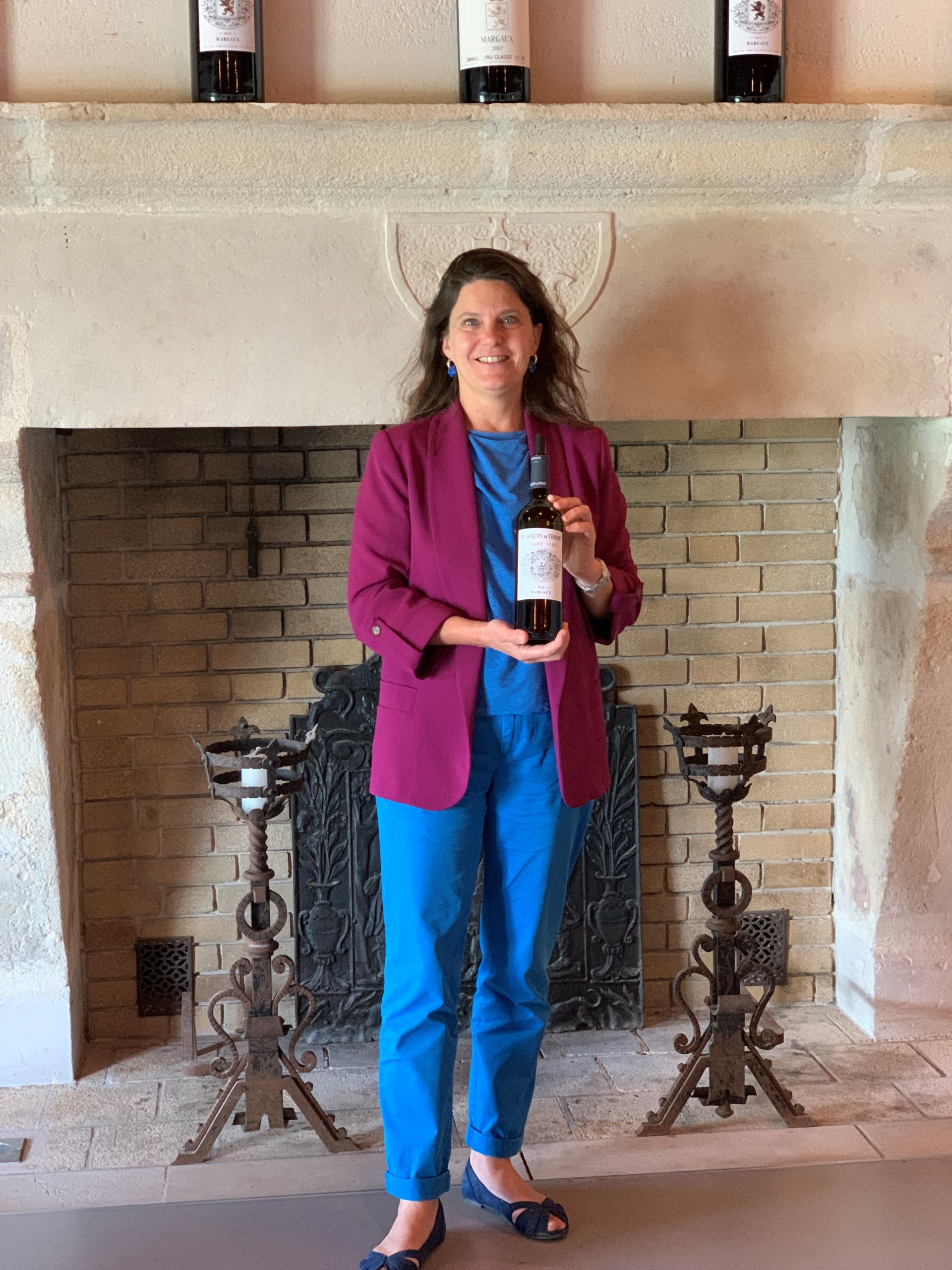 Myriam Ruer: We want Château Marquis de Terme to be visualized in its true environment, both historical and geographical, with its terroir. Our property is a pearl and should be recognized as a reference for the Margaux appellation, Bordeaux and France in general. This sleeping beauty is now awake, but we still have to go further and make it shine around the world.
The 1762 cuvée was created to remind us that our know-how is old and that the exceptional qualities of this terroir were highlighted thousand years ago. This cuvée is not a second wine, but a wine that represents our terroir with more accessibility and more personality. As for Château Marquis de Terme, it will remain a singular wine.
G: How do your wines stand out and are unique?
Ludovic David: It is the singularity of its terroir and its ancient history. Marquis de Terme has crossed centuries, wine has been produced there since the 17th century, and the know-how is ancestral. It was in 1762 that the wine took the name of Marquis de Terme.
Marquis de Terme is a balance between fruit and power, silky tannins and length in the mouth. It gives pleasure and never stops telling a story. Each year, I look for methods to obtain a fruity structure and the roundness of the tannins while seeking even more elegance and sensuality.
G: What recent accomplishments would you like to share with customers?
LD: We open the estate to everyone and internationally. We have renovated and rearranged the estate and today Marquis de Terme is more than ever welcoming customers. We opened our doors to professionals for tourism, I am not saying wine tourism, because tourism has a broader dimension. The restaurant ( in partnership with Grégory Coutanceau – a recognized french chef of La Rochelle) is on two floors and is both open to the vines and the kitchen to observe. A private lounge with 10 seats in the heart of an intimate space is also available. We can also receive business seminars in a beautiful bourgeois residence adjoining the property. Wine, gastronomy and hospitality, we offer a french experience, a french way of life.
You have to come to discover the Médoc and Château Marquis de Terme. Many people do not know it, but the Médoc is a natural and protected reserve.
You can contact Myriam by e-mail to organize your visit.
G: What future project are you currently working on?
LD: On a technical level, I am continually looking for balance and precision. Since vintage 2014, we have been using "Perle de Quintessence" vats. This year we ordered 40. I love them because they give a smooth extraction of the fruit with a nice tension. As for our Petit Verdot, which represents today 5 to 6% of our blend, it is vinified in small stainless steel vats of 70 hectolitres. This gives very good results with smoother tannins.
At a marketing level, we also have plenty of projects. All our labels have been reworked. It is a long process and a real revolution. On the other hand, our new approach to wine leads to repositioning the brand through appropriate marketing, our beautiful terroir allows it! The technical and human resources that we deploy are there to support the expression of our vines, it is essential to create a strong link between the terroir, production, communication and sales.
G:  How far along are your property in "green transition"?
LD: We are part of a sustainable development process, it's fundamental! It is important to respect our vines and our wines. In the Margaux appellation, we have done a lot of studies on fauna and flowers and we are registered in the Médoc Nature Reserve. For 4 to 5 years, ecological corridors have been set up in the middle of the vines in order to preserve and increase our biodiversity. We must make more responsible and sustainable choices, our soils must be respected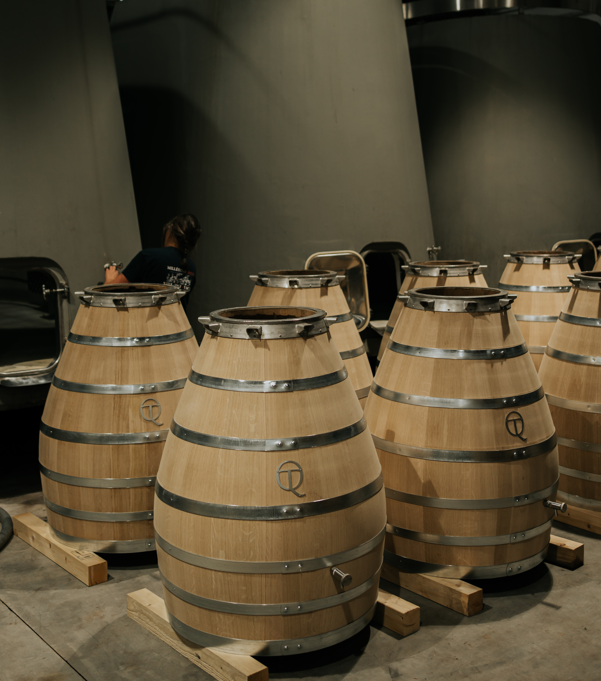 ---
 The business
Gerda: What are your priorities in terms of  business development
Myriam Ruer: This year, for the first time, we asked our negociants partners for their precise distribution of our wines. The result shows that Marquis de Terme has a strong distribution in France. We want to maintain it and increase capillarity by going more towards restaurants and sommeliers. Marquis de Terme is appreciated in Europe and there are great openings in Germany and Switzerland. We need to work more on the United Kingdom because they are big influencers of our wines in general.
I have just returned from a 2 weeks business trip to the United States. I made 30 new points of sale in wine merchants and restaurants. This success can be explained on the one hand by our attractive price for a Grand Cru Classé of this level and on the other hand by the fact that Marquis de Terme has good taste. The wine is excellent value for money. We will work to penetrate this market well. Asia is more complicated for us. We can't go there. China is a complex market in which there are many changes in distribution. We trust our partners like Roland Coiffe & Associés!
Japan is a historical market to be maintained and developed. We need to build Korea and Southeast Asia and not just look for opportunities. We are not very present in Latin America.
G: What sales supports are available to distributors to promote your wines?
Myriam Ruer: Website, social networks, technical sheets and the creation of my position as sales manager: I am here to support la Place de Bordeaux in the promotion of our wines. Also, a detailed map of the vineyard has been produced. And of course, our magnificent property, which is open to all and which allows you to understand and "enjoy " Marquis de Terme, after this visit, you will want to taste our wines at home!
G: Which vintage should the market be interested in? and why?
Ludovic David: I won't surprise you by saying Marquis de Terme 2017. We really missed its quality. When tasting it again, everyone says it is superb! It is balanced and fruity. It needs to be more highlighted.
G: Are you planning any commercial or marketing releases in the near future?
LD: In April, we marketed the first 2018 vintage of our Cuvée 1762. Production is 45,000 bottles. This cuvée is a tribute to the property, 1762 is the beginning date of Château Marquis de Terme's history when Mademoiselle Ledoulx d'Emplet brings the estate as a dowry to François de Peguilhan, the Marquis of Terme. The property, which has belonged to the Sénéclauze family since 1935, has a rich history of 260 years. The Cuvée 1762 is the expression of this timelessness, it is thought to be a representation of both the personality and the typicality of our terroir.
Wesbite & Instagram
---
The favorite bottle of Ludovic David
Gerda: If you had one bottle of your heart?
Ludovic David: Marquis de Terme 2009 which is my first vintage. It is very ripe, rich, but a little less precise with slightly tight tannins: a few beginner errors… But I like these small beginner imperfections and they are corrected by the exceptional quality of the vintage. I have a great fondness for this vintage.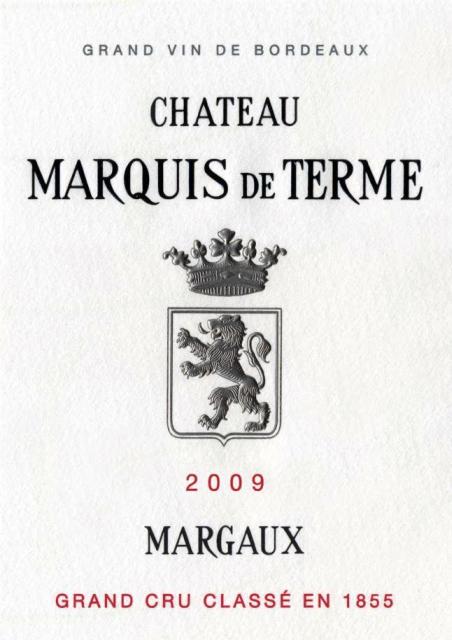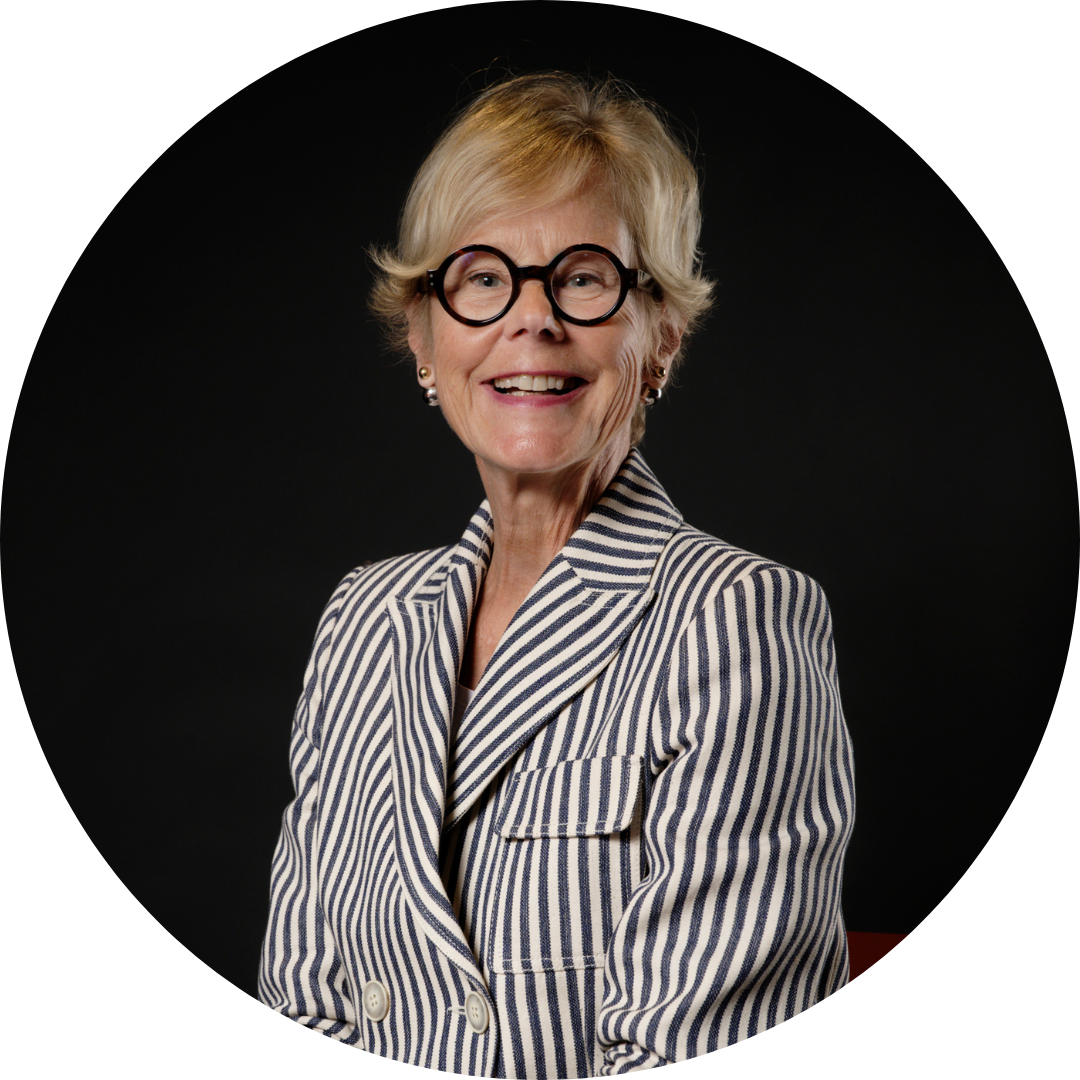 Gerda BEZIADE has an incredible passion for wine and perfect knowledge of Bordeaux acquired within prestigious wine merchants for 25 years. Gerda joins  Roland Coiffe & Associés in order to bring you, through "Inside La PLACE" more information about the estates we sell.