Olivier Bernard (left)
General Manager
Rémi Edange (right)
Deputy Director
Met by Gerda at the Domaine
Domaine de Chevalier
Grand Cru Classé de Graves
Pessac-Léognan
---
Gerda: Tell us about you…
Olivier Bernard: I am passionate, and committed to my wines. My most profound philosophy is "the greatest wine is the one I will make tomorrow". I thought I made the most outstanding wine of my life in 2010, but 2018 vintage was even more fantastic, and 2020 is not far off… The quest for excellence is endless: "The sky is the limit", I have no limits.
Rémi Edange: I am a nature lover, a wild soul. I love great wines that reveal terroirs' purity and natural beauty.
Gerda: What are the main challenges you personally face in the practice of your profession?
Olivier Bernard: This intimacy with nature is stronger than anything. It disturbs us and at the same time it adores us, it's like a beautiful woman. In a few days, we have received 24 mm of rain, a real gift from heaven. We have a real attachment to nature, an intimate relationship because if she gives us a great and beautiful fruit, we can make great wine. Our teams must show a capacity to adapt.  
Rémi Edange: Our daily challenge is to try to understand the plant, the soil and their symbiosis as well as possible. We are concerned about the well-being of the plant on a daily basis. The health of our vineyard is great: 2021 is proving it. Our philosophy is: to stay connected with terroir in order to make the most appropriate decisions for our ecosystem.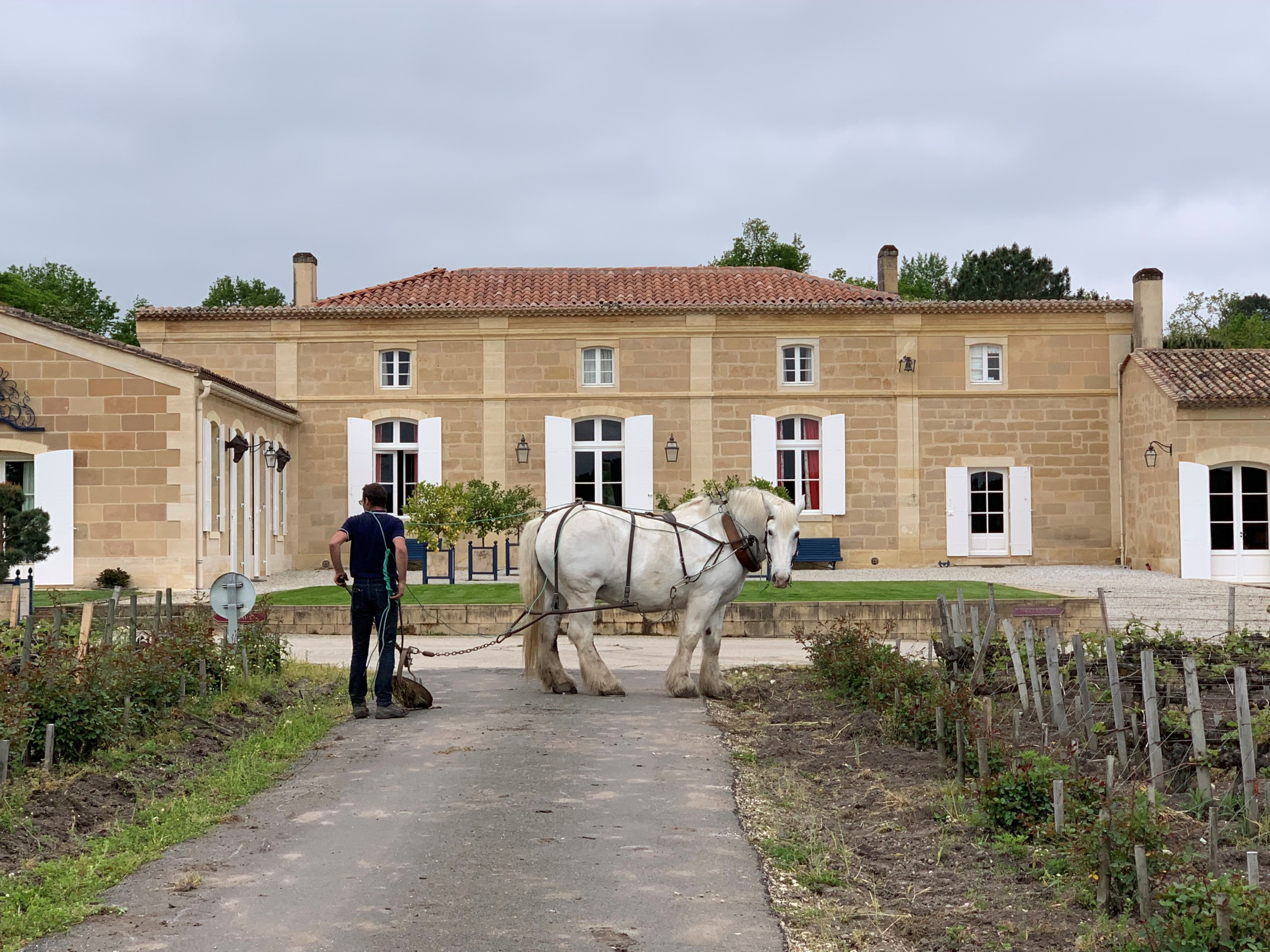 ---
2022: A great vintage for the Château's history
Gerda: How did you experience your harvest 2022?
Olivier Bernard: This great vintage will be remembered in Domaine de Chevalier's history.
2022 will be remembered as an exceptional vintage, with almost permanent sunshine and no significant rainfall! This unique climate, sunny, warm and dry, produced fruit and wines of exceptional quality. A special mention for the Sauvignon Blanc and Cabernet Sauvignon, the king grapes of our terroirs, which are sublime.
The quality of our fresh terroir, the depth of the roots, our organic and biodynamic farming choices have contributed to the excellent ecological resilience of the vineyard.
---
The brand Domaine de Chevalier today and tomorrow
Gerda: What positioning (s) do you want for your brand?
Olivier Bernard: Image and positioning must reflect our wine's quality. If you produce great wines and sell them at the right price, you will always have customers. The price is a balanced component of wine: "We do what we say and we say what we do".
G: How do your wines stand out, and are unique?
Rémi Edange: Our wines, vinified without excess, come from a unique and remarkable terroir. The vines produce fruit that ripens slowly. They express themselves with great finesse, complexity and elegance, with a great mineral freshness. Terroir's signature is strong.
Olivier Bernard: Our terroirs are in the forest, a wonderful ecosystem. Agroforestry is omnipresent in our territory: forest is a natural, untreated place. At Domaine de Chevalier, we have intimacy between vines and trees. Our vineyard is one of the highest points in Léognan at 55 m, naturally cooler. In the past, this coolness was a challenge in obtaining maturity for reds, but with global warming, parameters have changed, and it has become an advantage. Our fruits ripen completely while keeping their freshness, which is a strength for our wines.
G: Which of your recent accomplishment would you like to share with customers?
Olivier Bernard: Frankly, the organic challenge is a real issue. It's a commitment. In the 1980s, we had very nice wines, with less expressive aromas and more austere tannins. Nowadays, organic work gives a fruitier and more explosive aromatic expression, with more supple tannins. They are precise, more complete. This balance allows a magnificent expression of fruit, complexity and purity of taste. No room for excess, nothing too much. During the vinification process, grapes are so different, I love it. If we work on the product too much (exaggerated temperatures or extractions) the fruits' nuances will be masked.
Rémi Edange: Our vines' health is reflected in our wines. Our current wines are radiant, with a certain aromatic cheerfulness; they are also full of energy and great purity. We work under a global goal which is total respect for our grapes.
G: What future project are you currently working on?
Olivier Bernard: We are always on the move. At the moment, we are developing our packaging to better reflect the qualitative evolution of our wines. This involves improving the bottles, labels, etc. ….  We are constantly questioning ourselves. We also have a wine tourism development project with the renovation of an orangery which will be dedicated to welcoming our visitors. It will be a place to sell, share and enjoy our wines in order to meet our customers' expectations. Many visitors from all over the world come to see us and we want them to have the opportunity to take home a souvenir of their time spent with us.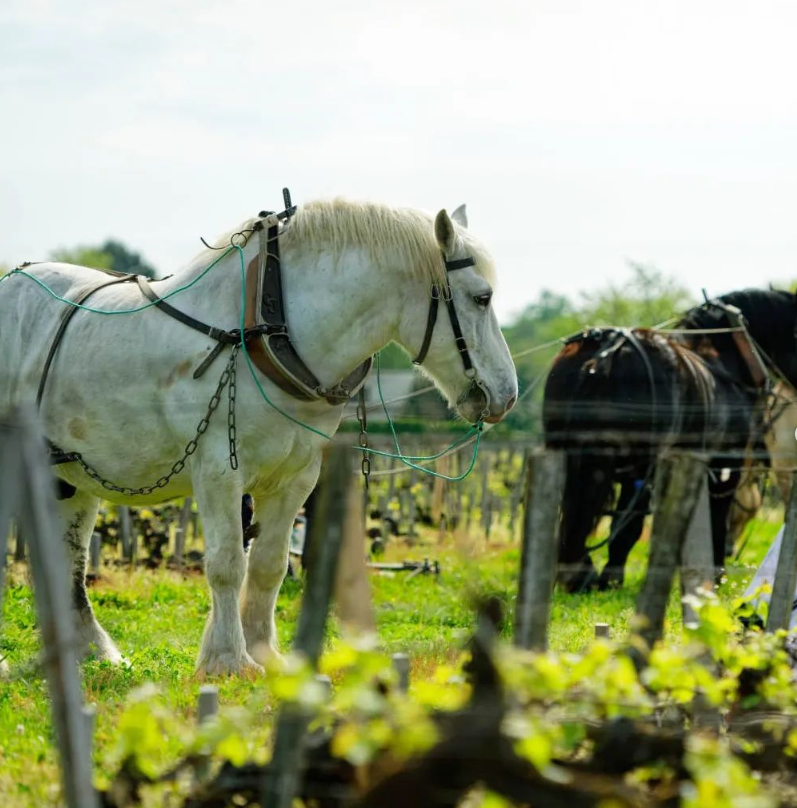 G: How far along are your property(ies) in "the green transition"?
Olivier Bernard: We are in conversion to organic farming and we also practice a very pragmatic biodynamic approach to improve life in our soils and their well-being. Natural fruits are the best. This production philosophy has allowed us to go one step further: we have developed and improved our environment. This has given us an extra dimension. In 2016, we already had 100 hectares in organic and biodynamic production, we are doing "step by step". We are now more than 200 hectares in organic. It is a step in line with our philosophy and our desire to put the quality of the fruit at the heart of our concerns in order to make the best possible wine.
---
The business
Gerda: What are your priorities in terms of business development?
Olivier Bernard: We want our wines to be everywhere (USA, Asia, Europe and of course in France) always with a high-quality distribution.  We want to know more about our customers, their distribution, without being intrusive. We have to find a balance between the brand and the distribution, a balance between the property and the trade. 
G: What sales support materials are available to distributors to promote your wines?
Olivier Bernard: Firstly, the quality of the product is recognised by great specialists. The scores reflect the quality of our wines. We have had excellent scores in 2021, a great reward for the work done to make this vintage a success.
Secondly, we take care of the packaging of our wines in order to create desire and to reflect our philosophy.
We have a great team of 4 people who travel for our properties: Rémi, Adrien, Hugo and Olivier. We also welcome over 15,000 visitors a year. We like to respond to demands for the animation of wines tastings.
We also use communication tools: website, social networks, press, blog.
We prefer welcoming customers, we do it well. We like to make people aware of our wines and make them feel the emotion of the authentic flavors of a terroir. We are generous, the purpose of great wine is not speculation, it is sharing.
G: What vintages the market should be interested in and why?
Olivier Bernard: Domaine de chevalier 2017 is a truly generous wine I like to share with friends. The market underestimates it. This 2017 red is of great quality. You need wines for every occasion and on top of that 2017 is a great white vintage.
Rémi Edange: Domaine de chevalier 2014: very good year, quality and quantity. A vintage so tasty and fun to tell: "Two summers for one vintage!" A first cold summer until August 27th and then, a second sunny and dry summer, a record Indian summer of 60 days! For the reds, maturity was slow but total. The freshness was concentrated, lots of sugars without too much degree, and tannins were refined. We harvested until October 20th! Today 2014 is already very accessible, sumptuous in flavour and still full of reserves. It is a great wine that will have a very long life with freshness.
G: Are you planning any commercial or marketing releases in the near future?
Olivier Bernard: For the 2021 primeur campaign we have first released L'Esprit de Chevalier and Château Lespault-Martillac and then Domaine de Chevalier. We want our wines to have a very good quality/price ratio.
For the great red and white wines, we only market 75% of our production. The remaining 25% will be offered for delivery in the next 10 to 20 years to supply the market with vintages ready to drink.
Adrien is in charge of the commercial management of our wines. He is very connected with the courtiers, the negociants and the main players around the world. He likes to network, which is great.
Hugo is in charge of producing dry white wine in Sauternes, at Clos des Lunes. He also manages logistics, bottling and deliveries: bottling schedule, dry materials, packaging…  It's complicated but he's very good! He has done a wonderful job, especially on the capsules, on the wood and cardboard crates: Bravo! What a joy to share this with my two sons, Adrien and Hugo.
Website & Instagram
---
 Favorite bottle of Olivier Bernard & Rémi Edange
Gerda: If you had one bottle of your heart.
Olivier Bernard: I am insisting with my motto: "the best wine of my life is the one I will make tomorrow". I am open to welcoming and discovering this bottle. I like surprises, emotions. My palate is ready, my senses are waiting for this discovery: I am more looking to the future than the past.
Rémi Edange: A bottle that I tasted by proxy, I was so moved by the pleasure my father had in tasting it. It was a Château Clinet 1945. I was 7 years old! That day and that event are engraved in my memory…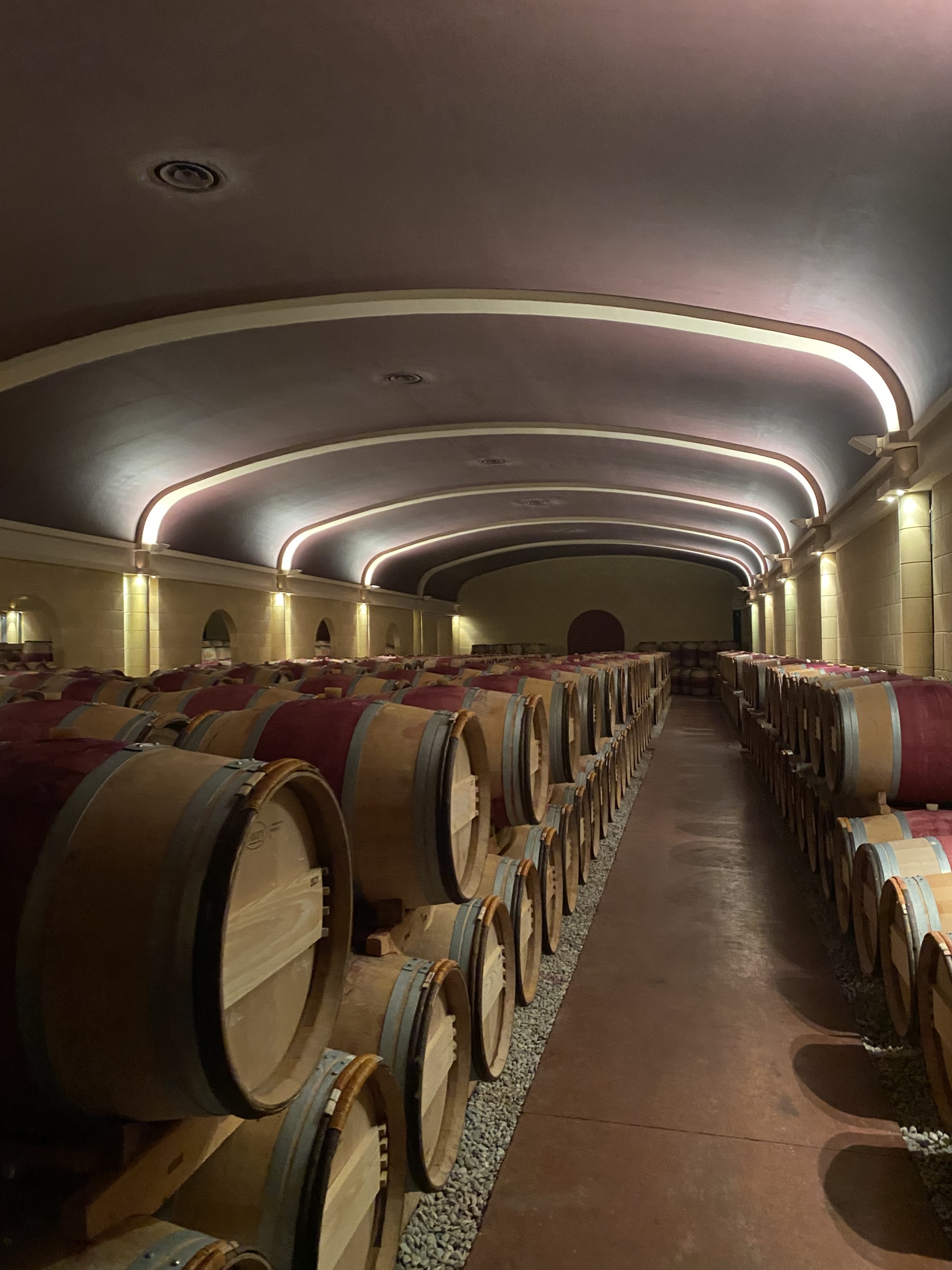 Red wines cellar (left) and white wines cellar (right)
---
The tasted wines
L'Esprit de Chevalier blanc 2016 : 75% sauvignon, 25% sémillon
It has a very nice expressive nose of citrus fruits but also white flowers. It has a lively attack that is coated. It's delicious to drink now but it certainly has a few more years to go.
Domaine de Chevalier Blanc 2006: 85% sauvignon, 15% sémillon
This is certainly one of the greatest whites in the world! It is a wine that has everything: complexity, generosity and a mid-palate without being heavy. The class and refinement remains until the end!
Domaine de Chevalier Rouge 1986: It is always a magical moment to drink a wine that is 36 years old. These tierciere aromas of undergrowth, truffles are fresh and delicate in the mouth. They remain engraved in the memory. It is a journey through time with a lot of respect for the winemakers who made it.
Domaine de Chevalier Rouge 1996: We go up 10 years in time and we find the same typicity of this very great Graves wine but with more body, more masculine tannins and notes of chalk mine which are fascinating and which give a very beautiful length and character to this 1996!
Domaine de Chevalier Rouge 2016 : 55% cabernet sauvignon, 35% merlot, 5% cabernet franc, 5% Petit verdot
This wine is certainly one of the most successful of this vintage. Thanks to the Indian summer and the exceptional terroir, the wine is racy and deep. It has perfect balance and still has enormous potential.
We finish this beautiful evening at Domaine de Chevalier with a beautiful Château Suau, Grand Cru Classé Sauternes: 100% Semillon. Olivier Bernard took over this 6.5 hectare property in 2015. We find notes of honey, figs and acacia that are never heavy. The freshness to which Olivier and his team are attached is also found in this wine!

Gerda BEZIADE has an incredible passion for wine and perfect knowledge of Bordeaux acquired within prestigious wine merchants for 25 years. Gerda joins  Roland Coiffe & Associés in order to bring you, through "Inside La PLACE" more information about the estates we sell.