Antonio Moretti Cuseri (right)
Founder Tenuta Sette Ponti
Alberto Moretti Cuseri (left)
Export and Communication Director
Met by Gerda at the Domaine
Tenuta Sette Ponti
Tuscany, Italy
---
At Tenuta Sette Ponti, I was firstly welcomed by the dynamic Fabiana Santi Laurini. She is press, events and tasting director of the family Moretti. A great woman who is dedicated to the family wines. She firstly explained me the terroir of 300 hectares of which 54 are under vines. It is a landscape of wood, olive trees and vines. The harmony of colours, vegetation and soils, make Tenuta Sette Ponti a unique property. In the '50s, Alberto, Antonio's father, who is the current owner, bought the first 50 hectares from princesses Margherita and Maria-Cristina de Savoie-Aoste. Late 90's, Antonio decided to create his own winery and stopped selling his grapes. He created then Tenuta Sette Ponti*. (Sette ponti means 7 bridges in italian: the 7 bridges between Florence and Arezzo are also painted on the background of Mona Lisa by Leonardo Davinci painting). Nowadays, it is the 3rd generation of the Moretti family who works at the property: Amadeo, wine director and manager for the Italian market, and Alberto who is the export and communication director. An Italian family with flair and dedication to their wines. Three of their wines are sold by Roland Coiffe & Associés: Oreno, Orma and Passi di Orma.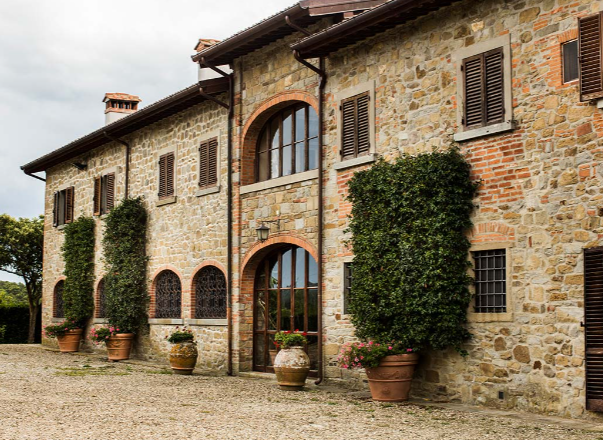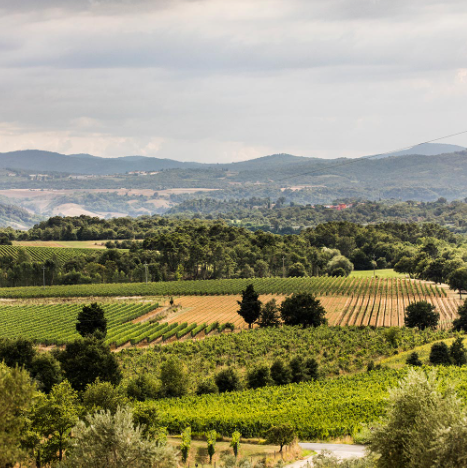 G: Tell us about you…
Antonio Moretti Cuseri: My love for wine started when I was a student at the university. I enjoyed mostly wines from Piedmont, but very soon my taste evolve towards great Tuscany wines. In that period, 70's, you couldn't find many different styles of wines as nowadays in Tuscany. Aging in oak barrels wasn't introduce yet. So it all started by a simple curiosity while I was a student. My father, Alberto who was an architect, planted the first 50 hectares here with local grape varieties in the 50's. As I was passionate about wine I intended to continue his adventure in 1997 by creating Tenuta Sette Ponti and sold my activities in the fashion business. We have now 5 properties, 3 in Tuscany and 2 in Sicily. We bought in 2004 Orma which is a property of 9 hectares located in Bolgheri between the famous vineyards of Sassicaia and Ornellaia.
G: What are the main challenges you personally face, in the practice of your work?
Antonio Moretti Cuseri: The biggest challenge is for me to choose the best harvest time each year. Berries must be ripe but we have to avoid jammy style. Happily, Tenuta Sette Ponti is located in a fresh area, and thanks to the different soil types (limestone, schistes, clay, and sandstones), we can keep the freshness in our wines. It does give a lot of stress to find this perfect moment. We train our workers to treat the vineyard as their own "child". If necessary we work on Saturday and Sunday, start at 5 am and work till 1 pm. Creating team building and togetherness feeling is very important! You have to throw yourself into the work each and every new year. Without this kind of burning desire, you are not going to go anywhere. Important as well is to be advised by the right persons. We are working with the New Zealand consultant Daniel Schuster and yesterday I met here at the property two wonderful consultants from Cahors: Lydia and Claude Bourguignon. They are both microbiologists and the best you can find for agrology. You can describe them as terroir-biologist. For sure, I will sign a contract with them to know better the wonderful terroir of Tenuta Sette Ponti.
Alberto Moretti Cuseri: Producing great wines is always difficult and each year is different. The hardest challenge is to make better wines, interpreting vintages and letting wines express the terroir at its best. So our biggest challenge is to be excellent in the vineyard, where it all starts.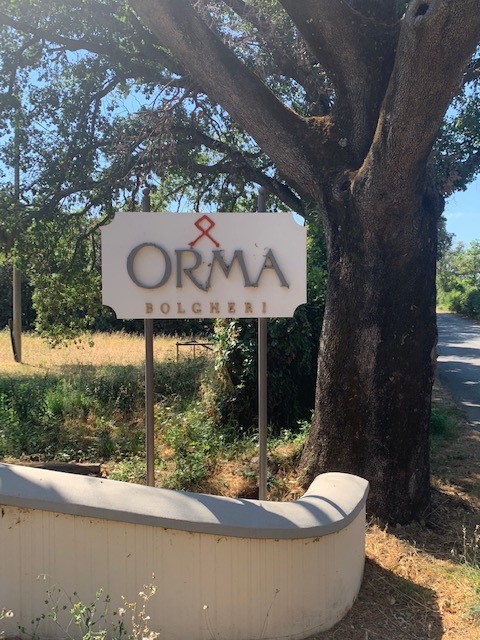 ---
 The business
Gerda: What positioning (s) do you want for your brand (s)?
Alberto Moretti Cuseri: Ideas our father had, which we now interpret and carry forward with him are to make great wines and to have our wines recognized as so.
G: How do your wines stand out, and are unique?
Alberto Moretti Cuseri: They are always extremely elegant. Unique as well because they represent our interpretation of extraordinary terroirs. Transformation of nature into culture.
G: Which of your recent accomplishments would you like to share with your customers?
Alberto Moretti Cuseri: We are fortunate because our wines are increasingly appreciated by critics (great ratings on Wine Spectator, James Suckling, Wine Advocate, Galloni). Our greatest success is that those who drink our wines, especially Orma, hardly forget it.
G: What sales support materials are available to distributors to promote your wine?
Alberto Moretti Cuseri: We are investing a lot in marketing to give our distributors all the support they need to spread who we are and how we produce our wines. We do this through social media, websites that are always being revamped, videos, photos, and technical information. Storytelling is fundamental today. We don't just sell wines, but we tell our story as well.
G: What are the main reasons to sell your wines through La Place de Bordeaux?
Alberto Moretti Cuseri: La Place de Bordeaux is a key distribution channel for us. For its history and continuous search for wines that are excellent. For its capillarity and its very high-level distribution network, with a fantastic heritage, it maintains underlying craftsmanship that is fascinating but also guarantees a relationship with people. Bordeaux allows us to reach new markets with a positioning that is never wrong.
---
The next release
G: Orma 2020 has been released in September, can you tell us about this vintage?
Alberto Moretti Cuseri: After little rain in winter, the spring is characterized by hot weather which has helped buds to flower within a few weeks. The microclimate is always optimal: wind from the sea, intense sun, and a little rain. This vintage will produce a rich wine with qualitative, fresh and concentrated tannins, especially in Merlot. The  Cabernet Sauvignon is structured and elegant, Cabernet franc are complex and round.
Website & Instagram

---
The tasted wine
Orma 2020, Toscana Rosso IGT: 50% merlot, 30% cabernet sauvignon, 20% cabernet franc 
It was in 2004 that the family bought this 9-hectare property in Bolgheri of which 7,5 hectares are under vines. Thanks to the Pliocene salty clay the wines in Bolgheri have a clear character which is also the case of Orma. There are aromas of sweet dark fruit. In the mouth it has a lot of body almost exuberant without being heavy, thanks to the cabernet franc which lifts it up. It is a powerhouse with great aging potential.
Orma from Tenuta Sette Ponti is sold by Roland Coiffe & Associés except in the following market: Italy.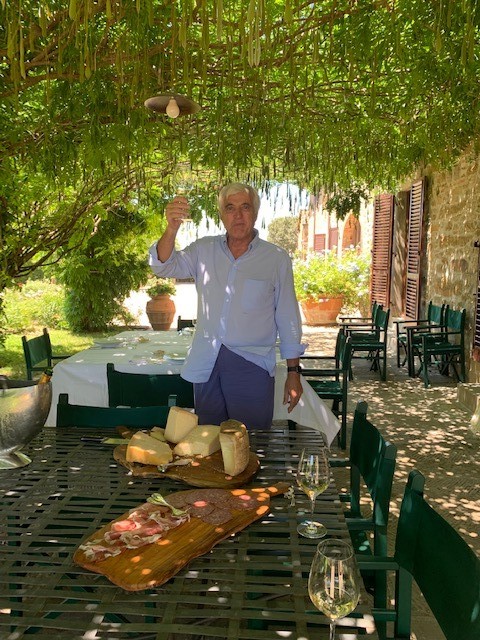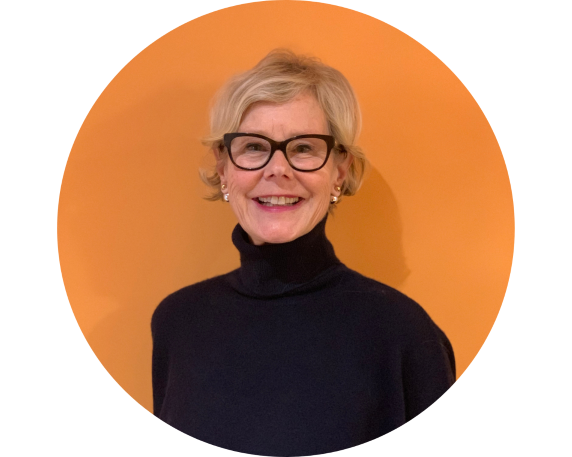 Gerda BEZIADE has an incredible passion for wine and perfect knowledge of Bordeaux acquired within prestigious wine merchants for 25 years. Gerda joins  Roland Coiffe & Associés in order to bring you, through "Inside La PLACE", more information about the estates we sell.