Vincenzo d'Andrea
Commercial Manager
Working at the domaine since 2015
Met by Gerda at the Domaine
BIBI GRAETZ
Tuscany, Italy
---
Bibi Graetz's estate is located on Fiesole's hills, overlooking Florence, and is a must-see in Tuscany. Bibi Graetz is a painter who has embraced the profession of winemaker and made it vibrant. In a constant search for excellence for his vineyard, his goal is to produce exceptional wines. Vincenzo d'Andrea, Bibi Graetz's Commercial Director, welcomes me to the estate.
Gerda: Tell us about you…
Vincenzo d'Andrea: Wine has always been present in my life, my father worked in wine estates all his career. Therefore, they have been my playgrounds since I was little. I have grown in the wine industry, and I had my first experience in a winery in 2003. It was very educational. I then decided to study oenology at the University of Florence. I am a curious person, and I continued this training with an MBA specializing in wine export.
G: What are the main challenges you personally face in your work?
Vincenzo d'Andrea: Understand the different markets well. Knowledge is a keyword! I travel a lot to meet distributors. It is fundamental to be close to customers, to know the specificities of each market, to understand the different cultures around wine, and to perceive the different ways of working. This allows us to be in the same dynamic as our partners and to accompany them the best we can, in order to meet their expectations and choose the best distributors for our wines.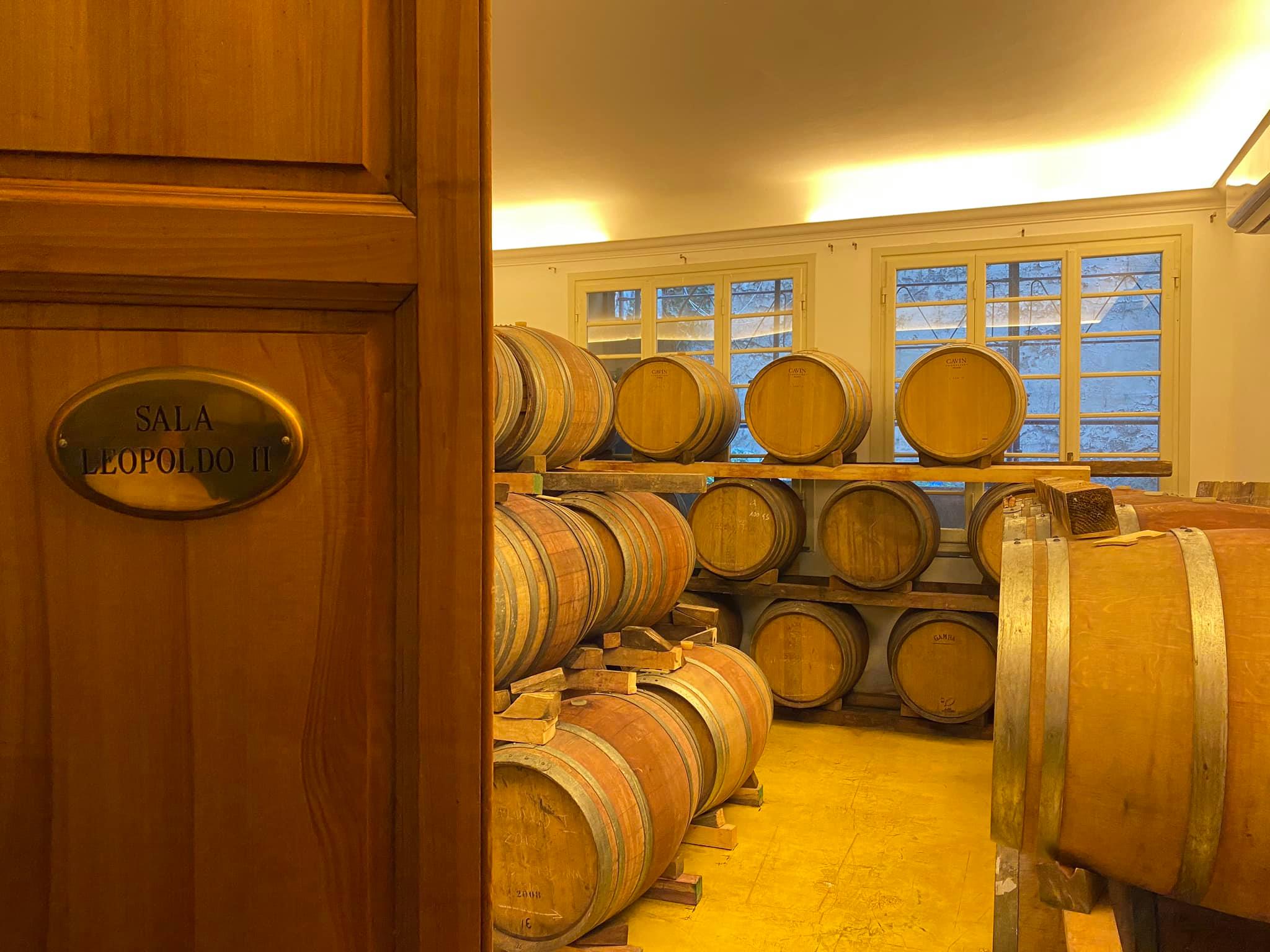 ---
The brand Bibi Graetz today and tomorrow
Gerda: What positioning (s) do you want for your brand (s) ?
Vincenzo d'Andrea: Our dream is not only to be one of the most important wines in Italy, but also to be among the greatest in the world and be recognized as such. We want to stay true to our origins: the expression of Sangiovese in Tuscany. In 2000, there was a boom in Super Tuscans. Bibi Graetz wines have never followed this trend. They are completely different because we are not looking for power. We built the brand ourselves, and we don't want to follow market trends, we cultivate this independence and pursue our goal.
G: How do your wines stand out and are unique?
Vincenzo d'Andrea: Our wines have a specific personality. It is the old Sangiovese vines in Tuscany that express themselves. They have a lot of finesse and freshness and are very different from others. We are the only ones making Sangiovese in this category. For us, wine is not a competition of power, but it must have great drinkability and be drunk with pleasure!
G: What recent accomplishments would you like to share with your customers?
VA: We bought 80 hectares in Fiesole during the pandemic in 2020. It was an extraordinary opportunity. We already planted 4 hectares and we expect to continue to a total of 55 hectares. Perhaps we will separate the vinification and maturation of Colore and Testamatta in the future, the decision is not yet made. For now, we have our 19th-century winery and cellar in the heart of Fiesole: it's a unique dreamy place.
G: What future project are you currently working on?
VA: We will never run out of projects! One of our current projects is to build a winery on Giglio Island where we produce our white wines: Colore Bianco and Testamatta Bianco. We own part of the vineyard and part of it is rented. At the moment, we rent a winery on site. We are planting another 6 hectares to increase production from 10,000 to 20,000 bottles per year. We dream of making exceptional white wine from another Tuscan grape variety: Ansonica.
G: How far along are your property (ies) in the "green transition"? 
VA: All the vineyards are certified organic. We don't want to put it on the label because it is not a marketing choice, but rather an ecological one. We do it to meet our main objective: to increase our wines' quality every year and this is done through organic viticulture.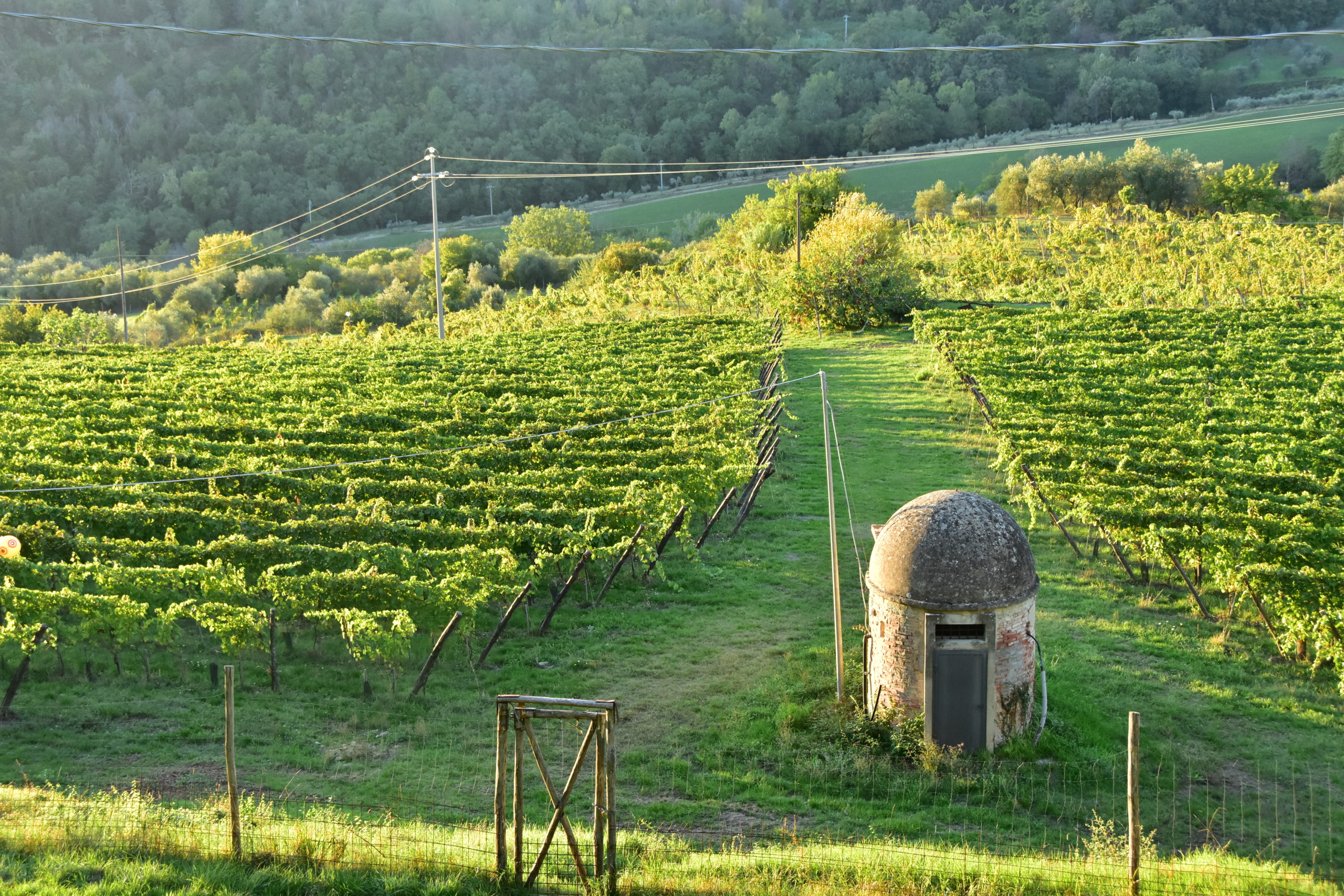 ---
 The business
Gerda: What are your priorities in terms of business development?  
Vincenzo d'Andrea: We have 700 customers in 65 countries for Colore and Testamatta. We still want to improve. We are looking for quality distribution through our partner's choice. Today, our distribution is balanced: 1/3 between Asia, United States/Canada and Europe. It is fundamental to keep this balance, as we saw it during Covid-19. During this period, we kept activity in Europe and US/Canada, while the Asian market was very quiet. Fortunately, since last year, this market is booming! (Please note that the Place de Bordeaux cannot sell Bibi Graetz wines in Italy, the United States and Canada. They sell in these 3 countries directly.) 
We sell the rest of our range directly. It is a classic distribution: one importer/distributor per country. For the majority of them, selling Colore and Testamatta through the Place de Bordeaux is not a problem. On the contrary, this unique system allows achieving higher leverage for these two wines. Often, the exclusive distributor of other Bibi Graetz brands also becomes the first buyer of Colore and Testamatta. They remain the first ambassador of our wines.
G: What sales support materials are available to distributors to promote your wines?
VA: Bibi Graetz is certainly one of the brands that distribute the most marketing material: videos, technical sheets and samples. We have sent a lot of samples of 2020 to our partners' customers! It is very important for us that distributors can taste the wine they will buy later.
New vintage discovery is therefore done in 2 steps:
First step is a presentation to négociant: at the beginning of July, I went to Bordeaux to talk about the upcoming marketing and to present wines.
Second step is to send samples to customers in Bordeaux.
We want to create trust around our brands by showing our wines' quality, our know-how, and vision, but also by sharing our strengths, a reference in Tuscany.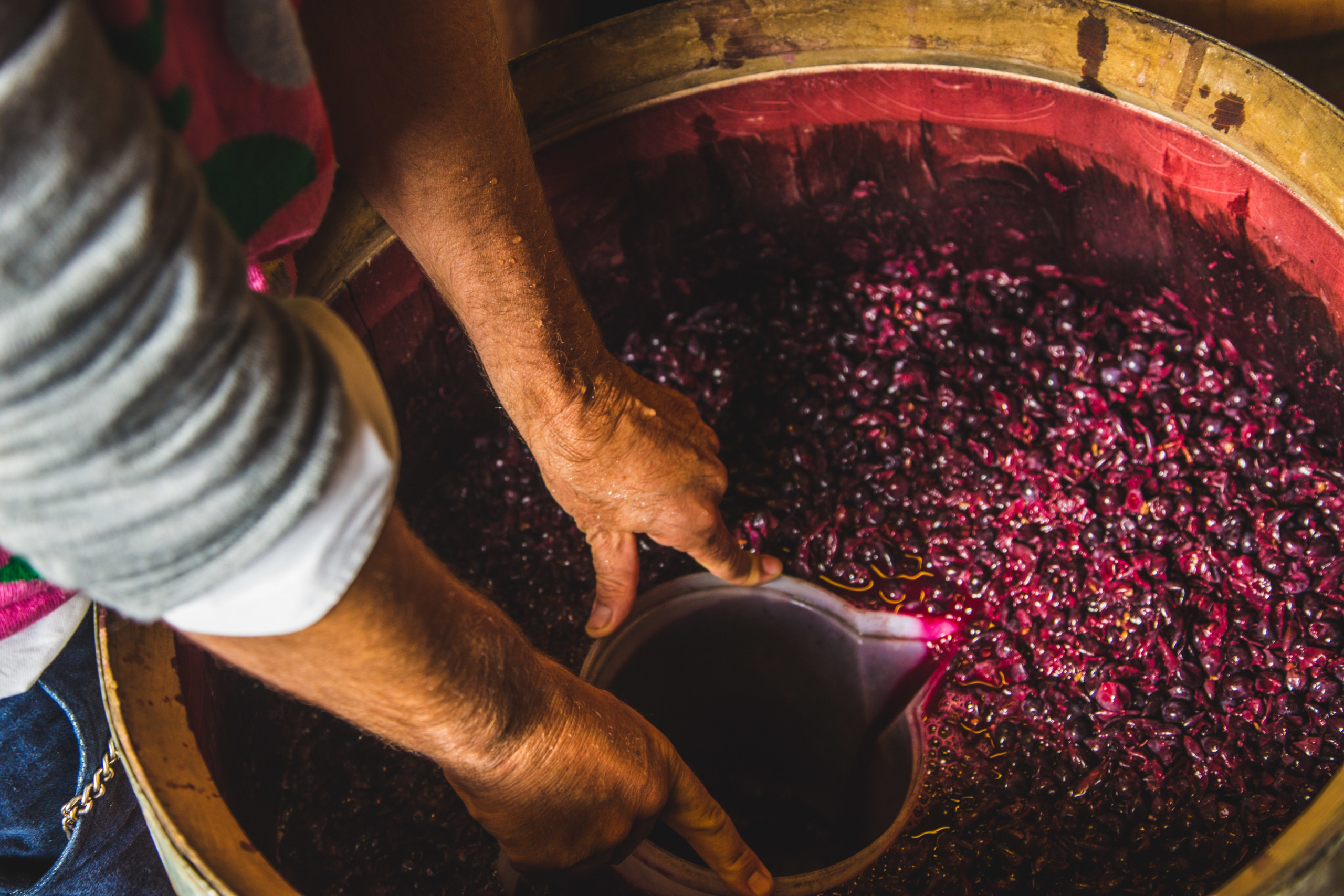 Website and Instagram


---
 

La Place de Bordeaux
Gerda: Why did you choose to sell your wines through La Place de Bordeaux? 
Vincenzo d'Andrea: La Place de Bordeaux is the most qualitative distribution of the world best wines and we are part of it. We need La Place de Bordeaux and it needs us to diversify. We are looking to expand, and it is perfect for that: everything is based on trust and commitment.
G: Has the distribution changed thanks to La Place de Bordeaux?
VA: The main reaction from our exclusive distributors was positive. Distributors who were already very committed immediately understood that the brand had to go to the next level and that La Place offered a great opportunity. Distributors even asked for more Colore and Testamatta from their Bordeaux negociant. We lost a minority of distributors who did not understand this opportunity.
Thanks to Bordeaux, our market share has increased. In Korea, for example, we now work with 15 major distributors!
G: Do you benefit from greater visibility thanks to La Place de Bordeaux?
VA: Yes, the number of customers has increased significantly! This new way of distributing imposed a different mindset on us, and we had to adapt quickly. We went from an exclusive distribution system, with 100 individual partners, to a fragmented system, but indirectly, which needs a critical number of customers to succeed.
La Place de Bordeaux offered us rapid expertise in the global market. However, our successful entry was a combination of the strength of Bordeaux marketplace and the relationship we have with markets.
Bordeaux is the HUB for the world's best wines. It is also an opportunity for the market to have a wider offer thanks to us.
In September, we put about 80 to 85% of the production of Colore and Testamatta 2020 on the market. The rest we keep to feed it over time.
---
The wine
Gerda: Could you mention a memorable vintage of Colore and Testamatta?
Vincenzo d'Andrea: 2020, we have never reached this level of perfection before. The quality and purity of this vintage is incredible. We firmly believe that this is a very important step for us. Since 2009 we have been looking for finesse and elegance, year after year we have been getting closer to our idea of "good wine".
Finally, with 2020 we reached the level of perfection we were looking for thanks to 3 different factors:
Firstly, 2020 is a powerful vintage and thanks to the high altitude, our vineyards expressed themselves like never before, bringing concentration and balance.
Secondly, for the first time, we added the Olmo vineyard, an old Sangiovese vineyard at 500 meters, to the blend, this brings a new level of elegance and freshness.
Thirdly, the new cellar is dedicated entirely to Testamatta and Colore, a total concentration on wines. Combination of this vintage power: Olmo's elegance and the total concentration have given us the best Testmatta and Colore ever produced.
2014: My first year at Bibi Graetz and my first harvest!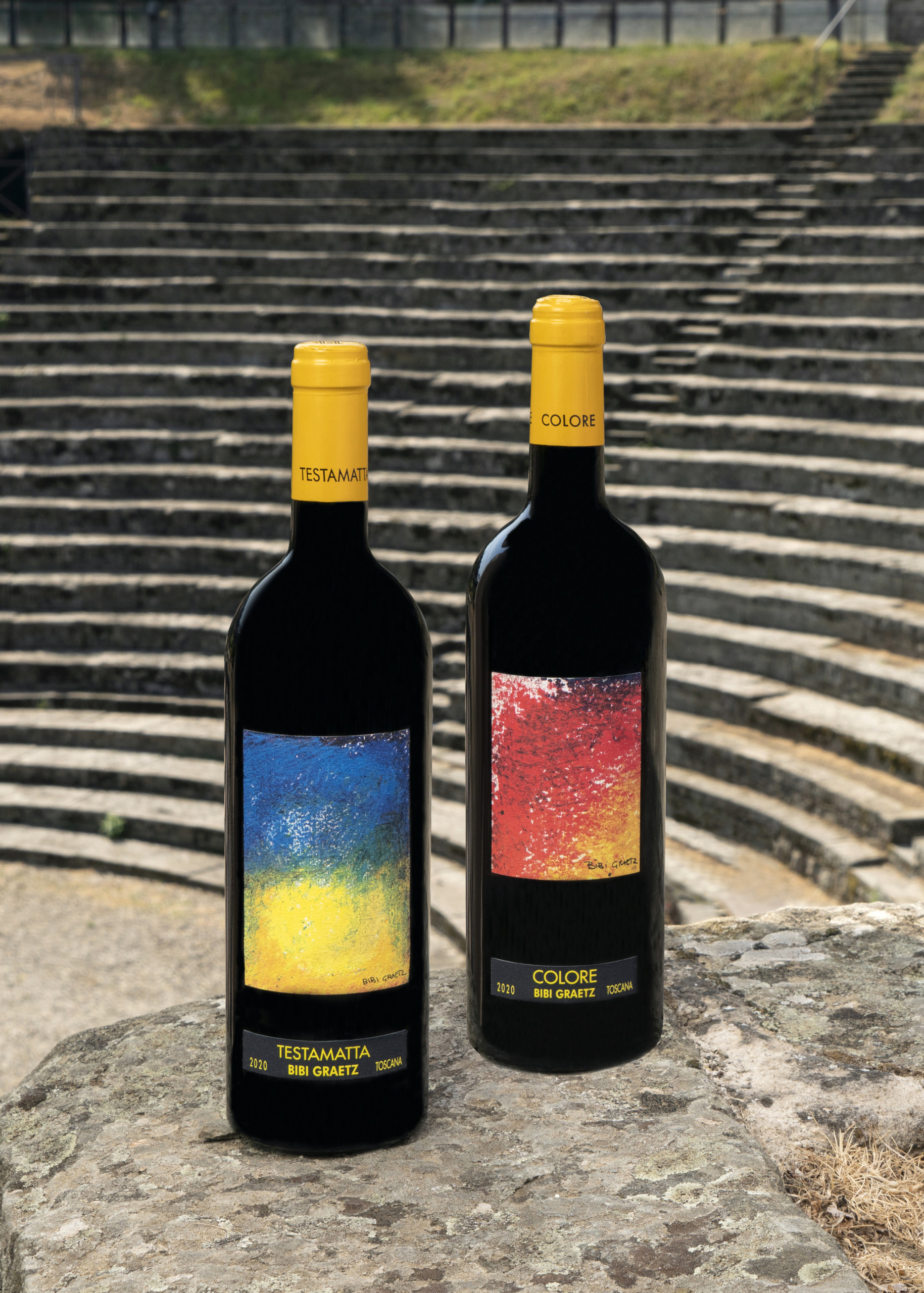 ---
 The tased wines
2020
As Bibi Graetz explained in the presentation of this vintage, 3 elements characterized this vintage. Firstly, climate, which gave a powerful vintage. Secondly, the new 12-hectare estate in Olma, where vines are planted at an altitude of 420 meters, and the new vat room in Fiesole which made work easier for the whole team.
BIBI GRAETZ, TESTAMATTA 2020: 100% sangiovese
This wine comes from the youngest vines and 6 different estates in Tuscany. There are aromas of strawberries and spices, even a touch of morello cherries that you find in pinot noir. A beautiful fresh attack with a good structure. It's vibrant, like the personality of its owner.
BIBI GRAETZ, COLORE 2020: 100% sangiovese
This wine is made from the oldest vines of 4 estates. It is pure expression of Sangiovese with more structure and depth. There is more salinity and balsamic that is wrapped in black fruit and wild herbs. It is complex and has a lively tension, leading to a very long finish.
Bibi Graetz's wines are sold by Roland Coiffe & Associés except in the following markets: USA, Italy, Canada.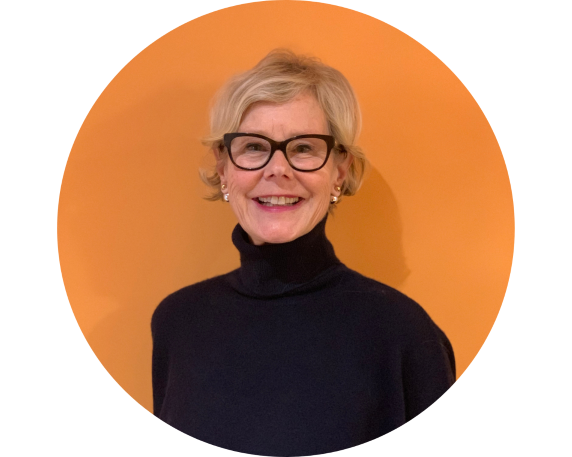 Gerda BEZIADE has an incredible passion for wine and perfect knowledge of Bordeaux acquired within prestigious wine merchants for 25 years. Gerda joins  Roland Coiffe & Associés in order to bring you, through "Inside La PLACE" more information about the estates we sell.