My road trip to Domaines Barons de Rothschild
Eric Kohler
Technical Manager
Working at the estate since 2016
Met by Gerda at the Château
Château Duhart-Milon
4ème Grand Cru Classé en 1855
Pauillac
---
Chapter 3: Duhart-Milon, the deep stature of a Grand Pauillac
For 3 days in a row, I had the great pleasure to meet the directors of Château Duhart-Milon, l'Evangile, and Rieussec.
I finished my road trip at Domaines Barons Rothschild in Pauillac with Eric Kohler of Château Duhart-Milon who has a very successful career of over 25 years in the group. Eric Kohler started in 1994 as Quality Manager, he was then Technical Assistant Director of Charles Chevalier, then held the position of Technical Director of all the Barons de Rothschild foreign estates (excluding Bordeaux). Since 2016, he is 100% focus on Château Lafite Rothschild and Château Duhart-Milon. I met a passionate man who knows every detail of Duhart-Milon, beautiful terroir located on Lafite Rothschild's west side.
---
Gerda: Tell us about you…
Eric Kohler: I am the son of a farming family who fell in love with wine when I discovered Bordeaux and the Médoc.
Gerda: What are the main challenges you personally face, in the practice of your work?
Eric Kohler: To live up to the expectations of all amateurs and consumers of our wines. To make wines that people care about in a context of Social and Environmental Responsibility.
---
Harvest 2021
Gerda: How did your harvest go?
Eric Kohler: 2021 is certainly a complex vintage. However, in Pauillac, we produced wines that are going to surprise you. This is a more classic style, it will certainly be understood by amateurs of our wines thanks to the cabernet sauvignon.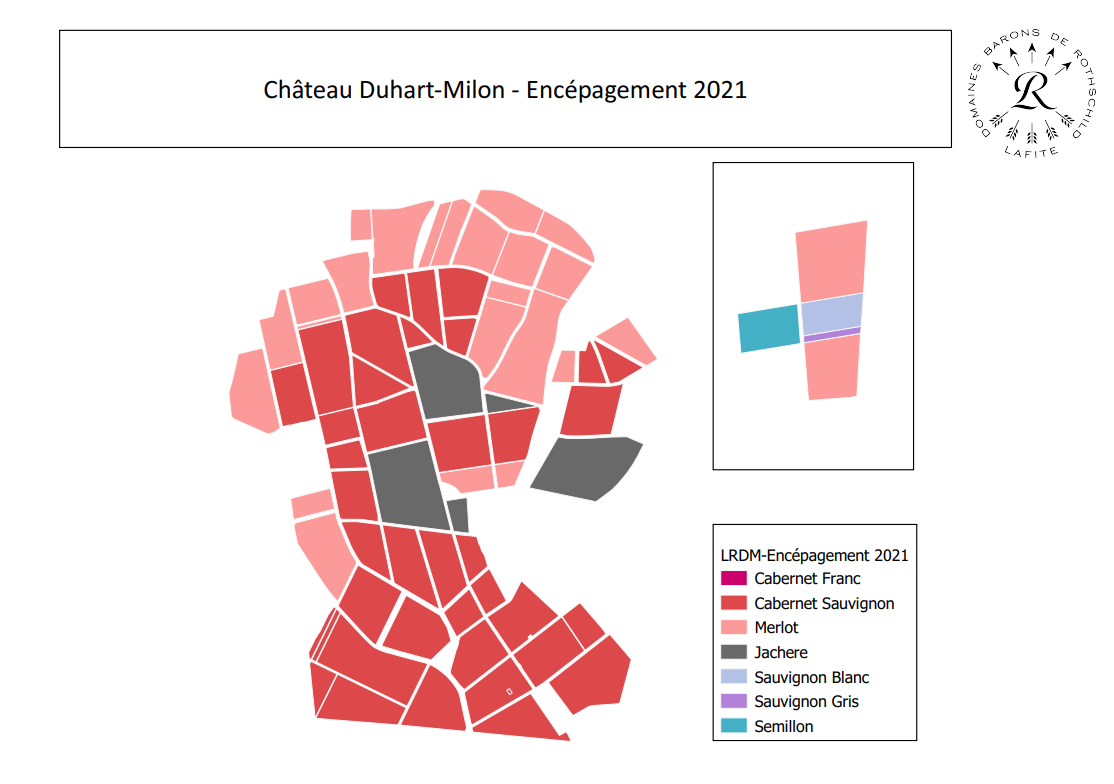 ---
The brand

Duhart-Milon

today and tomorrow
Gerda: How do your wines stand out, and are unique?
Eric Kohler: Duhart-Milon has a particularity: it has a terroir that produces late maturity grapes. It was perhaps a disadvantage 30 years ago. Wines were reserved and sometimes perceived as austere. Today, with climate change and the risk of over-ripeness, it is a great advantage. Duhart-Milon does very well in very hot vintages like 2003, a difficult year in Bordeaux. Duhart 2003 still has a nice freshness. Like 2009 and 2018 which are two exceptional vintages. Duhart-Milon is armed for the future thanks to its terroir! 
G: Could you define to me what is an exceptional wine?
Eric Kohler: A vintage is great when we have understood and accompanied it. We feel the strength of the vintage which will be recognized as such until the end. It must give emotion to the consumers. The day the bottle is opened is memorable. So it is very personal and depends on a lot of conditions.
G: Which of your recent accomplishments would you like to share with your customers?
EK: Our new vat room in which we vinified 2020, the first vintage. It is a magnificent, highly technical tool. We have 45 truncated stainless steel tanks and 15 cement tanks. 
I would also like to tell you about our white wine. After very detailed studies, we decided to plant and overgraft 5 hectares with white grape varieties: sauvignon and semillon. This is a very interesting process because great white terroirs can not usually make great reds. It is nothing degrading but only a technical issue that made us do extensive studies to come up with this beautiful project. The first vintage will be 2021. Saskia de Rothschild launched an internal DBR competition to find the name.
G: What future project are you currently working on?
EK: 2 main projects:
We are working on wine tourism in Duhart-Milon. It is a unique location in the village of Pauillac. We will welcome visitors at the end of 2022.
Our Research and Development department, created in 2016 for all DBR, works on the viticulture of tomorrow: how our vineyards should evolve? We have plots of land on which we are experimenting with new grape varieties, new methods of vine management, pruning, planting density…
G: How far along are your property(ies) in the "green transition"?
EK: We are in organic conversion since 2021. Lafite Rothschild and Duhart-Milon will be certified in 2024. Even if this is not perfect, it is the best step to reduce residue in the wine to 0 and to create biodiversity. We need to bring back the vegetation and life in our vineyards. In addition, we are also implementing agroforestry.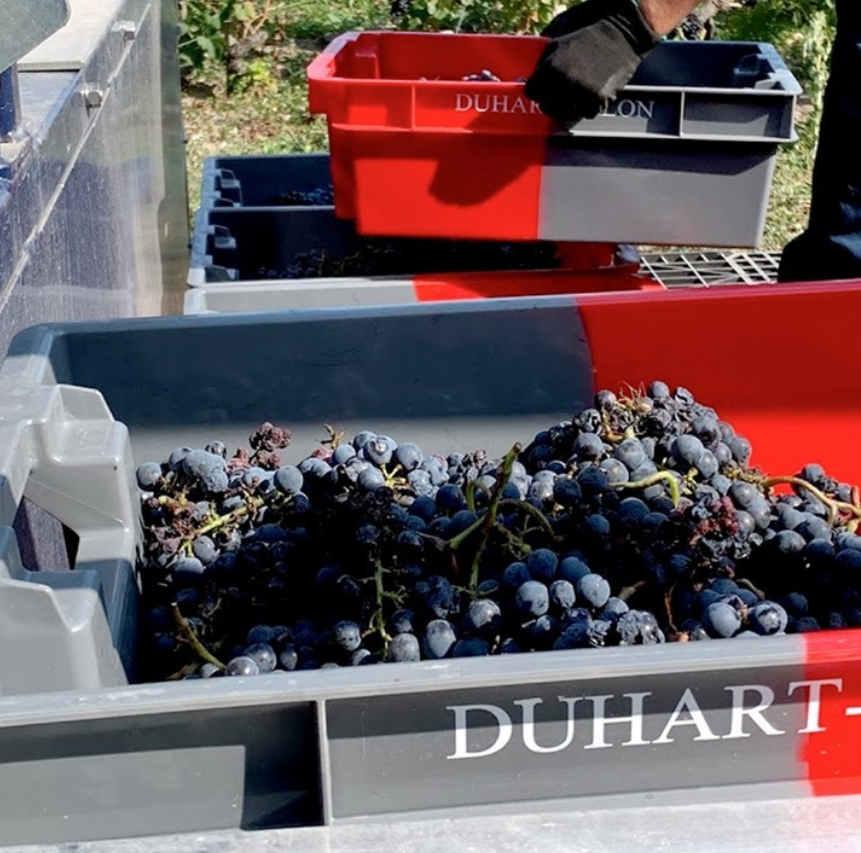 ---
Gerda: You have been in the estate for over 25 years, what are the biggest changes since then? 
Eric Kohler: There have never been any changes. In DBR, all changes are considered as intelligent evolutions during which we have not followed trends. The technique, viticulture, and environmental protection are today well improved. The protection of the vineyard is our greatest concern.
G: Where will the biggest changes be in the near future?
EK: The vineyard will continue to evolve because it must adapt to climate change: density, grape varieties, etc. This is the new problem we are facing and we must confront it by trying to be even more respectful of the environment. As for the new winery, it is built for the next 30 years.
At DBR, there is no great revolution, but there will never be a limit to the capacity to evolve!
G: Your winemaker/advisor is Eric Boissenot, why do you work with him? 
EK: Eric Boissenot is the leader of a great school of oenology and wine-making. I learned a lot from his father Jacques. He was a great man of wine.
I confronted Jacques with my ideas and I must admit that I was often wrong. It is rewarding to understand the vintage together and to bring the grapes to what they want to give us, not more because the goal is not to make a great vintage every year. We must put everything in place so that the vintage can give everything and express itself. We are in a very interesting and exciting period at Duhart-Milon!
---
The word of Jean-Sébastien Philippe : International Director of Domaines Barons de Rothschild
Gerda: What positioning(s) do you want for your brand(s)?
Jean-Sébastien Philippe: Very important, we want each brand: Duhart-Milon, L'Evangile, and Rieussec to be strong brands with a real identity and to communicate independently. Each wine must make its own way, and not always be associated with Château Lafite.
Our ambition for Duhart-Milon is to make a wine that can be distributed. The bottles must reach wine shops, restaurant tables, brasseries, and wine bars. It is a wine that is known by professionals but not yet enough among customers. I would like people to open bottles of Duhart-Milon and realize how exceptional the terroir is!
G: What are your priorities in terms of business development? 
Jean-Sébastien Philippe: We have a good distribution in China, in the USA and this is a chance. We have to do our best now to distribute Duhart-Milon in secondary and third cities in China. We also want to have a very good distribution in Europe, especially in restaurants and wine shops. Duhart-Milon is now the wine-trade and wine professionals' favorites. We are looking forward to seeing this passion transmitted to customers.
Website and Instagram
---
The tasted Wine
Château Duhart-Milon 2016 : 70% cabernet sauvignon, 30% merlot 
This is Eric Kohler's first vintage as Technical Director. It was a hot and dry year but not once the tannins present show themselves to be hard. On the nose, the wine has the typical Pauillac character but is still on its reserve. On the palate, it has a straightness that I like. The tannins are structured and vertical. The wine has a long finish and a great future.
Château Duhart-Milon 2008: 67% cabernet sauvignon, 33% merlot 
This Duhart is magnificent in its classicism. It is however a fresh vintage, as Eric Kohler explained it well, we like its vegetal side through the Cabernet Sauvignon, not too ripe. This grape variety brings a lot of freshness and elegance to this delicious, straight wine with a strong personality.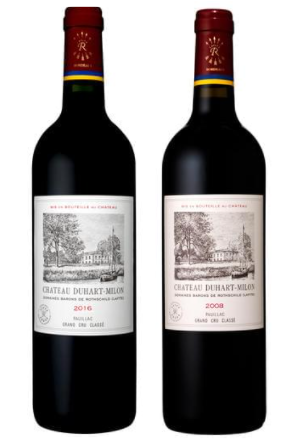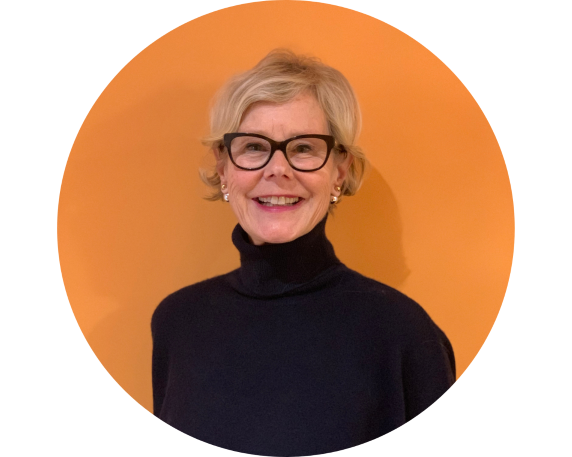 Gerda BEZIADE has an incredible passion for wine and perfect knowledge of Bordeaux acquired within prestigious wine merchants for 25 years. Gerda joins Roland Coiffe & Associésin order to bring you, through"Inside La PLACE" more information about the estates we sell.