Philippe Blanc (picture)
Director
Working at the estate since 1995
Erwan Le Brozec
Commercial Manager
Working at the estate since 2019
Met by Gerda at the Château
Château Beychevelle
4ème Grand Cru Classé en 1855
Saint-Julien
---
Philippe Blanc
Gerda: Tell us about you…
Philippe Blanc: I started working at Beychevelle in 1995, so 26 years ago. I am an agronomist and oenologist. I have had the great honor to manage Beychevelle since then and to have made 26 vintages. 
Gerda: What are the main challenges you personally face, in the practice of your work?
Philippe Blanc:
To make the best wine and to measure up to Beychevelle's history

To be respectful of what Beychevelle is. We like to speak about Beychevelle's DNA

To be better, we do not get bored of improving
Concerning the climate, we try to take our distance. 2018 grapes variety are very mature, they are beautiful and have no faults. It was quite cold for the 2021 harvest and we were expecting hot weather. 2021 grape variety is a bit different, it is a comeback to the 90s.
We ask ourselves lots of questions, but we must not forget that the vine has a long cycle. When we plant, we plant for 30-50 years, and what would be the truth in 50 years? I won't be there to see it. We try to be careful of Beychevelle. We are lucky to be able to take our time, think, try and do our best.
---
Harvest 2021
Gerda: How did your harvest go?
Philippe Blanc: The harvest was stressful but it went well. We are happy with the quality. We harvested good maturity grapes. We took the best of our terroir thanks to the technicals tools in the cellar and the terroir. Our plots are next to the river which help our merlots to have a slow maturity. We have a lot of confidence in this grape variety (it represents more than 40% of the blend). The extraction is delicate thanks to the new wine cellar.
The yield this year is quite good and it will allow us to do a grape selection for the Grand Vin.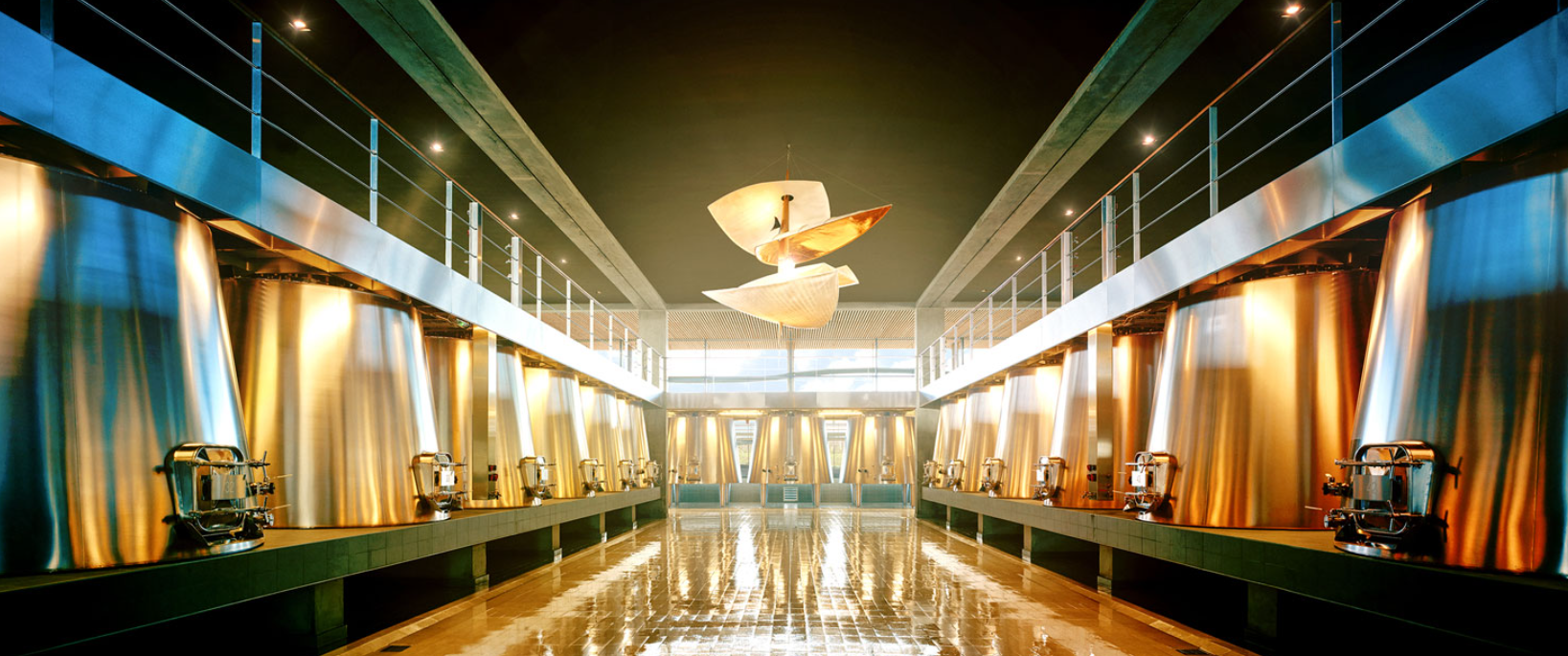 ---
The brand Beychevelle today and tomorrow
I continue the discussion with Erwan Le Brozec, Commercial Director of the Château since 2019.
Gerda: What positioning (s) do you want for your brand (s)?
Erwan Le Brozec: Beychevelle was a trusted brand in the 60s/70s. It is becoming an essential brand. It is our job to comfort people and convey an image of excellence.
G: How do your wines stand out, and are unique?
EB: They have a real identity, a real style, and a singularity. They are generous, with voluptuous tannins. It is a wine that knows how to highlight the vintage effect while keeping its deep DNA. The style of Beychevelle will never fade with trends.
G: Which of your recent accomplishments would you like to share with your customers?
EB: The new cellar brings more precision during the vinification process. It is an extremely important tool important for the wine but also for the people that work there: more natural light and more space.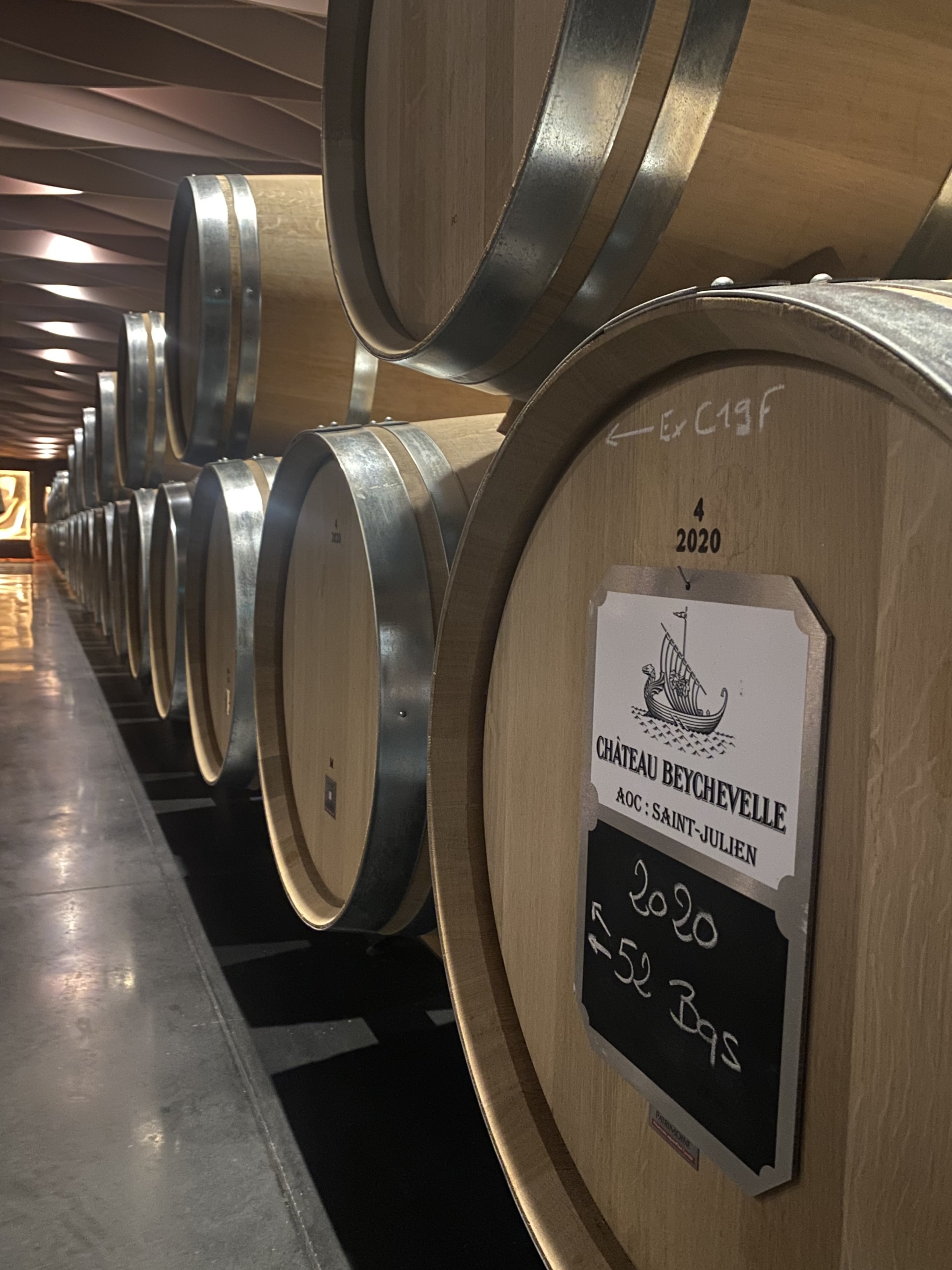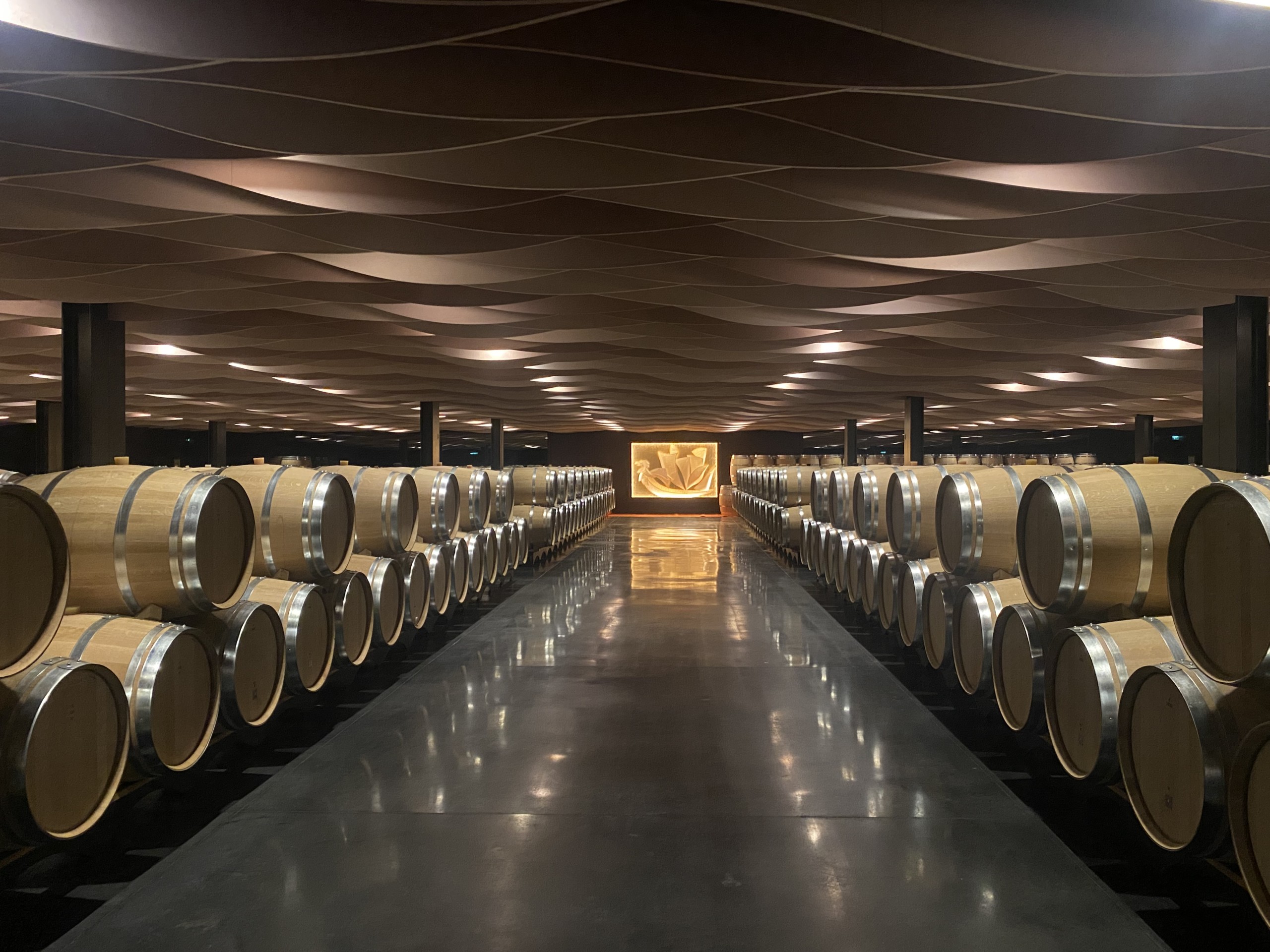 G: Which future project are you currently working on?
EB: For our marketing strategy, we want to share more about the values of Beychevelle. Regarding the commercial strategy, we would like to increase the quality and the diversity of our distribution. We have had great success already. Our reasonable en Primeur release price should provide us an opportunity to reach the traditional market. Markets that are able to promote the brand and carry all the values of the Château. We gather all the data from our partner negociants, and share it in our analysis. This is an essential tool in the development of our commercial strategy.
G: How far along are your property(ies) in the "green transition"?
EB: We are very sensitive to this, we are working in the respect of the environment. We are keeping an eye on the vineyard, the cellar, and all the supply chain areas every day.
---
The business
Gerda: What are your priorities in terms of business development? 
Erwan le Brozec: To be able to reach customers who are real connoisseurs and prescribers. We want Beychevelle to be liked for its quality and the feeling it gives when you drink it. 
We want to spread our distribution and reach markets where we can share the "Beychevelle experience". I have in mind the USA, Belgium, Europe, the UK, and Africa. Journalists and sommeliers are very important as well.
G: Do you plan for market or new releases in the near future?
EB: No, we only propose personalized offers. We listen to customers and do not want to impose any vintages. 
We do not have lots of available vintages as we sell 85% of our harvest en Primeurs. This is a period when the Château is highlighted. This is the first meeting with customers and our new wine.
G: Which vintages should the market be interested in? and why?
EB: 2017: the wine is drinkable now and has great ageing potential. 2013 is also a great surprise. It is my favorite at the moment. The wine has a perfect balance.
G: What sales support materials are available to distributors to promote your wines?
EB: We have a website, social media, and technical sheets. We also do staff training, masterclass, wine maker's dinner, special cases.
We are flexible and we try to be creative in order to answer our customers' needs.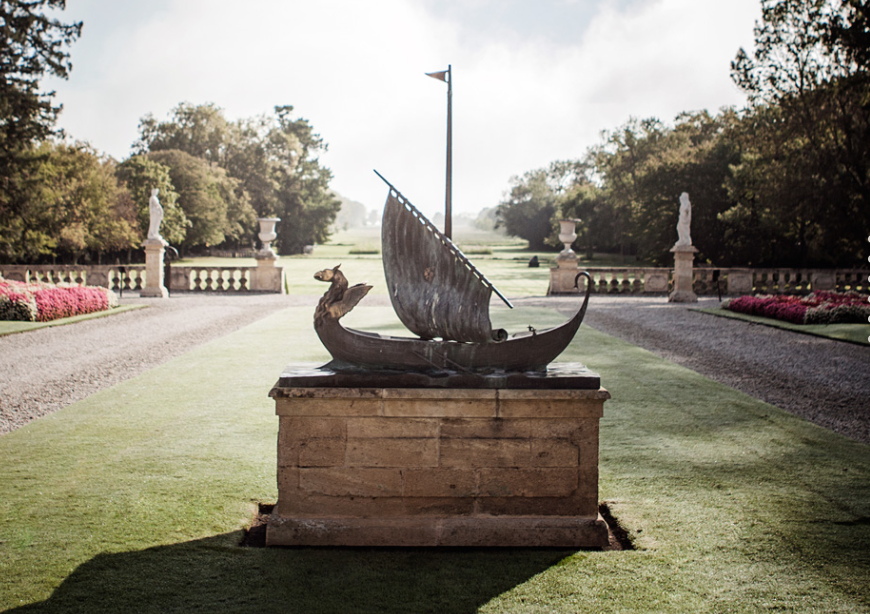 « Beychevelle's wines can be as beautiful as its magnificent gardens »
(Robert Parker, 1990)
Website and Instagram
---
The bottle of your heart: Philippe Blanc
Gerda: If you had one bottle of your heart? 
Philippe Blanc: Hard question! For a recent vintage, I will say 2018. Especially thanks to its complexity and its generosity. 
I can also say 1928 and 1929 are old incredible vintage. These vintages are part of the old ones that give you incredible feelings. 
It is an honor to serve Beychevelle, to have the privilege to work in an estate full of history and prestige. 
---
The tasted Wines
Château Beychevelle 2018 : 50% merlot, 41% cabernet sauvignon, 3% cabernet France and 6% petit verdot
The aromas are spicy. It is a precise and open Beychevelle with a lot of amplitude from the first sip. It is a perfect juice with a nice freshness that brings the wine up in the mouth. The balance is perfect. A great success for Beychevelle.
Château Beychevelle 2017 : 45% merlot, 50% cabernet sauvignon, 1% cabernet franc and 5% petit verdot
The nose is floral. Erwan is right, it is crispy and lively. The tannins are straight, surrounded by a feminine structure. The mouth is balanced and the pleasure is immediate.
Château Beychevelle 2012 : 47% cabernet sauvignon, 44% merlot, 4% cabernet franc and 5% petit verdot
A good vintage for merlot and we find it in this Beychevelle which has complex aromas, formed by age and terroir. It is very present on the palate with a fresh and straightforward finish.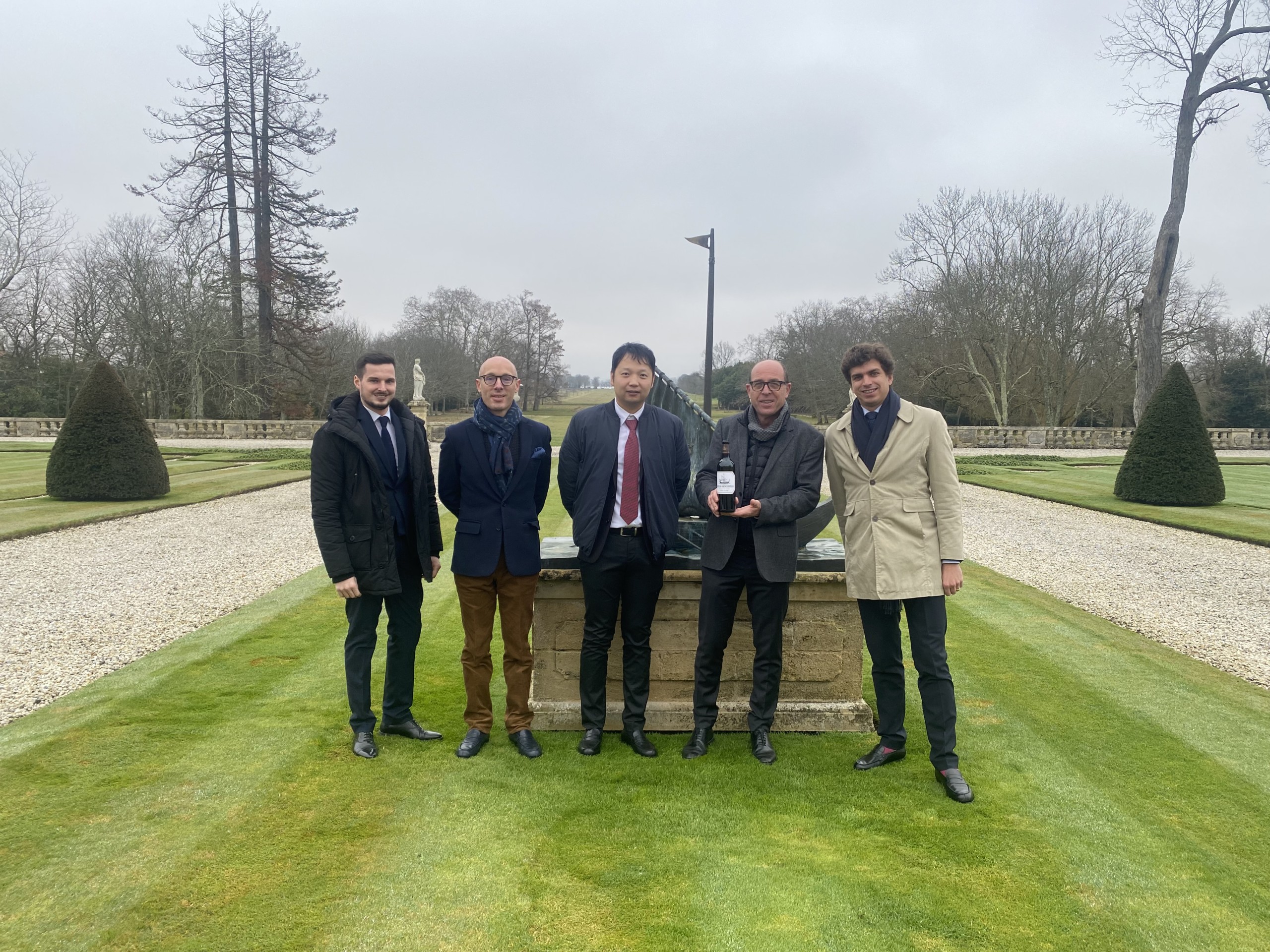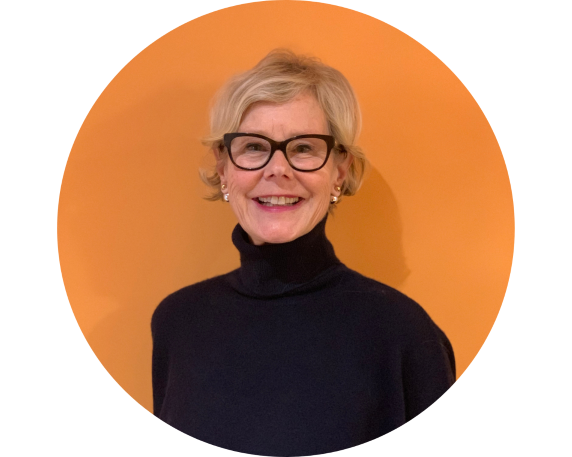 Gerda BEZIADE has an incredible passion for wine and perfect knowledge of Bordeaux acquired within prestigious wine merchants for 25 years. Gerda joins Roland Coiffe & Associés in order to bring you, through "Inside La PLACE", more information about the estates we sell.